Anko: sweetened Japanese red bean paste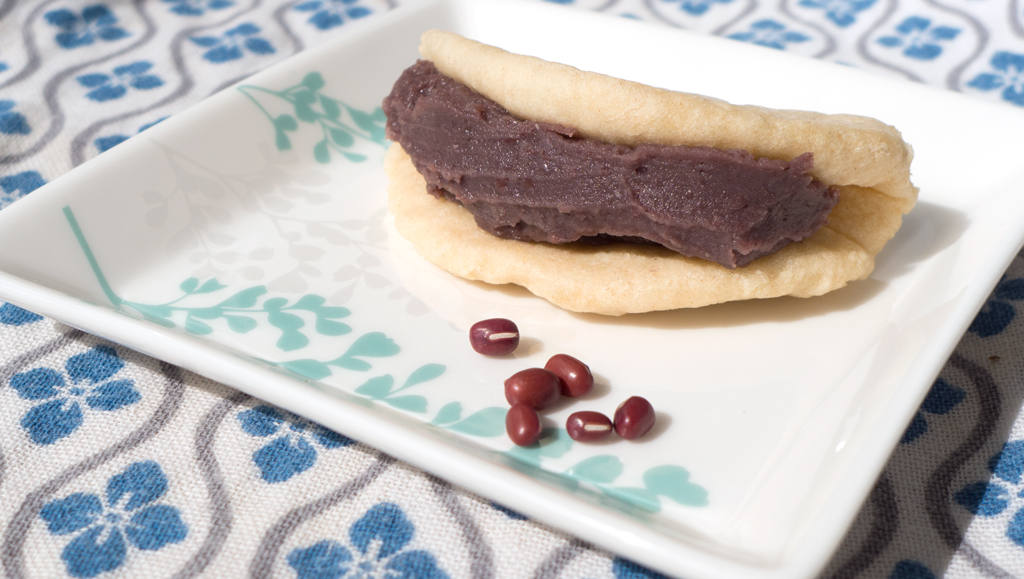 As long time readers will know, I don't do deserts. Or sweets. Or for that matter anything that calls for more than a tablespoon of sugar! So today's recipe is a bit of a departure for me. It involves anko, which is a sweetened paste made of adzuki (Japanese red beans or 小豆). Anko is the basis for a large number of traditional Japanese sweets or wagashi, but also more westernized ones in which it is stuffed or baked inside, say, rolls to form anpan (あんパン). ("Pan" is Japanese – via portuguese – for bread.) Anpan are easily one of my favorite Japanese foods and it occurred to me that anko would make a great filling for the steamed bread (gua bao) I had made a few weeks ago and stored in the freezer (the accompanying char siu was long gone!). Hence this unusual foray into something sweet.
Anko is easy to make. Just cook adzuki until very tender. Then stir in sugar and mix well. The chunky result is called tsubuan. You can take it one step further, as I did, and puree in a food processor or mixer to make a smooth paste called koshian. Most recipes calls for about equal amounts of dried beans and sugar, which is far too sweet for me. I suggest starting with 1/4th the amount of sugar as dried beans and adding more if your tooth is sweeter than mine. Note, too, that you can eat anko all by itself; the steamed buns are entirely optional!
Anko: sweetened Japanese red bean paste
Prep time:
Cook time:
Total time:
Ingredients
1 cup dried adzuki (Japanese red beans)
¼ cup sugar plus more according to taste
Optional steamed buns
Instructions
Rinse and soak dried beans for 6-8 hours or overnight in cold water.
Drain and place beans in a pot with lid. Add enough water to cover and bring to a boil over high heat. Lower heat and simmer for 2-3 minutes. Drain the beans and return to pot. Add 4 cups water, cover, and bring to a boil over medium heat. Lower heat and simmer until tender, about 1 hour. Make sure to skim off the scum from the surface every once in a while, and to add water if the beans are drying out.
Add sugar according to taste and mix well. Continue to skim off scum if any. Cook until the water has all but evaporated but the beans are still moist.
You can eat the resulting tsubuan as is or puree in a food processor until smooth to make koshian.