Basque-style warm salt cod (bacalao) and lettuce salad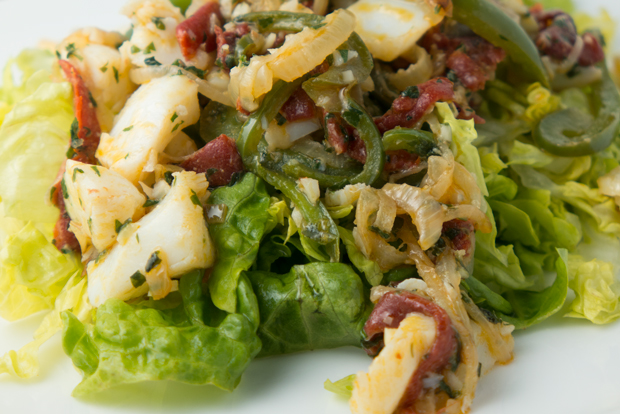 It isn't often that reality matches the hype. But a recent trip to the Basque region of Spain, specifically San Sebastian, was definitely one of those times. And not just equal but exceed beyond my wildest expectations which, admittedly, were rather high. After all, San Sebastian, a quaint and pretty seaport, is home to at least three, 3 Michelin-starred restaurants, which would be darn impressive for any city let alone a tiny town in the middle of nowhere! The reason for this is not only the excellent bounty from the local land and sea, but also a deep-rooted food culture, manifested most famously through pintxos, tasty, bite-sized morsels of cured meat, seafood, bread, etc. held together by a tooth pick or skewer (pincho is Spanish for spine). These are the Basque version of 'tapas' but, unrivaled in their creativity and sophistication. Pintxos are practically works of art and the alleyways of San Sebastian are packed with jousting restaurants, often specializing in a particular pintxo. The locals' idea of a good time is to hop from one place to another, eating a couple of pintxos with a glass of wine at each.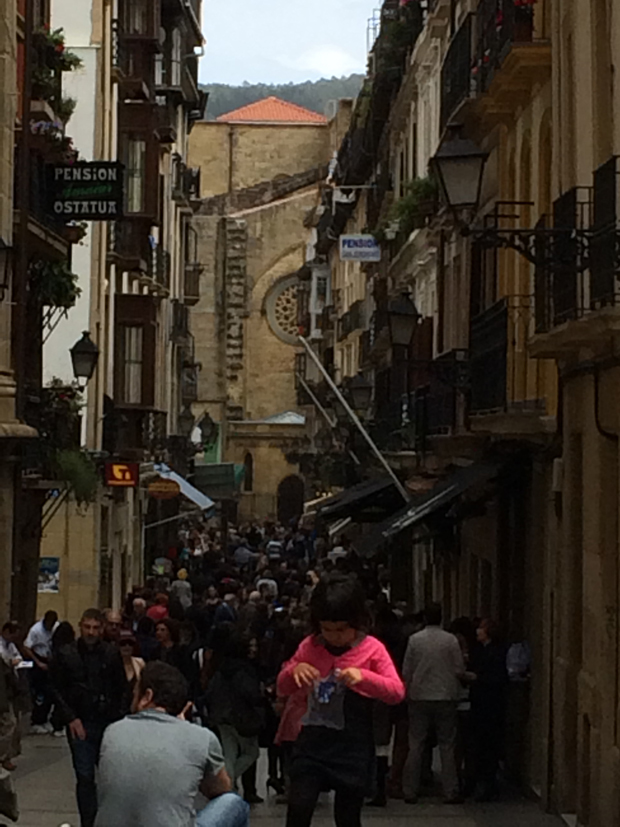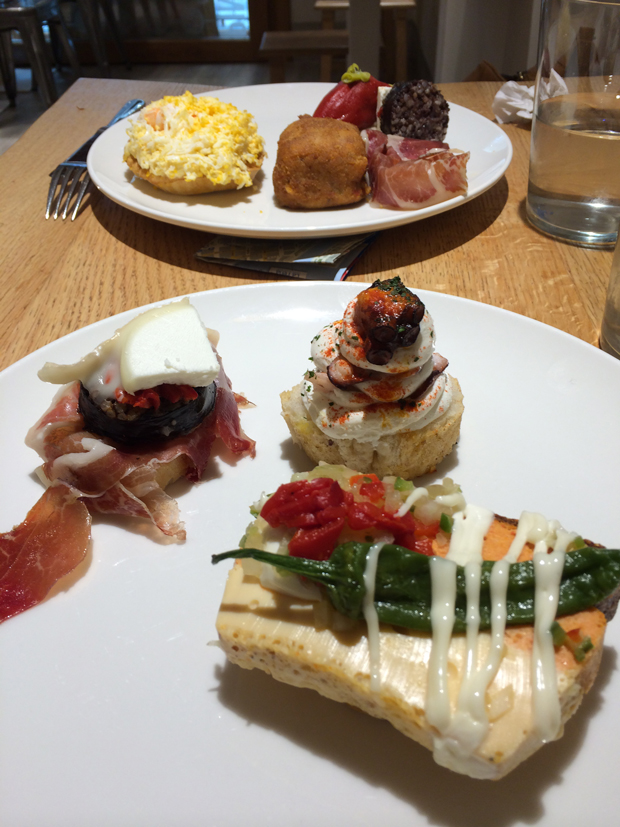 Less well known but perhaps even more indicative of the region's culinary roots are the gastronomical clubs, private clubs with a kitchen and dining room where members come to cook and entertain family and friends. Many of these clubs, which are run basically like co-operatives, have existed for several decades with membership sometimes passed down from one generation to the next. If you're aren't already bowled over by the concept of such a club, here's another fact about them: only men are allowed in the kitchen! While not exactly a secret, most outsiders never get a chance to see the inside of one of these clubs let alone experience one. I consider myself enormously fortunate then to have run into Amaia Donés Mendia and her husband Tomasz who run San Sebastian Urban Adventures. They offered to arrange a visit to a gastronomical club that included both hands-on cooking and dinner.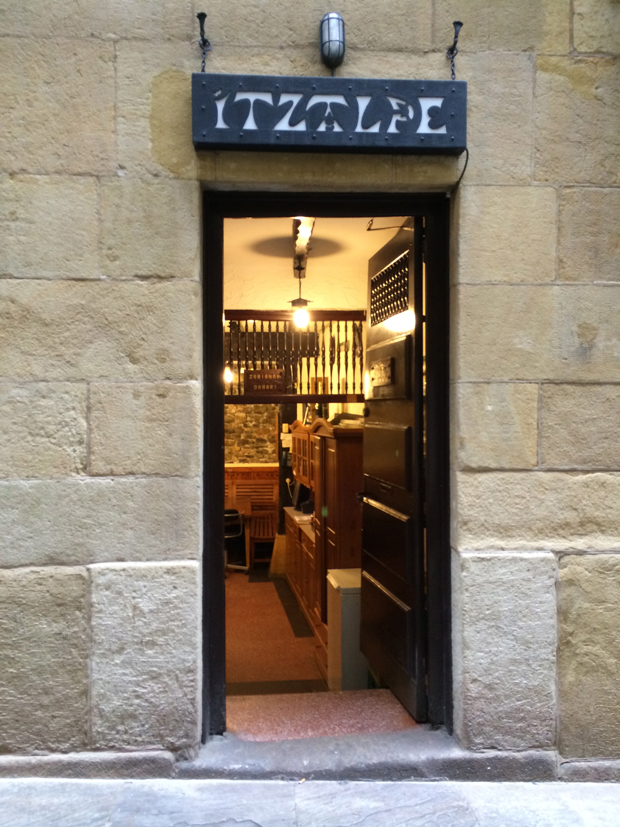 So it was with enormous anticipation and excitement that I accompanied Amaia to Sociedad Itzalpe, a nondescript establishment tucked away in one of the alleys of the old part of San Sebastian. To cut a long story short, it was easily one of the best experiences of my life, culinary and otherwise. We were greeted by Xabi Tello, a member and our host for the evening who, it turned out, teaches at a local cooking school but enjoys cooking so much that he also does it in his spare time! (Talk about a busman's holiday!) Chef Xabi (pictured below) kindly allowed me to help in the kitchen with the prep and cooking. And what a meal it was! Fantastically fresh fish and shellfish cooked in traditional Basque style. That is to say, simply and without fanfare. Being a frequent visitor to Japan I don't say this lightly, but this may well have been the best seafood I've ever had. And all through the evening Amaia very kindly, patiently and fluently translated the conversation.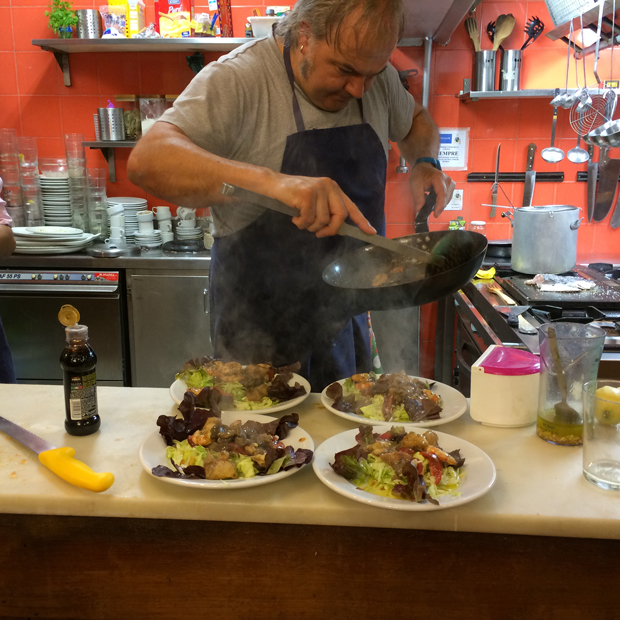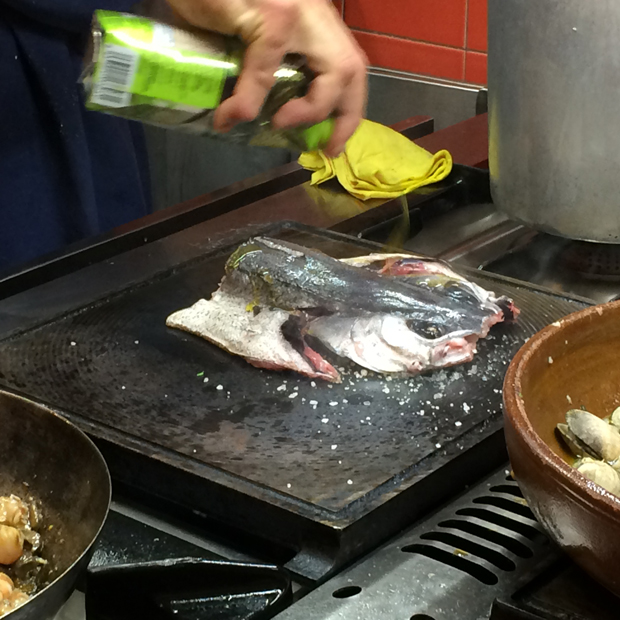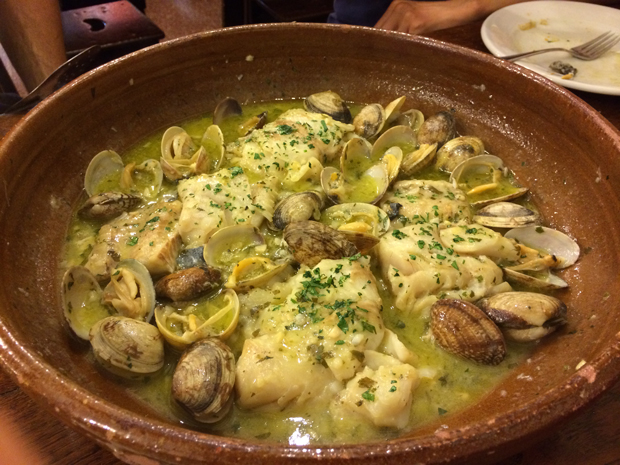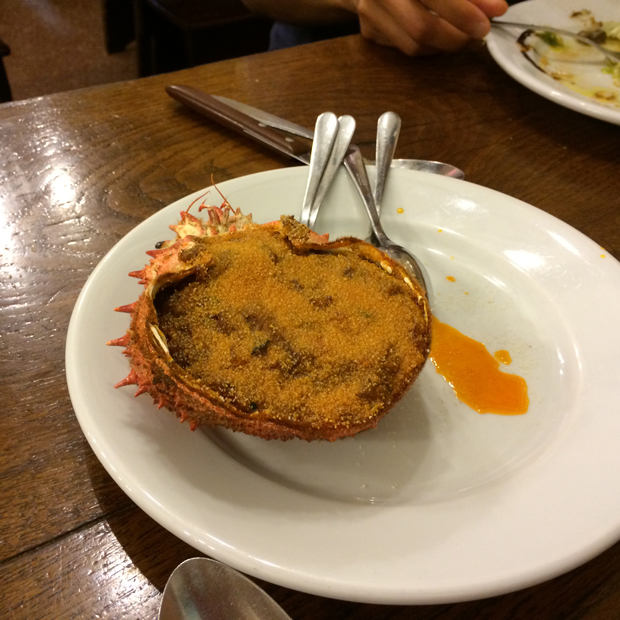 The recipe below is based on one of the dishes we had that night. Being a typical rustic dish this isn't meant to be a set of precise instructions. Feel free to modify as you see fit. For example, instead of the salt cod you can use fresh fish like hake and/or shellfish. (If you do make sure it is cooked thoroughly before serving, a step that isn't necessary for salt cod which can and often is eaten 'raw'.)
Ingredient note: This recipe calls for a couple of uncommon ingredients that are worth the effort to find. Salt cod, or bacalao, is an incredibly versatile item that is quite central to Spanish cuisine. As you can see from the picture below (taken during a trip to the weekly market in Tolosa not far from San Sebastian), there are many different parts of the fish, not to mention grades, you can buy depending on what you want to do with it. Lomo is considered one of the more flavorful bits (and priced accordingly). Be aware that bacalao requires a bit of advance preparation in that you have to rehydrate and desalinate the fish before eating it. This is easy. Simply wash the salt off under cold running water. Then place in a plastic container, pour in enough water to immerse completely and refrigerate, covered, for 2-3 days. Change the water once or twice a day. The other ingredient is piquillo pepper. If you can't find it then substitute roasted red peppers marinated for a few hours in white wine vinegar.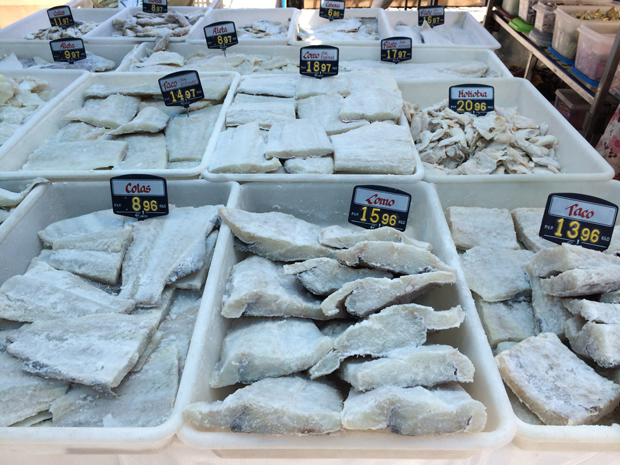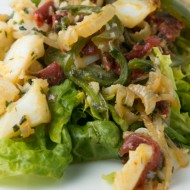 Basque-style bacalao and lettuce salad
Yield: 2 servings
Prep Time: 10 minutes
Cook Time: 15 minutes
Total Time: 25 minutes
Ingredients:
Half a small head of lettuce, shredded into 2" thick ribbons (about 3 cups)
¼ cup olive oil
1 yellow onion, thinly sliced
½ green pepper, cored and thinly sliced
3 cloves garlic, coarsely minced
½ cup sliced piquillo peppers (or other roasted and marinated red pepper)
4" square, 1" thick piece of rehydrated and desalinated bacalao diced into 1" cubes
Handful of chopped parsley
2 Tbsp lemon juice plus more to taste
1 Tbsp balsamic vinegar plus more to taste
Crusty bread to serve
Directions:
Heat the oil in a large skillet over medium-high. Add the onions and green peppers and
fry, stirring, until the onions start to brown.
While the onions are cooking spread out the lettuce on a large serving platter and set aside.
Once the onions are done lower heat to medium and add the garlic, red peppers and bacalao. Cook, occasionally shaking the skillet, until the fish is warmed through. Turn off heat and stir in the lemon juice and parsley. Adjust seasoning.
When ready to eat, pour the fish mixture over the lettuce and drizzle with the balsamic
vinegar.
Serve warm with crusty bread.