Belgian endive and apple salad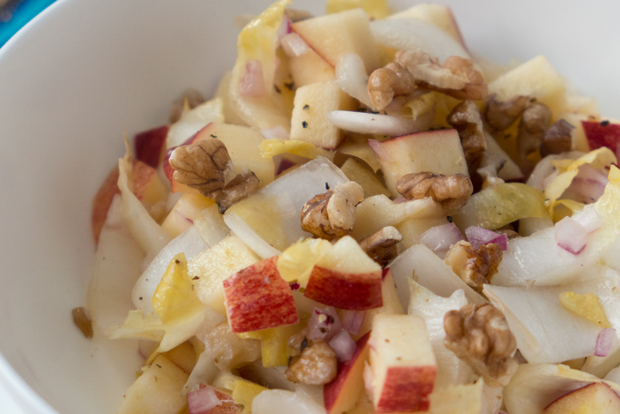 One of the fantastic things about living in Oxford is how close and easily accessible the countryside is. (Coming from Manhattan, verdant Oxford itself often feels like the countryside!) In fact, a short train or bus ride will take you to the Cotswolds, a famously pretty part of Britain characterized by rolling hillsides, cute little villages, historical churches dating back to the Normans, and roads that travel along routes originally laid down by the Romans and marking the western edge of their empire. But the Cotswolds are also known for some very good restaurants and gastropubs that fully exploit the local produce, from cheese to lamb (historically, much of the local wealth was associated with sheep farming and trading).
Of course, I might never have known of said restaurants had I not met Kara, a budding blogger, at a food meetup. She recommended and was happy to accompany me to The Plough in nearby Kingham, a pleasant train ride away. So on a (rare) sunny day I set off to partake in that well known English ritual, the Sunday roast lunch, for which The Plough is justly famous. Both the food and atmosphere were memorable, and I'll let the pictures speak for themselves.
After the meal, Kara very kindly drove me around on the narrow country roads. But every once in a while she would stop and pluck some berries off the bushes growing on the roadside, or pick up some apples that had fallen down. She explained that the trees probably belonged to a farmer but any fruit like this was fair game (and perfectly legal!). So as a bonus, I returned with fresh and tasty apples!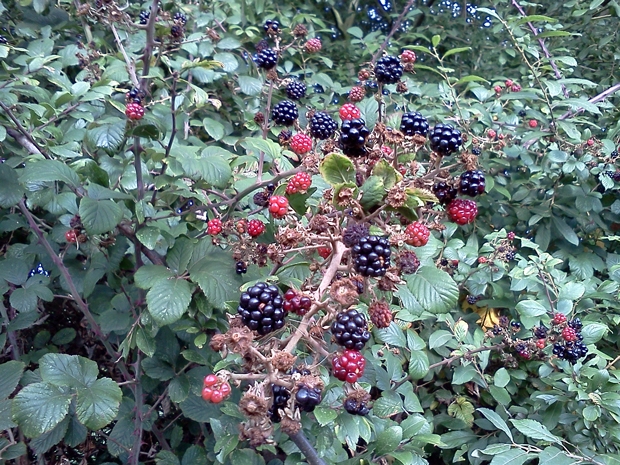 Back home, I was too stuffed for anything but a light salad. So, with freshly-picked apples on hand, I reached for one of my go-to recipes, a salad made of Belgian endive and apples that I've been making for so long that I had trouble finding the source. As you may know, Belgian endive belongs to the chicory family of bitter leaf vegetables that includes frisée and escarole. Belgian endive is not as bitter as some of its relatives and, here, that slight bitterness is offset by the sweetness of the apples and tartness of the cider vinegar. Red onions give the salad a spicy kick. You can make this salad with any kind of apples. I tend to go for the Fuji variety but any type will do, and not just freshly-picked ones! Just be sure to use a good quality cider vinegar.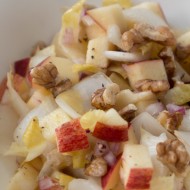 Belgian endive and apple salad
Yield: 2 servings
Prep Time: 10 minutes
Cook Time: 0 minutes
Total Time: 10 minutes
Ingredients:
2 Belgian endives
1 small apple, cored and cut into ¼" dice
2 tsp olive oil
3 tbsp apple cider vinegar, plus more to taste
1 tbsp finely diced red onions
2 tbsp toasted walnuts, coarsely chopped
salt and freshly ground black pepper to taste
Crusty bread for serving
Directions:
Trim off the end of the Belgian endives and then slice crosswise into 1/2" rings. Place in a bowl along with the diced apples.
Whisk the olive oil and cider vinegar together in a small bowl and season with salt and pepper. Pour the vinaigrette over the endives and toss to mix. Garnish with the walnuts and serve with crusty bread.