Bingsu: Korean dessert with homemade rice cakes and soft-serve ice cream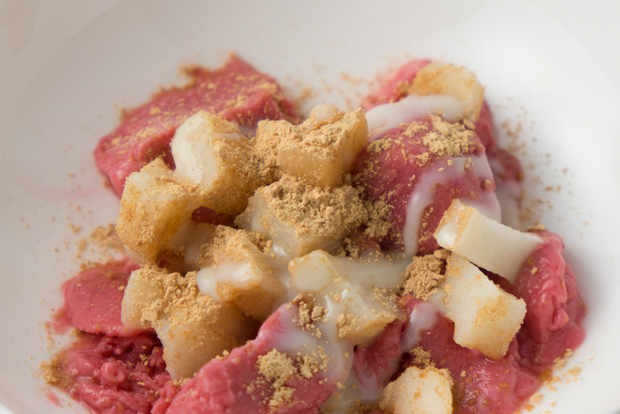 The calendar might indicate Autumn but here in southern England we're having a glorious run of dry and warm weather that is almost evocative of summer. A British summer at any rate, where a few days of 25°C temperatures count as a record heat wave. Still, while not quite on par with the steamy summer I've just experienced in Seoul (100% humidity, daytime temperatures in the upper 30s and nighttime ones not much cooler), it has been warm enough for me to start craving a dish that I first had there this summer: bingsu (빙수), which is often translated as "shaved ice" (the Chinese characters literally mean "ice water").
Seoul is inundated with cafes selling bingsu but I'd never ventured into one until a friend insisted I had to try it. So off we went to a branch of "Sulbing" in the trendy neighborhood of Hongdae. We ordered the "traditional" house special which turned out to be shaved ice, rice cakes (tteok; 떡), toasted soybean powder and a syrup of some kind (condensed milk as it turned out). Some versions, known as patbingsu (팥빙수), have red beans (adzuki). It was absolutely delicious and a very welcome treat at that time of year.
Alas, Oxford isn't exactly awash in bingsu cafes. So I decided to take matters into my own hands and make it at home. From scratch. Instead of shaved ice I took some creative license and made an easy soft-serve "ice cream" from frozen fruit using a recipe I'd seen in Food & Wine magazine recently. As for fresh rice cakes, in Korea and Japan (where they are known as tteok and mochi, respectively) these are readily available, but many households also have a counter-top machine that does everything for you. All it really takes though is glutinous rice, a steamer and a wooden mallet (I used a rolling pin). Of course, if you're not feeling all that ambitious feel free to cheat a bit – or a lot – and buy things ready made and simply assemble the pieces. To quote Julia Child, who's going to know?!
Alternatively, you could just make the rice cake, cut it up into pieces and coat with honey and toasted soybean powder (see picture below). This is a popular, traditional dish in both Korea (where it is called injeolmi) and Japan (kinako dango). You can find soybean powder (called kinako – literally, "yellow powder" – in Japanese) at any Korean or Japanese market, or, nowadays, even in some health stores.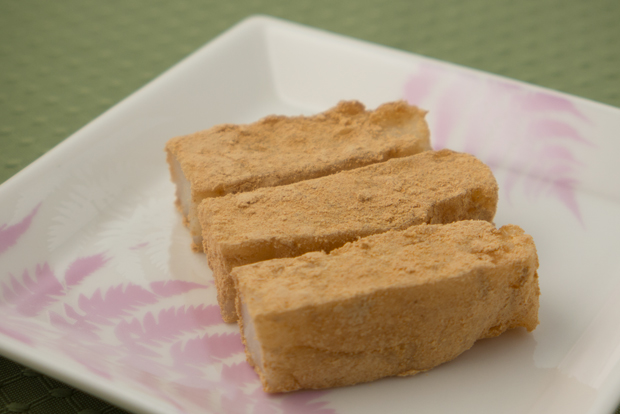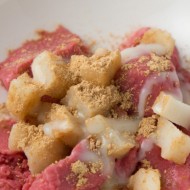 Bingsu: Korean dessert with homemade rice cakes and soft-serve ice cream
Yield: 4 servings
Prep Time: 20 minutes
Cook Time: 20 minutes
Total Time: 40 minutes (plus 12 hours to soak rice)
Ingredients:
Soft-serve:
400 g (about 2-2½ cups) frozen fruit (strawberries or raspberries)
½ cup sweetened condensed milk
½ tsp vanilla extract
pinch of salt
Injeolmi:
1 cup glutinous rice
½ tsp salt
¼ cup toasted soybean powder (kinako)
1 Tbsp honey
To assemble bingsu:
½ cup sweetened condensed milk
¼ cup toasted soybean powder (kinako)
Optional 2 Tbsp flaked blanched almonds
Directions:
To make the soft-serve, place all the ingredients in a blender or food processor and blitz away until smooth. Freeze until time to serve.
To make the rice cakes, wash and soak rice overnight. Drain and grind in a blender or food processor with the salt.
Spread the ground rice on a cheesecloth on a steamer tray and steam until cooked, about 15-20 minutes.
Remove and spread on a flat surface such as a cutting board. Dip the mallet/rolling pin in salted water and pound until you can no longer distinguish the grains.
Transfer to a small plastic container coated with honey and let cool slightly.
To make injeolmi, remove and dice the rice cake into 1 cm-cubes, roll in the soybean powder and serve.
If you're going all the way, assemble the bingsu by tossing ¼ cup of the injeolmi with ½ cup of the soft-serve per serving. Sprinkle more soybean powder on top. Garnish with the flaked almonds and serve with condensed milk on the side to pour on top.