Buñuelos de bacalao: Spanish salt cod fritters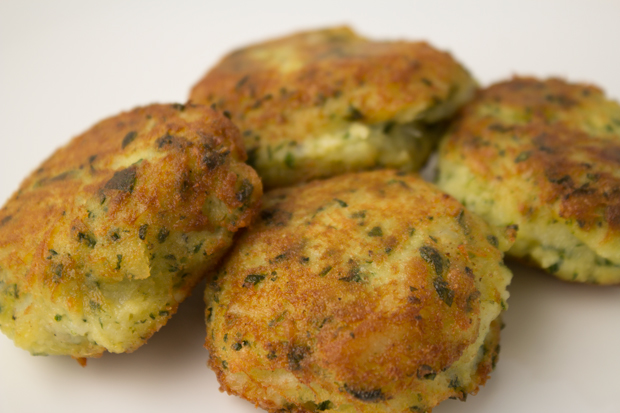 There was a fantastic article recently in the Financial Times about Barcelona's famous markets. Having spent many hours exploring these mercats on my visits to that city I already knew of the incredible variety and quality of charcuterie and seafood available there. What I didn't know was the scale of the system and it's importance to the city's economy and identity. Barcelona's 40 markets, which attract 62 million visitors each year, have an annual turnover of almost a billion euros and are an intrinsic part of the communities–not to mention the many world famous restaurants in Catalunya–they serve. Today's recipe for buñuelos de bacalao (bunyols de bacalla in Catalan) is thus quite fitting as my interest in Spanish cuisine began with a visit to La Boqueria, the best known of Barcelona's markets, and the first thing I ate there–within a minute of entering the market!–were these incredible salt cod fritters.
A buñuelo is a fried dough ball and these are made from bacalao (salt cod) and potatoes. Since that first bite I've had buñuelos de bacalao a number of times, but the Boqueria version stood the test of time. That is until I came across a recipe for them in Rick Stein's Mediterranean Escapes cookbook that could give the Boqueria vendors a run for their money. Best of all, they're a hell of a lot cheaper than a trip to Spain and I can have them any time I get the urge! There are a couple of differences from the original recipe. First, I've amped up the parsley and garlic. More importantly, I pan fry the buñuelos (albeit in still a fair amount of oil) instead of deep frying as is traditional.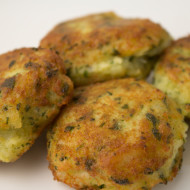 Buñuelos de bacalao: Spanish salt cod fritters
Yield: Makes about 15-20 buñuelos
Prep Time: 30 minutes
Cook Time: 1 hour
Total Time: 1 hour 30 min
Ingredients:
6 cm-square, 3 cm-thick piece of desalinated bacalao (about 350 g dried bacalao)
1 bay leaf
1 large potato, peeled and thinly sliced
¼ cup (40 g) flour
2 eggs
large bunch parsley, leaves picked and chopped
4 cloves garlic, minced
salt and freshly ground black pepper to taste
olive oil
allioli or Kewpie mayo to serv
Directions:
Place the bacalao in a saucepan with the bay leaf. Pour enough water to cover and bring to a boil over medium heat. Turn off the heat and let sit for 10 minutes. Remove and set aside to cool, reserving the water. Once cooled, remove the skin and break up into small pieces with a fork or your hands.
Put the sliced potatoes in the reserved water and bring to a simmer and cook until done. Drain and transfer to a large bowl. Mash them until smooth.
Rinse out the saucepan and fill with 1 cup (~225 ml) cold water and 2 Tbsp olive oil. Bring to a boil then remove from the heat. Beat in the flour. Let cool. Then beat in the eggs (the batter should be cool enough so that you don't scramble the eggs).
Add the bacalao, parsley and garlic to the mashed potatoes. Mix well. Season to taste with salt and pepper.
Transfer the potato mixture to the batter and cook over a very low heat, stirring constantly, until the mixture is quite thick (the mixture should hold its shape when formed into balls). Let cool.
In a small nonstick frying pan heat about 3/4 cm of oil until very hot. Form the mixture into 2 cm-diameter balls and slightly flatten them. Fry in batches without overcrowding the pan until golden brown (2--4 minutes per side). The buñuelos are quite delicate and I find long cooking chopsticks much better than a spatula. Transfer to a paper towel-lined plate to drain.
Serve hot with allioli or mayo.
Mediterranean Escapes by Rick Stein (link)