Celery, leek and potato soup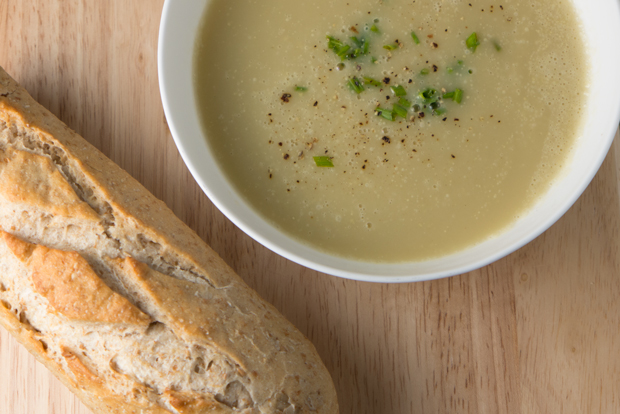 It has been an extremely soggy winter here in England, apparently the wettest since records began nearly a hundred years ago. But if there was a silver lining to the unremitting cold and damp weather it is that dishes such as today's soup taste, if that were possible, even better. Don't let the simplicity of this soup, taken from Martha Shulman's Recipes for Health column, fool you. It is filling and deeply flavorful, and made even more so by the leeks.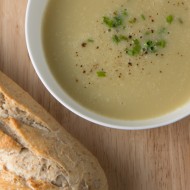 Celery, leek and potato soup
Yield: 4 servings
Prep Time: 10 minutes
Cook Time: 30 minutes
Total Time: 40 minutes
Ingredients:
2 tsp olive oil
2 leeks, sliced (about 2 cups)
1 medium onion, diced (about 1 cup)
5 cloves garlic, minced
6-7 stalks celery, diced (about 2 cups)
1 medium potato, diced (about 1 cup)
4-5 cups chicken stock
3-4 stalks parsley
2 bay leaves
salt and freshly ground black pepper
1 Tbsp chopped chives or parsley for garnish
crusty bread to serve
Directions:
Heat the oil over medium in a large pot. Add the onions and leek and sweat, stirring often, until softened and fragrant, about 3-4 minutes. Add a pinch of salt and the celery and cook another 4-5 minutes.
Stir in the garlic and potatoes and cook another 1-2 minutes.
Tie together the parsley stalks and bay leaves with a string and add to the pot along with the stock. Taste for salt. Bring to a boil then lower heat and simmer, covered, until the vegetables are tender. Fish out the parsley and bay leaves.
Allow to cook slightly before ladling carefully into a blender and pureeing until smooth. Rinse out the pot and transfer the soup back into it. Add more water or stock if needed.
Bring the soup back to a simmer and taste for salt and pepper.
Ladle into bowls and garnish with chives or parley.
Serve with crusty bread.