Chicken curry with kasuri methi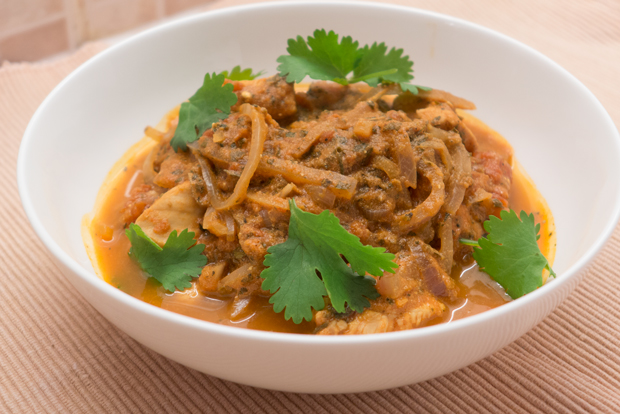 After a month-long hiatus, Oishii-Rasoi is back! From England! I've been hard at it setting up a new home and, more relevantly, a new kitchen. It has been a fun, instructive, and occasionally frustrating experience because, even in a highly globalized world, eating and shopping habits remain stubbornly local (which is of course what makes food so interesting). Not to mention that old joke about America and Britain being two countries separated by a common language: everything has a different name here! More on that in a future post. On to today's recipe.
Now, you might be puzzled that my first post from the UK should be about an Indian dish. Why not something "British" like "Yorkshire pudding"? Well, as a visit to any supermarket here or stroll along the high street will reveal, Indian food dominates this country like nothing else. Indeed, "Asian" refers to Indian or, more generally, from the Subcontinent, and a visit to a "curry house" is as natural as stopping by the neighborhood pub for a pint. (In America, "Asian" almost always refers to east and southeast Asia.) Supermarket aisles are dominated by frozen Indian meals (impressively eclectic, from the infamous chicken tikka masala to Kerelan fish curry), naan, basmati rice, and spices. My neighborhood Tesco has a more impressive spice and dal collection than many Indian grocery stores in New York. More amazing still, the self-service checkout machine lists "guvar" (cluster bean)! Back "home" that would require a trek to Patel Brothers in Queens and the stars aligning. And if you want daikon, just ask for "mooli" (the Hindi word for the Indian variety): it is ubiquitous.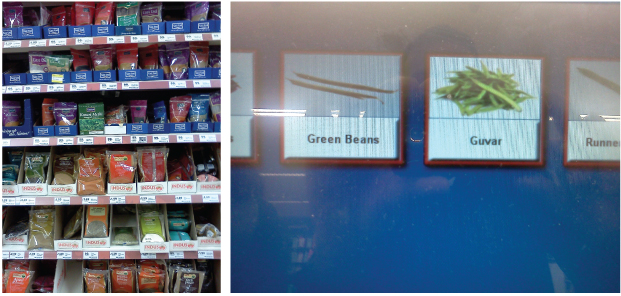 On the other hand, the rest of Asia is much neglected and Chinese, Korean, etc. are generally referred to as "oriental", a borderline racist term in the US. (A local Chinese restaurant is called "Opium Den" which, Fuschia Dunlop and the omnipresent takeout joints notwithstanding, gives you an idea of how far the UK has to go before Chinese food becomes mainstream here.) Japanese ingredients are especially hard to come by, even in London, and much to my disappointment I have yet to find decent tofu. (There is, thankfully, a wonderfully-stocked H-Mart, a Korean supermarket, in New Malden. A bit of a hike from Oxford, but at least accessible by public transportation.) That said, happily, Mediterranean and middle Eastern ingredients, from chorizo to sumac, are far cheaper and plentiful, as are eastern European foods that I'm much less familiar with.
An Indian curry dish, then, seems as "British" as, say, steak and kidney pie. But this is a curry with a twist: it has a secret ingredient, dried fenugreek (methi) leaves or kasuri methi (also spelled "kasoori"), that elevates it above the ordinary. I've written about this ingredient before and won't repeat it here. (For my local readers: Tesco carries kasuri methi! Look for it in the spice section.) It has an intense, almost funky, slightly bitter flavor so a little goes a long way. All you do is sprinkle some of this pixie dust at the end and, voilà, you've transformed an otherwise boring recipe into something finger-licking good, or at least worth blogging about. Incidentally, this is one of the dishes my fellow blogger Rachel and I made at a class on Indian cuisine we taught recently at Brooklyn Kitchen.
Ingredient note: Cumin and coriander powders are almost always used together in Indian cuisine and thus seldom sold separately (except as whole seeds). Instead, they are typically sold mixed together (after roasting the seeds) as "dhanajeeru" (dhana or dhania = coriander seeds and jeeru or jeera = cumin seeds). If you don't have dhanajeeru on hand, just use 1/2 tsp each of cumin and coriander powders instead.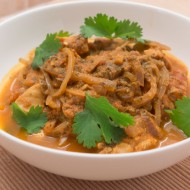 Chicken curry with kasuri methi
Yield: 4 servings
Prep Time: 10 minutes
Cook Time: 25 minutes
Total Time: 35 minutes
Ingredients:
1 tbsp canola oil
2 red onions, thinly sliced
7-8 cloves garlic, finely minced
2" piece ginger, finely minced
1 green Thai chili, minced
1 tsp garam masala
1 tsp cumin-coriander powder (dhanajeeru) (see note below)
1/4 tsp red chilli powder, plus more to taste
1/4 tsp turmeric powder
2 cups diced tomatoes (about 2/3 of a 28 oz can)
1 tsp salt, plus more to taste
1 lb chicken breast cut into bite sized pieces
1 cup whole milk plain yogurt, whisked
1/4 cup kasuri methi, plus more to taste
3/4 cup cilantro (coriander), coarsely chopped
Basmati rice and cut limes for serving
Directions:
In a large saucepan, heat the oil over medium-high heat. Add the onions and saute, stirring, until they begin to brown slightly at the edges.
Lower heat to medium and add the ginger and garlic. Mix and fry for a minute.
Next, add the green chile and remaining spices and cook for 30 seconds before stirring in the tomatoes and salt. Mix and cook for 2-3 minutes. Taste for salt.
Add the chicken and yogurt and stir to combine. Lower heat and simmer, covered, until the chicken is cooked, about 15 minutes. (Note that the chicken will release water so it is generally not necessary to add any.)
Crumble in the kasuri methi with your fingers. Stir well and taste for seasoning, adding more kasuri methi, salt, or red chili powder as necessary.
Garnish with the chopped cilantro and serve with steamed basmati rice and lime wedges on the side.