Chickpeas with chorizo and kale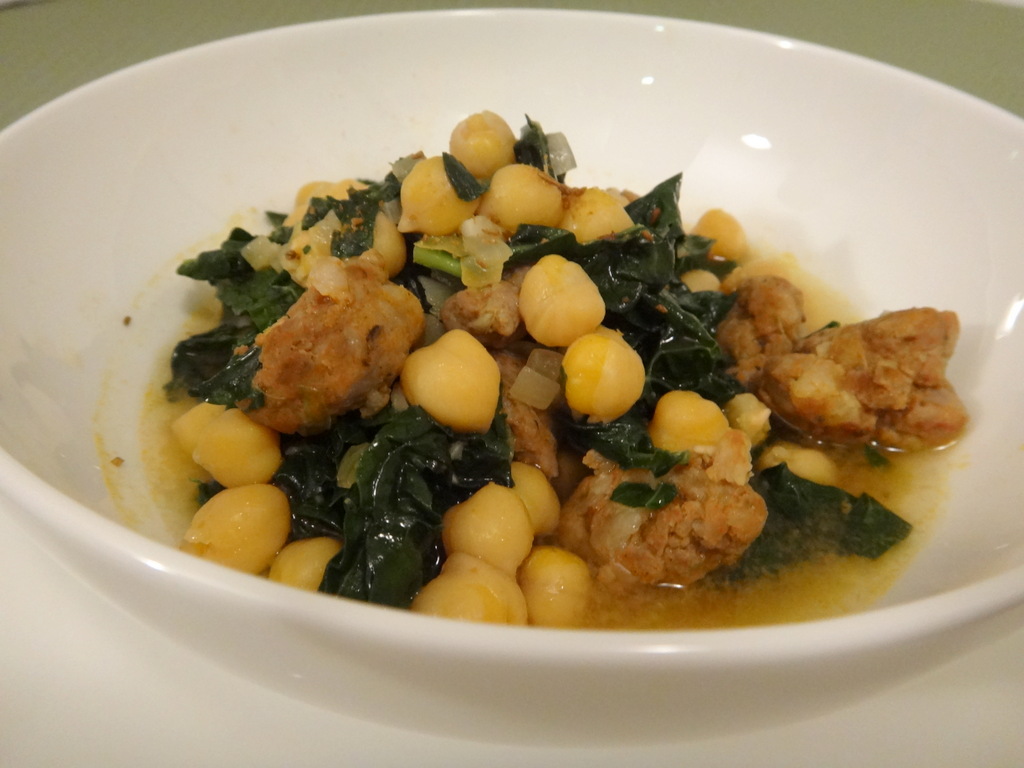 Its funny how so many foods most often associated with Indian cuisine didn't actually originate there. Chillies are a perfect example. But, as is well known, chilli peppers are native to South America. Indeed, no Indian had laid sight on one until the Portuguese arrived at the start of the 15th century. Or take chickpeas. Who hasn't had chana masala? Or those highly addictive deep-fried snacks based around chickpea flour? But, while India is by far their largest producer in the world today, chickpeas aren't native to the subcontinent. Instead, they were probably brought there by Turks and Persians when they invaded north India in the 12th century or so. In fact, from biryani to vindaloo, so-called "Indian" food – at least as it is known outside India – is a mixture of central Asian, Persian, and European influences.
I learned this while (re)reading Curry: A tale of cooks and conquerors by Lizzie Collingham, a fascinating book on the roots of Indian cuisine. Written by an historian, it is the sort of book that turns everything you thought you knew on its head. For instance, the early Mughal invaders, – who, shall we say, liked the good life – were appalled at how awful the food in 'Hindustan' (as the Persians called the land east of the Indus river) was!
Of course, chickpeas are widely eaten elsewhere, from the Middle East and North Africa to Italy and France. And Spain, where they are called garbanzo. Which brings me to today's recipe, a popular tapas dish that I first had in Barcelona. (The recipe itself is adapted from a recent 'City Kitchen' column by Danis Tanis in the New York Times.) Of all the legumes, I think chickpeas are the most intrinsically flavorful. And if ever there was a dish designed to showcase an ingredient's natural flavors it is this. (Chorizo and chickpeas! Who'd have thought!) It is also extremely simple except for the matter of cooking the chickpeas. In a cinch you could buy canned ones but the difference between canned and home cooked is like, say, that between instant cup noodles and what you'd find at a ramen-ya.
Chickpeas with chorizo and kale
Prep time:
Cook time:
Total time:
Ingredients
2 cups cooked chickpeas or ¾ cup dried chickpeas
1 bay leaf (if using dried chickpeas)
1 tbsp olive oil
1 onion, diced
1 bunch kale, washed, stemmed, and cut into strips
¼ lb spicy chorizo (preferably Spanish), diced
4 cloves garlic, minced
½ tsp smoked Spanish paprika (pimentón)
1 tsp cumin seeds, roasted and ground
1 tbsp chopped parsley
Salt and pepper
Instructions
If using dried chickpeas, wash and soak in cold water for 8 hours or overnight. Drain, place in a pot with the bay leaf and 1 tsp salt. Cover with about 5 cups of cold water. Bring to a boil and then lower heat and simmer until tender, about 45 minutes. Occasionally skim off the foam that rises to the surface, adding more water if necessary. Alternatively, if you have a pressure cooker follow the timing instructions to cook the chickpeas. In either case, drain the chickpeas, reserving about 2 cups of the cooking liquid, and set aside.
Heat the oil in a large skillet over medium heat. Add the onions and cook for a few minutes until they start to brown. Season with a pinch of salt and pepper. Add the chorizo and fry until the meat is no longer pink.
Stir in the garlic, pimentón, cumin, chickpeas, and 1 cup of the cooking broth. Bring to a simmer and add the kale. Mix well. Cover and cook until greens are done, about 3-4 minutes.
Adjust flavors by adding salt, pepper, pimenton and cumin.
Garnish with parsley and serve hot.