Doenjang jjigae: Korean stew with fermented soy bean paste and seafood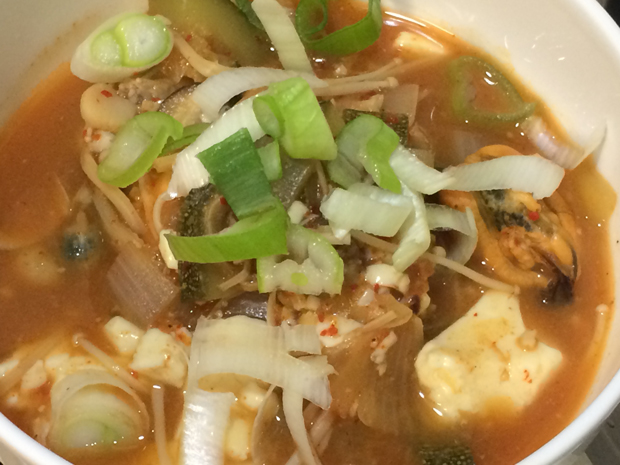 There are some people who can make even cell phone pictures look good. I, alas, am not one of them as the photo above of doenjang jjigae, one of the most popular comfort foods in Korea, testifies. But I assure you it tastes far better than it looks and, as a bonus, it is so easy that it practically cooks itself!
Jjigae is a type of stew and doenjang a fermented soy bean paste. When I first encountered it, I though, 'oh, its just the Korean version of miso!' And, while many Koreans will say it is 'completely different', to me it does taste a lot like Japanese shiro (white) miso. But the similarity is hardly surprising as soy bean fermentation is an ancient technology invented by the Chinese and which subsequently spread throughout east Asia. Oddly, given my love for Korean food, I'd never cooked with doenjang before. Sure, I'd made other jjigae's, notably sundubu jjigae, one of my all-time favorite dishes. It is now going to have to compete with doenjang jjigae for my affection!
As I mentioned in a previous post, I'm currently in Korea with access to only a tiny, rudimentary kitchen. The fantastic thing about this dish, and I'll admit that was part of the attraction for making it, is that the bare essentials are all you need. That said, I did cheat a bit and use store-bought anchovy powder (dashida) to make stock rather than prepare it from scratch using dried anchovies and konbu (dashima in Korean), as I would at home (one of the easiest thing in the world). But I didn't have the ingredients on hand in my miniscule pantry and the instant stock turned out to be very good. I'll certainly be using it again! (In case you're interested I also love the Japanese brand of dashi powder featured in this post.)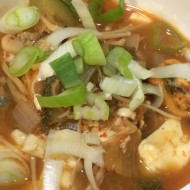 Doenjang jjigae
Yield: 4 servings
Prep Time: 10 minutes
Cook Time: 15 minutes
Total Time: 25 minutes
Ingredients:
1 cup diced zucchini (½" pieces)
1 medium yellow onion, diced into ½" cubes
6 cloves garlic, minced
2 tsp anchovy stock powder (dashida) dissolved in ½ cup hot water
4-5 Tbsp doenjang (plus more to taste)
1 ½ Tbsp Korean red chile flakes (kochukaru) (plus more to taste)
3/4 cup diced shellfish (I used a mixture of shrimp, mussels and squid)
1 small package (about 250 g) firm tofu, cut into 1" cubes
1 small bunch enoki mushrooms, trimmed (or ½ cup thinly-sliced shiitake)
4-5 scallions, diced
Steamed white rice to serve
Directions:
Place the zucchini, onions and garlic in a small pot and add enough water to cover the vegetables.
Bring to a boil and then lower heat to a simmer.
Dissolve the doenjang in the stock and add to the pot along with the kochukaru. Cover and cook until the vegetables are almost done.
Turn up the heat to medium, stir in the seafood and cook, uncovered, for 3-4 minutes.
Add the tofu and mushrooms and cook another 2-3 minutes.
Taste and adjust flavors, adding more doenjang and kochukaru as required.
Garnish with the scallions and serve with rice.