Dubu kimchi: Korean-style tofu with kimchi and pork belly
D B uploaded this image to 'drama/2012/Full House 2/fh2_09'. See the album on Photobucket.
If you've watched Korean television dramas or movies you'll be familiar with the obligatory scene where the protagonist sits in an outdoor tented food stall late at night downing shots of soju and slurping jjigae after being jilted by a lover–or whatever reason the usually convoluted plot calls for. I've always wanted to experience eating at one of those places and on my first few visits to Seoul searched in vain. I later discovered that such tented stalls, which are called pojangmacha, have all but disappeared, driven into extinction by urbanization, changing tastes and government policy to gentrify Seoul. Not that food stalls don't exist in Seoul. Just not the kind you see on TV. But pojangmacha have been resurrected in recent years as posher, more permanent establishments that are not so different from restaurants but retain the vibe of a traditional pojangmacha with a menu to match. Which is where I first encountered today's dish when my friend Dohee Kim took me to Samgeori Potcha (삼거리포차) in the hip Hongdae area of Seoul. If you're ever visiting that city I highly recommend you seek this place out. It is one of the best!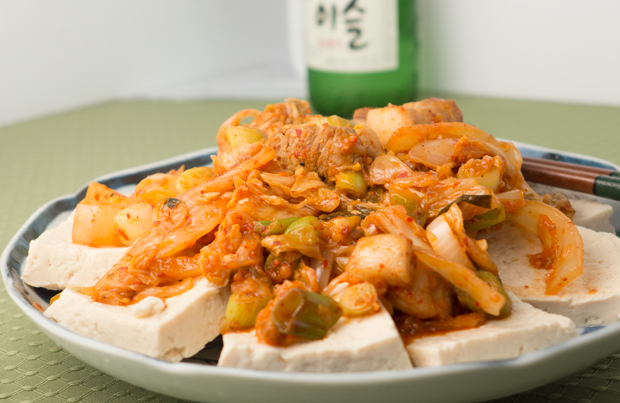 This is an easy dish to prepare. And extremely tasty, too. (With kimchi and pork belly involved how could it be otherwise?!) Be warned, however, that even by Korean standards, dubu kimchi is a spicy dish (of course you're free to dial the heat down – or up – to suit your tolerance). ("Dubu" is Korean for tofu.) The recipe itself is based on one in Home cooking recipe 52 by Baek Jong Won, a well known TV chef in Korea. (Considering that he's on pretty much every TV channel in Korea 24 hours a day, that somewhat understates his fame and influence in Korea.) The book is unfortunately only available in Korean but a good friend, Yejin Jung, was kind enough to roughly translate bits of it. This is drinking food at its best and for the full pojangmacha experience, in the comfort of your home, serve with cold soju or makkoli.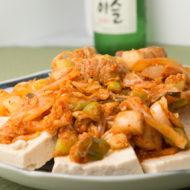 Dubu kimchi: Korean-style tofu with kimchi and pork belly
Yield: 4 servings
Prep Time: 10 min
Cook Time: 15 min
Total Time: 25 min
Ingredients:
1 block tofu (400 g), cut into ½"-thick, 2"-wide squares
1 Tbsp sea salt
1 Tbsp canola or other neutral oil
150 g pork belly, cut into bite-sized pieces
1 cup (about 300 g) cabbage kimchi, cut into 2"-long strips
3 cloves garlic, minced
1 Tbsp soy sauce
2 tsp gochugaru (Korean red chile powder)
1 tsp sugar
several grinds black pepper
½ onion, thickly sliced
4 scallions (green onions), cut crosswise into ½"-wide slices
1 Tbsp sesame oil
1 green and 1 red chile, thinly sliced
Directions:
Bring a large pot of water to a boil and add the salt. Gently lower the tofu slices in the water, lower heat and simmer for 4-5 minutes until the tofu is warmed through. Remove with a slotted spoon and drain on a large paper towel-lined plate. Place the plate in the freezer to chill and firm up the tofu.
While the tofu is coolong down, heat the canola oil in a large skillet over a medium-low flame and fry the pork until the fat renders, about 3-4 minutes. Add the onions and fry another 2-3 minutes until softened.
Add the kimchi, garlic, soy sauce, gochugaru, sugar, black pepper and turn up the heat to medium high. Saute until the kimchi is cooked through. Taste and adjust flavors.
Stir in the scallions, chiles, sesame oil and saute another minute.
To serve, place the tofu slices in a single layer on a plate and heap the cooked kimchi on top.
Adapted from Home cooking recipe 52 by Baek Jong Won (link)