Eggplant fritters and beet dip with za'atar and goat cheese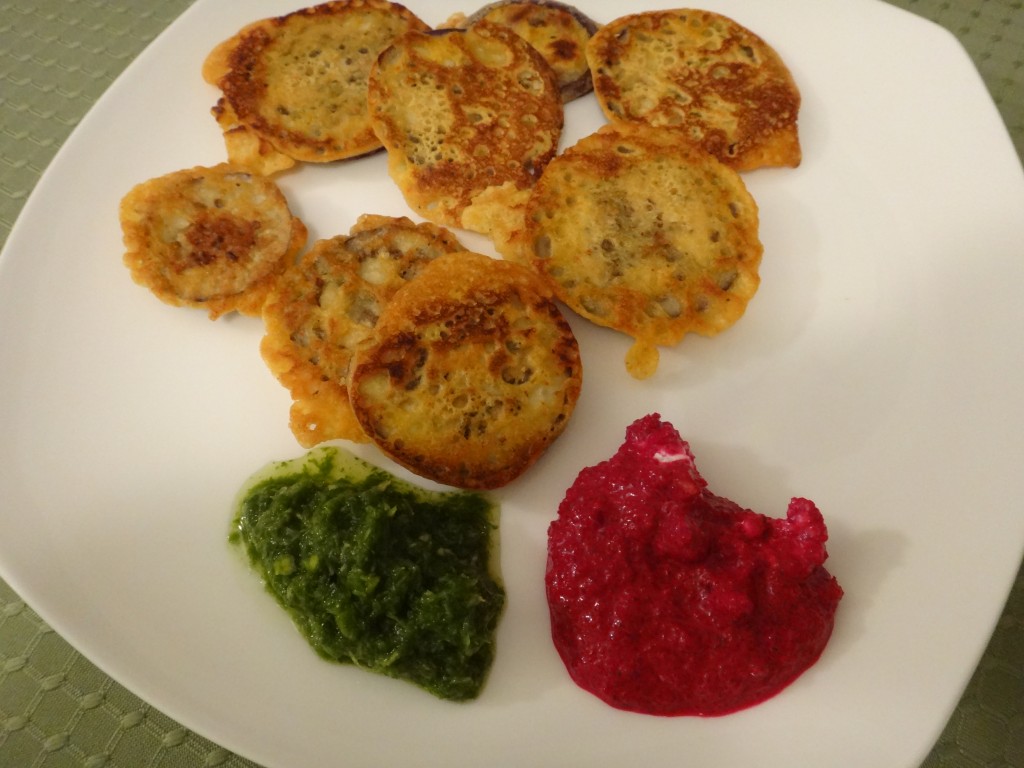 This past summer, an excess of beets from my local CSA forced me to find new ways of cooking them. Roasting, I discovered, works best. As does pairing them with vinaigrettes involving (what else) anchovies. That said, I was almost glad when the CSA season was over. I thought, "good, no more beets!". I know they are supposed to be good for you but I never particularly liked them, at least not the way they are usually served: as an afterthought, cloyingly sweet, their bright red juices staining everything. Until, that is, I came across today's recipe for a dip.
To be honest what caught my attention was the use of za'atar – a Middle Eastern spice blend often sprinkled on flatbreads – that I was eager to incorporate in my cooking. It helped that the recipe was due to Yotam Ottolenghi, whom I've already mentioned in a previous post. This one is from his new cookbook via Food and Wine Magazine. Since I first made it several weeks ago it has become a staple that I like to have on hand to dip everything in, from crackers to bread, and tortilla chips to crudités. But it goes well, too, with these very simple pan-fried eggplant fritters. Growing up, I often ate them as an after-school snack. The batter is made of chickpea flour (which you can find in Indian grocery stores labeled as "gram flour" or "besan"). Zucchini works well instead of eggplant. This batter, incidentally, is highly versatile and central to many Indian snacks. For instance, you can deep fry instead of pan fry: sort of an Indian version of Japanese tempura generically known as "bhajia" and widely sold as street food in India. In that case, vegetables such as green peppers, green chillies, sliced onions, potatoes, and yam are also commonly used. Or, for something healthier (beware that bhajia are dangerously addictive!), add shredded cabbage, diced tomatoes, minced chillies and cilantro and you have a fantastic pancake batter (sort of an Indian version of Korean pajeon).
Eggplant fritters and beet dip with za'atar and goat cheese
Prep time:
Cook time:
Total time:
Ingredients
Beet dip (makes about 1 cup)
2-3 medium sized beets (about ¾ lb)
¼ cup plain yogurt
2 cloves garlic, minced
3 tbsp za'atar
1 tsp honey
¼ tsp cayenne pepper
3 tbsp olive oil
½ tsp salt
3-4 tbsp goat cheese
For the fritters:
1 cup chickpea flour
1 cup water
2 tsp red chilli powder
2 tsp salt
1 medium sized eggplant (about ½ lb)
3-4 tbsp canola or vegetable oil
Beet dip and green cilantro chutney to serve
Instructions
Beet dip
Preheat oven to 375 F.
Wash beets and place in a baking pan with 1 cup water. Cover with foil and bake until tender (about 45 minutes to an hour). Allow beets to cool. Then peel and cut into large chunks.
Place garlic, beets, yogurt, salt, honey, cayenne, and za'atar in a food processor or blender and puree. Add oil and blend until you have a smooth mixture. The dip should have a thick consistency (add more yogurt if its too thick). Taste for salt.
Crumble goat cheese over the dip and serve.
Fritters
Make the batter by mixing together the flour, water, chilli powder, and salt. Make sure to break up any bits of flour. Taste for salt.
Slice the eggplants into ¼" rounds and place in the batter making sure the eggplants are well coated.
Heat 1 tbsp oil in a large skillet over medium high until very hot.
Working in batches, fry the eggplant until golden brown (about 3-4 min each side). Remove from skillet and place on a paper towel-lined plate.
Serve hot with the dip and green chutney.