Farro salad with chickpeas and roasted leeks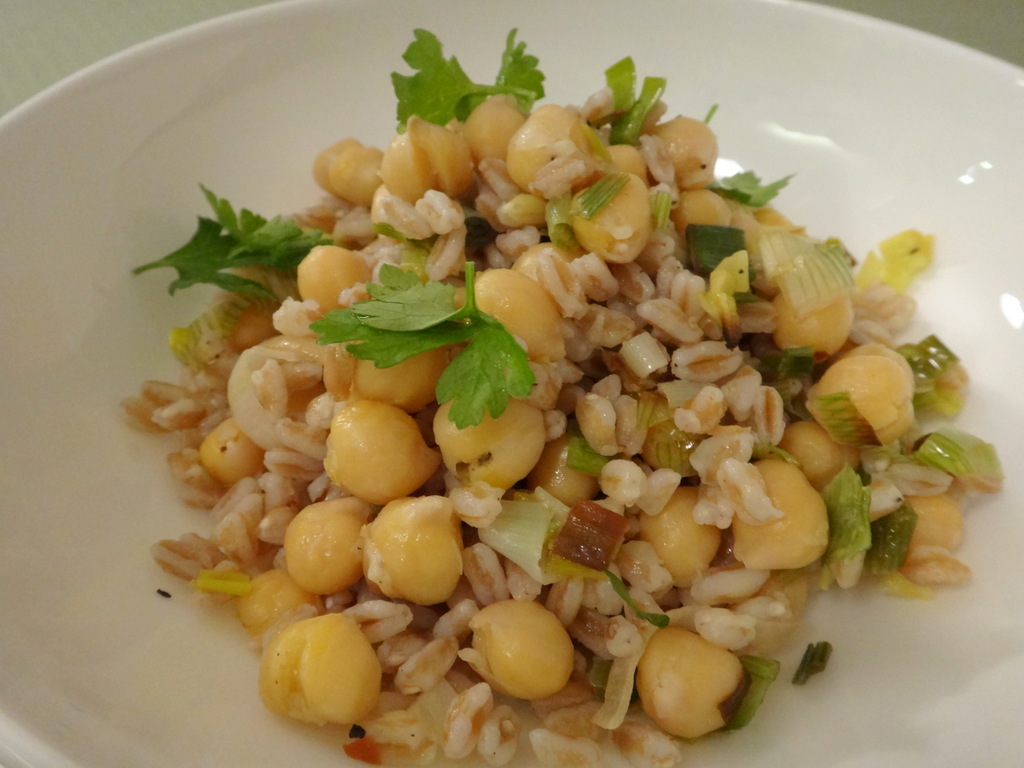 For anyone interested in food issues, broadly speaking, and reading about them, the last few weeks have been like Christmas. First, there was the horsemeat scandal galloping across Europe, riding roughshod over the reputation of some of Europe's largest companies – from Nestle to Carrefour, and even Ikea (perhaps people began to wonder why their meatballs suddenly tasted better!). In case you haven't been following this story, it involved horsemeat from Romania disguised as beef that was sold in frozen food products such as lasagne across Europe, from France to the UK.
It laid bare the oft-made claim that Europeans care much more about food than, say, Americans do. And that they are willing to put their money where their mouth is. Because, as the chef Rowley Leigh pointed out, at its heart, what this incident reveals is how little people are willing to pay for food. This has led supermarkets to squeeze their suppliers and so on down the chain. That food logistics chains have become ever more complex is also at fault. This case involved Romanian abattoirs selling horsemeat to factories in Holland, but registered in Cyprus, who sold it to a French company manufacturing in Luxemburg, who sold it on to a Swedish food company operating in Britain. Whew! What is scarier, still, is that this is now typical. An article in the FT last week described the global supply chains used by multinational food companies such as Nestle and Unilever. It makes for riveting reading. For instance, a company like Unilever makes about 30,000 differently sized products in Europe alone and, globally, uses more than 160,000 suppliers and service providers. Astonishingly, its goods travel a distance equal to going to the moon and back twice a day. Every day. Talk about 'farm-to-table'!
Next, there was a fascinating excerpt in the New York Times from a soon-to-be-published book by Michael Moss on the science behind junk food. Or, rather, about how food companies managed to hook us all on highly processed, salty, sugary, and fatty foods. And I do mean 'all'. I love potato and nacho chips as much as anyone! (But I'm not really going to blame Frito-Lay or Kraft or whoever for this.)
Not all the news has been bleak. One bright spot was the publication of the results of the first major clinical trial to measure the effectiveness of a 'Mediterranean diet' in reducing heart disease. As reported in the New York Times, the health benefits of a diet rich in olive oil, beans, fish, nuts, fruits and vegetables (duh!), and wine (yeah!) were so unambiguously good that the researchers decided it was unethical to continue the trials and stopped after 5 years! While a link between such a diet and reduced heart risks has long been postulated, the rigorous nature of this study lays to rest any doubts.
Of course, the best reason for eating like this is not any potential health benefit but the fact that it tastes so damn good! There is in fact no guarantee that today's recipe for farro salad with chickpeas and roasted leeks, adapted from Melissa Clarke's column in the New York Times, will extend your life or ward of any diseases. I can undoubtedly promise, however, that it is surprisingly tasty. The secret to this recipe is the roasted leek, which adds remarkable depth. I can also promise that it will get you hooked on farro, as it did I. I've made this salad with chickpeas, but other beans such as cannellini should work, too.
Farro salad with chickpeas and roasted leeks
Prep time:
Cook time:
Total time:
Ingredients
2 cups cooked farro
2 cups cooked chickpeas
2 leeks, cleaned and thinly sliced crosswise
2 cloves garlic, minced
2 tbsp olive oil
3 tbsp lemon juice
salt
Ground black pepper
⅛ tsp red chili flakes (optional)
1 tbsp chopped parsley
Instructions
Preheat oven to 425 deg F.
Place chickpeas in a bowl and stir in the garlic, lemon juice, 1 tbsp olive oil, a pinch of salt, and (optionally) the chili flakes. Mix and set aside.
Toss leeks with the remaining oil and a pinch each of salt and pepper. Spread out on a baking sheet and roast in oven until golden brown, taking care not to burn them, about 20 minutes. Toss them half way through.
When the leeks are done, add them to the chickpeas along with the farro and toss everything. Taste for salt and pepper. Add more lemon juice if necessary.
Garnish with the parsley and serve warm.