Farro with pancetta, spinach and celery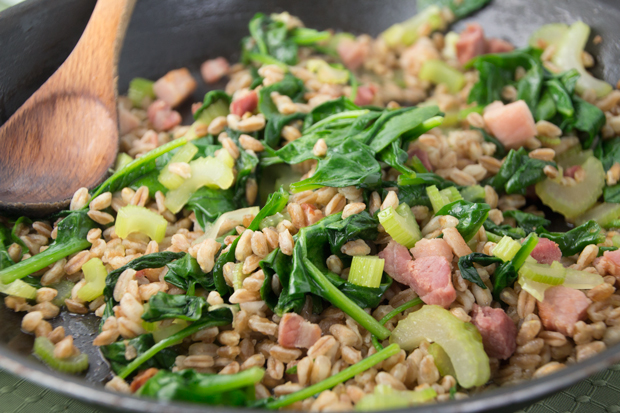 Move over chorizo (but not too much). Your place as my go-to ingredient has been supplanted by an Italian competitor: pancetta. This salt-cured bacon has had me in thrall for the past few months. It adds fantastic flavor to just about any dish and, the best part, a little goes a long way. Here, it is paired with farro, another Italian pantry staple, to make for a tasty, well-balanced and quick meal. (Another thing I love about cooking with pancetta is the high reward to effort ratio!)
Farro with pancetta, spinach and celery
Yield: 2 servings
Prep Time: 5 min
Cook Time: 15 min
Total Time: 20 min
Ingredients:
1 Tbsp olive oil
3 Tbsp pancetta (about 30 g)
2 sticks celery, diced
½ cup uncooked farro
2 packed cups baby spinach (about 60 g)
½ cup chicken stock
Directions:
Bring a pot of salted water to a boil and add the farro. Cook until almost done (it should still have a bite to it). Drain and set aside.
While the farro is cooking heat the oil in a large skillet over a medium-low flame and fry the pancetta until the edges begin to brown. Add the celery and cook, stirring, until it begins to soften, about 3-4 minutes.
Turn up the heat slightly and add the farro, stock and spinach. Cook until the liquid has been absorbed and the spinach wilted down. Season with salt and pepper and serve hot.