Fettuccine with peas and pancetta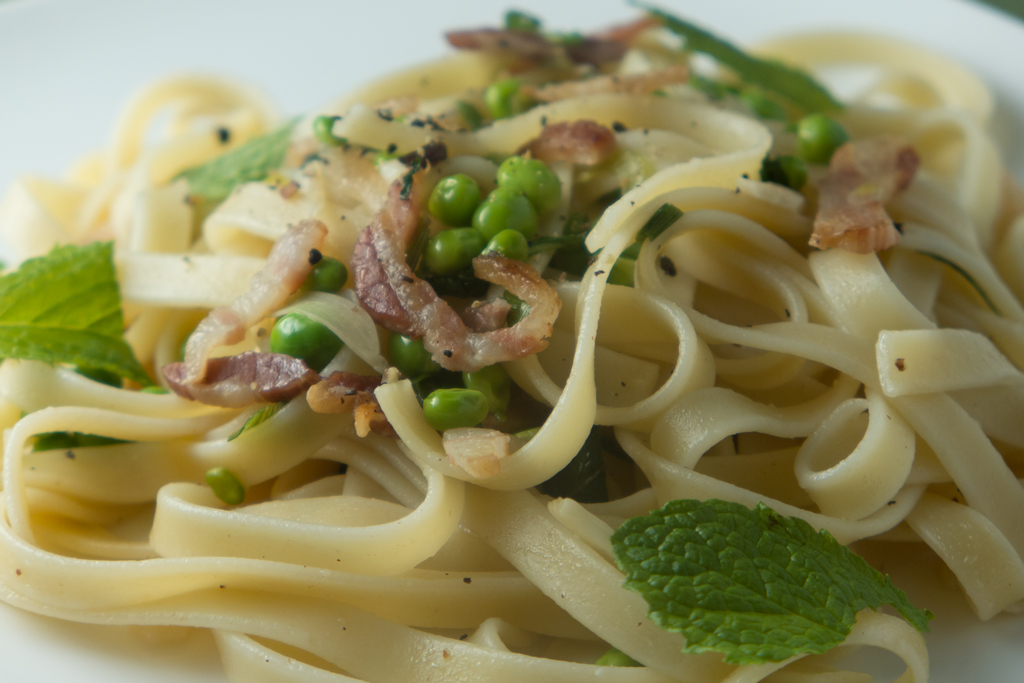 Lately, I've been working through some of Mario Batali's cookbooks. For those unfamiliar with Chef Batali, he owns some of New York's iconic Italian restaurants. I haven't been to any of them (yet!) but if the food is anything like in his cookbooks I now know what I've been missing! It is Italian food like I've never had before: highly inventive and tasty, yet surprisingly simple to make. And eye-opening, too. I had no idea, for instance, that Italians eat vegetables in such abundance and in such surprising combinations at that. Meat or other proteins, when present, play a small but important supporting role.
Today's recipe is from Molto Batali: Simple Family Meals. It is typical of this and the other Batali cookbooks in relying on just a handful of complementary ingredients. Here, the sweetness of the fresh peas balance the mild saltiness of the pancetta for a filling, yet light and refreshing dish that is perfect for summer. Best of all, it takes almost no time to throw together!
Fettuccine with peas and pancetta
Prep time:
Cook time:
Total time:
Ingredients
1 tbsp olive oil
2 oz. pancetta cut into 2" long sticks
3 cloves garlic, thinly sliced
1 cup shelled fresh peas
3 scallions (whites and some of the green parts), diced
½ loosely-packed cup mint, roughly torn
½ lb fettuccine
Salt
Ground black pepper
Optional grated Pecorino Romano cheese for garnish
Instructions
Bring water for the pasta to a boil.
In the meantime, in a large skillet heat the oil over medium and fry the pancetta until cooked and the fat has been rendered, about 4-5 minutes. Drain away the excess oil and stir in the garlic and scallions. Cook for a couple of minutes, then add the peas and 2-3 tablespoons of hot water. Cook, stirring often, until the water is almost all absorbed and the peas are tender. Turn off the heat and season with salt and pepper.
Cook the pasta until al dente. Before draining, add 3-4 tablespoons of the pasta water to the skillet and turn the heat back on to medium. Drain the pasta and add to the skillet along with half the mint. Toss quickly until the pasta is well coated.
Garnish with the remaining mint and optional grated cheese and serve.