French potato and green bean salad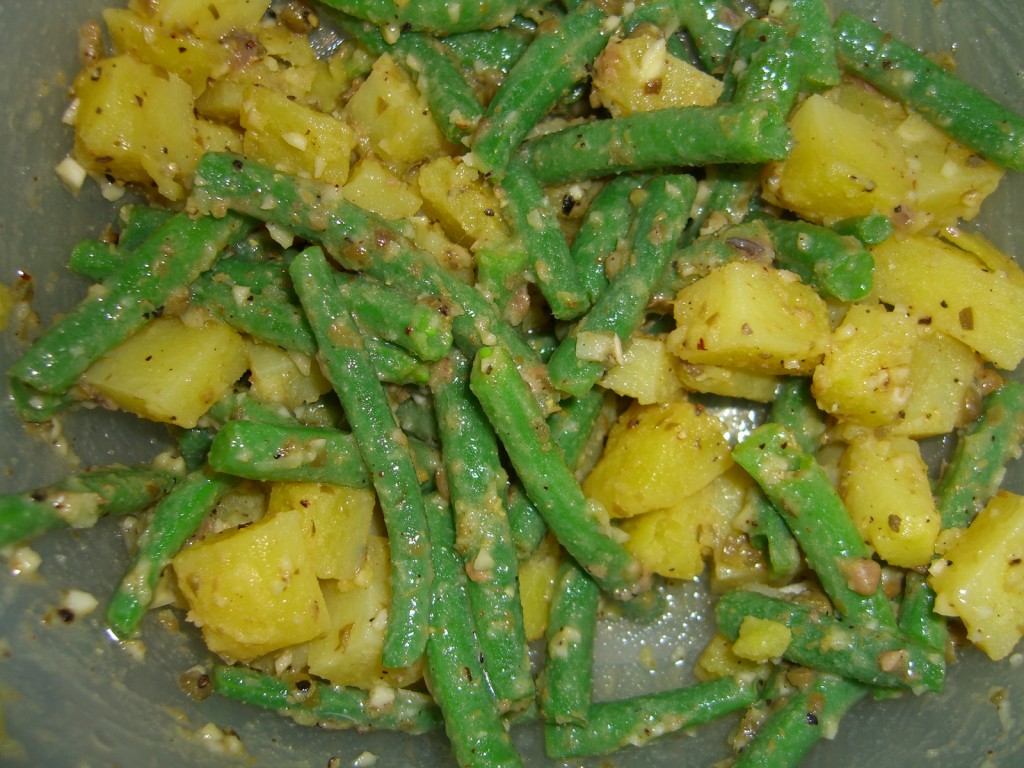 I suppose I should start by saying that this recipe involves anchovies. Prominently. If you're someone who recoils in horror at their very thought, I would not take it personally if you read no further. (Hey, I have a similar relationship with natto!) On the other hand if you're one of those – and I might as well nail my colors to the mast here – who thinks there is nothing that can't be made better with the addition of anchovies then you may like this paean to these umami-laden flavor bombs. Okay, actually until this New York Times piece appeared I didn't know anchovies had such a bad rep and that the yea's are in a distinct minority – at least in the US. (But, according to said article, change is afoot!)

As I didn't grow up in an anchovy-consuming country, my own introduction to them is rather recent and started – as perhaps for many others – gently enough with pizza. This is a perfectly respectable and tasty way to consume them, but it was not until I got hold of Melissa Clark's wonderful book Cook this now that the possibilities opened up. This is easily one of my favorite cookbooks because of its 'fearless' style of cooking involving ingredients and flavor combinations that I had not previously experienced. Suffice it to say, anchovies play a big role in her recipes. And no more so than in vinaigrettes. Now, if you're from the Mediterranean region this is all old hat. But I'm not, and this has become my favorite way to use anchovies. Its also dead simple, hardly needing a description beyond the fact that you add finely chopped anchovies (and garlic) to your basic one part acid, three parts oil recipe. (For more on making a vinaigrette here's a fantastic video by (who else) Melissa Clark. Once you start making your own the very idea that it is sold in bottles in supermarkets will seem laughable.)
Now, I'll be the first to admit that 'potato and bean salad' sounds like the most boring salad in the history of boring salads. But don't let the name put you off. Its actually, to use an expression beloved of food bloggers (and I'll try not to overuse it!), absolutely gorgeous and has become my go-to salad for any occasion. The recipe, with some simplifications, is taken from the excellent City Kitchen column by David Tanis in the New York Times, a fount of useful information and inspiring recipes. What lifts this dish to such exalted heights is the aforementioned vinaigrette, which is trivial to make, hard to mess up (and I've often mixed up the proportion of ingredients with no discernible consequences!), and easy to play around with. For example, although the recipe calls for white wine vinegar, in a pinch you can use sherry vinegar or lemon juice (but go easy on the capers then) for the acid. Regardless, it goes well with all kinds of greens, grilled veggies, or for dipping crudités and crusty bread in.
Ingredient note: There are all sorts of anchovies available on the market. As Melissa Clark puts it in her very useful post on the subject, the best ones are usually packed in olive oil and come from Spain, Italy or France. She recommends the brand shown below. Its not cheap, but a little goes a long way and a 3.3 oz. bottle will last you a while (well, perhaps a few weeks if you overindulge as I have been known to).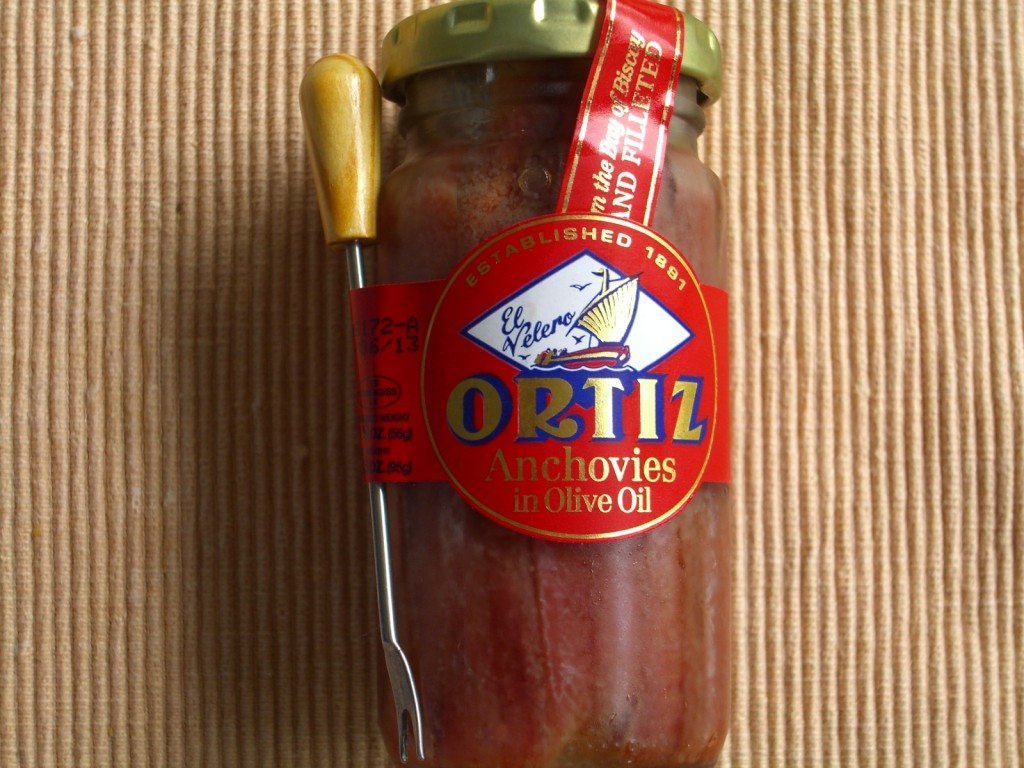 French potato and green bean salad
Cuisine:
French; Mediterranean
Prep time:
Cook time:
Total time:
Ingredients
1 large yellow potato
5 filets anchovies (packed in olive oil; see ingredient note above), chopped
3-4 cloves garlic, minced
½ tbsp capers, minced
½ tbsp Dijon mustard
1½ tbsp white wine vinegar
4 tbsp olive oil
½ lb French green beans
Optional 1 egg, hard boiled
Ground black pepper
6-7 basil leaves, torn into small pieces
1 tbsp parsley, coarsely chopped
Instructions
Place the potato in a pot and fill with cold water. Bring to a boil, cover and cook until just tender (20-25 min).
Meanwhile, prepare the vinaigrette by mixing together in a small bowl the chopped anchovies, minced garlic and capers, mustard, vinegar, and a pinch of black pepper. Use a wooden spoon to blend in the anchovies. Whisk in the olive oil. Feel free to adjust the proportion of vinegar, capers, and oil according to how tart and oily you want your vinaigrette to be. Cover and refrigerate while you prepare the rest of the ingredients.
Wash, tail and cut the beans into 1"-long pieces. Bring a pot of lightly salted water to a boil and cook the beans until just tender (but still a bit crisp). Drain and refresh under cold running water or in a bowl of ice water. Pat dry with a paper towel and set aside.
Drain the cooked potato and, once its cool enough to touch, remove skin and cut into 1" cubes.
If using, cut the boiled egg in quarters.
Place potatoes, beans, and (optional) eggs in a bowl and pour most of the vinaigrette on top. (Reserve some in case you need to adjust the flavor later.) Sprinkle the basil on top, season with pinch or two of ground black pepper and gently mix with a wooden spoon, taking care not to mash the potatoes.
Sprinkle the parsley on top to serve.
Serve with crusty bread.