Green tea okara donuts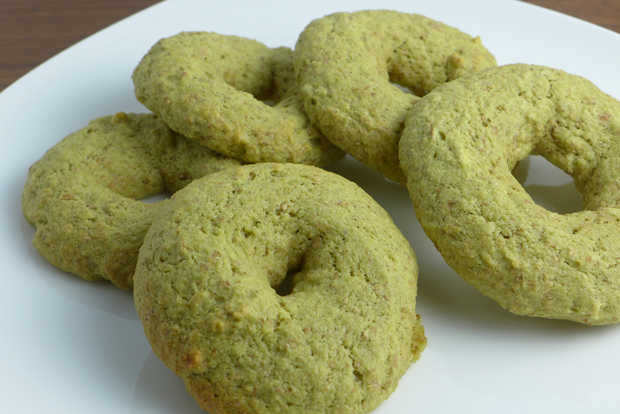 When food lovers visit Japan they seek out the best rāmen and kaiseki restaurants. I go for the donuts. Yes, you read that right: donuts. In fact, one of the first things I do when I visit is make a beeline for the neighborhood Mister Donut, a cheap and cheerful chain of cafes selling everything from donuts to rice porridge. Japanese donuts are quite different from the cloying, calorie bombs you would find at a Dunkin' Donuts or Krispy Kreme. They are much less sweet and quite a bit smaller. More interestingly, they frequently incorporate ingredients such as rice, soybeans, and sweet potato, adding both texture and flavor.
Soybeans of course are famously central to Japanese cuisine, from miso to tofu, and even my favorite energy bars. Alas, they seem largely unappreciated in Europe. As I mentioned in an earlier post it was a bit of a shock to discover that tofu, never mind decent tofu, is not as popular or easy to come by in the UK as it is in, say, America, let alone Japan where it is practically a food group and neighborhood stores making fresh tofu are as common as pubs are in Britain. Indeed, if you mention tofu to anyone here they will ask if you are vegetarian! What excellent luck, then, that just before I moved here I purchased Andrea Nguyen's new book, Asian Tofu, more with the intention of educating myself on this amazing and versatile food than making my own. But after experiencing the local tofu I realized I'd have to take matters into my own hands!
But even if you can get tofu easily there is a good reason to make your own: okara. Largely unknown outside Japan, this insoluble part of the soybean is a byproduct of tofu and soy milk production. While an awful lot of it gets made globally, only a small fraction is used in cooking (the bulk of it is used to feed livestock), and only in Japan as far as I know. While bland it is highly nutritious. A classic recipe involves stir frying okara with carrots, gobō and shiitake. I've also had chips ("crisps" to my local readers) and veggie burgers made of okara.
And donuts, which brings me to today's recipe. I'll skip over how to make okara, leaving that to a future post. The donuts themselves are quite simple to make and relatively healthy because, unlike regular ones which are deep fried, these are baked (which may explain why they look a bit dry in the picture, although they turned out quite moist inside). The recipe is adapted from one I found here. For flavoring I use matcha (green tea powder). Beware that matcha is a somewhat bitter so use sparingly. If you don't have matcha on hand then substitute finely chopped chocolate if you like.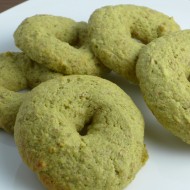 Green tea okara donuts
Yield: 8-10 donuts
Prep Time: 5 minutes
Cook Time: 15 minutes
Total Time: 20 minutes
Ingredients:
1/2 cup all purpose flour
1/4 cup spelt or whole wheat flour
1/2 cup okara
2 tsp baking powder
1/4 cup sugar
1 1/2 tsp matcha plus more to taste
2 tbsp unsalted butter
1 egg
1/4 cup whole milk
Directions:
Preheat oven to 350°F and line a baking pan with parchment paper.
Mix the flours, okara, sugar, matcha and baking powder in a small bowl.
In another bowl beat the butter with a wooden spoon until it becomes a smooth paste. Add the egg and whisk. Stir in the flours and, using a spatula, fold it in until the batter is well mixed.
Pour the batter into a ziplock bag and snip off a small hole from the bottom. Squeeze the batter out onto the baking pan in a 1/2"-thick circle of about 3" diameter. Repeat until you've used up all the batter.
Bake in the oven until the surface starts to color, about 10-15 minutes.
Remove from oven and cool slightly on a rack before eating.