Gyoza: Japanese pan-fried dumplings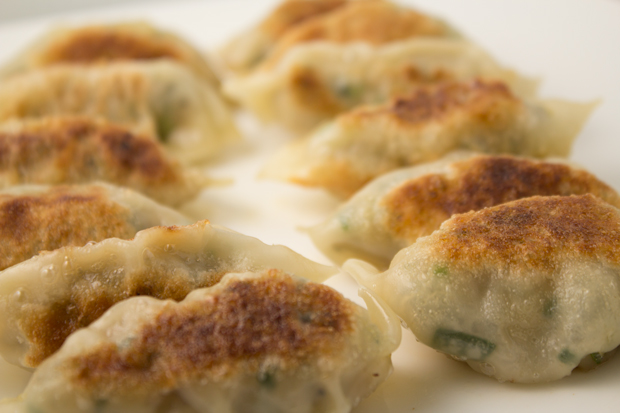 I'm a huge fan of dumplings. From Korean mandoo to Shanghai-style xiao long bao, I like 'em all. But one of my favorite by far are Japanese gyoza. Usually served as a side dish in ramen-ya or izakaya, these bite-sized, pan-fried dumplings are eternally popular in Japan, although outside Japan they've been overshadowed by the sushi and ramen craze that seems to have swept the planet. That's too bad. Gyoza deserve far more attention than they've received. And so to cast a spotlight on them here's a recipe adapted from one my friend Yukiko Minemura shared with me. Serve the gyoza with a glass or two of ice cold Yebisu beer (Sapporo will also do in a cinch) and you'll be transported to an izakaya in the alleyways of Shinjuku!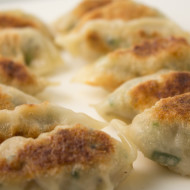 Gyoza: Japanese pan-fried dumplings
Yield: Makes about 30 dumplings
Prep Time: 10 minutes (plus 1 hour for marinating)
Cook Time: 20 minutes
Total Time: 30 minutes (plus 1 hour for marinating)
Ingredients:
2" piece ginger, minced
5 cloves garlic, minced
2 tsp soy sauce
2 tsp sesame oil
3/4 tsp salt
1/4 tsp freshly ground black pepper
200 g (~3/4 cup) ground pork
1 cup packed cabbage (regular green, napa (白菜) or a mixture)
½ cup Chinese chives (にら), diced
1 tsp oyster sauce
30 gyoza wrappers
vegetable oil for frying
1 Tbsp sesame oil
soy sauce and Japanese red chile oil (ra-yu or ラーユ) to serve
Directions:
Mix the first 6 ingredients (ginger through ground pepper) in a small bowl and pour over the pork. Mix well, using your hands to massage the marinade into the meat. Cover and refrigerate for 1 hour.
Blanch the cabbage in boiling water for about 1 minute until softened. Drain and refresh under cold water. Squeeze to remove as much water as you can. Then chop well and squeeze dry again.
Add cabbage, chives and oyster sauce to the marinated pork. Mix well.
Fill a small bowl with water and set aside.
To assemble the dumplings, place a wrapper in the palm of one hand and place about 2 tsp of the stuffing just off center. Try not to overfill. Dip a finger into the water and moisten the edge of the wrapper. Fold and pinch shut. If you want to be fancier, feel free to make a pleat. Place on a large plate and cover with a towel. Repeat with the rest of the wrappers, making sure the assembled dumplings don't touch each other.
To cook, heat 1-1½ Tbsp of vegetable oil in a large nonstick skillet over medium-high. Once the oil is hot, place half the gyoza, one at a time, in the skillet, pleated side facing up. It is traditional to place the gyoza in rows in a sort of chevron pattern. Fry for 2-3 minutes until the bottoms are nicely browned. Then, add enough water to the pan to just cover the bottom of the dumplings and cover with a lid. Cook until almost all the water has been absorbed or evaporated, about 4-5 minutes. Remove the lid and fry another minute or so.
When done, drizzle a bit of sesame oil and a few drops of hot chile oil on top. Then with a large spatula lift the gyoza out of the pan and flip over onto a plate.
Serve hot with soy sauce for dipping.
Adapted from a recipe by Yukiko Minemuera.