Indian-style chutney sandwich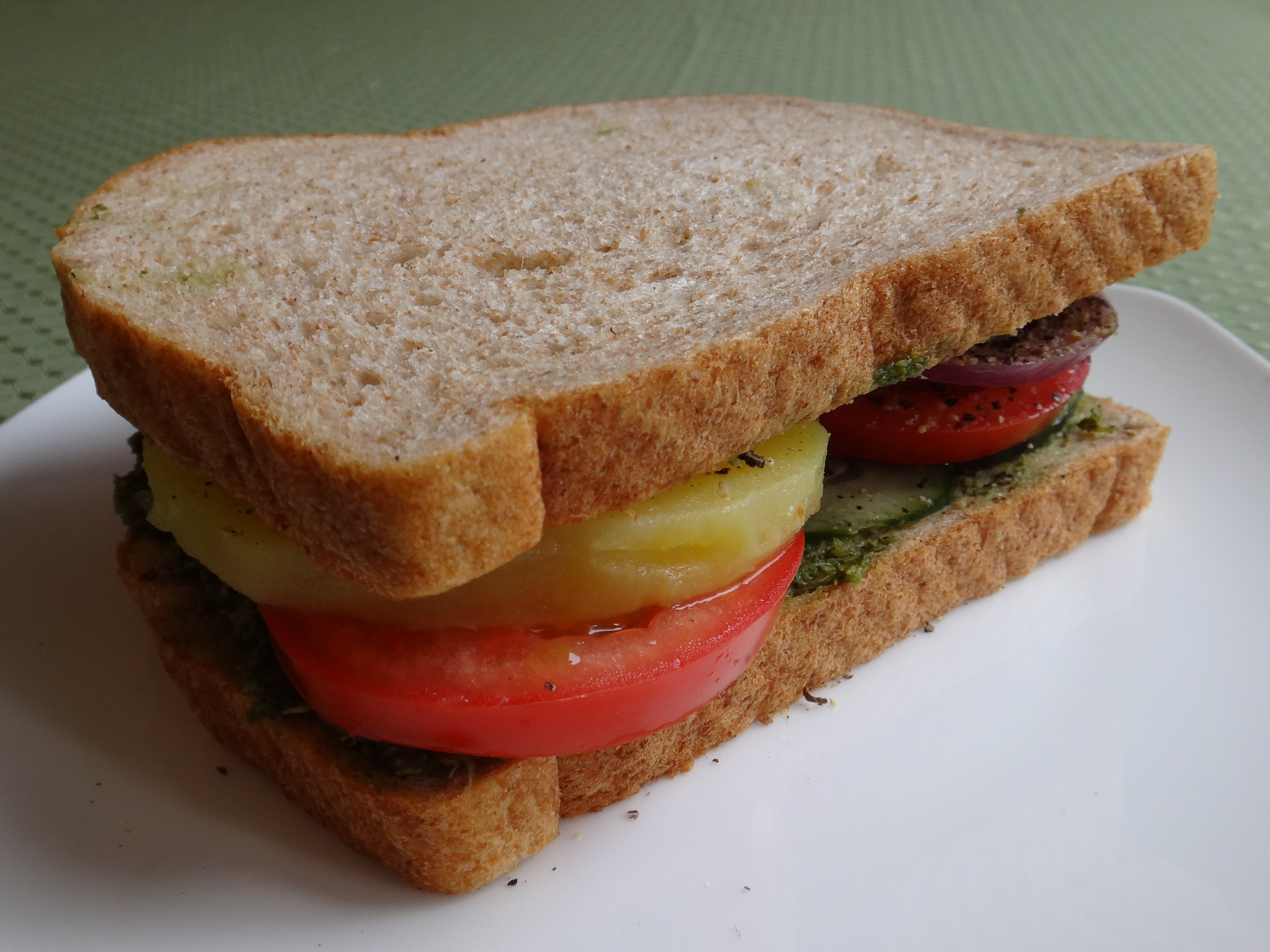 You know that green, watery concoction they serve at Indian restaurants, high and low? There's a hint of mint, but it is otherwise completely tasteless. Like much of what is served in Indian restaurants throughout the world, this so-called "chutney" is about as far as one can get from the food typically eaten at home, giving, and rightly so, Indian cuisine a bad rep.
Not that mint isn't used to make chutney. Wikipedia lists a few dozen types, and I'm sure there are more regional variations – a 50 shades of green so to speak – than there are stray cows roaming the streets of Mumbai. But for me, chutney means something very specific. It is essentially made out of cilantro giving it a bright green color, and a meal isn't complete without it. It is, in our house at least, made fresh every morning and is what I imagine kimchi is in Korea or rice in Japan. Of course, we also make other types depending on what other dishes are on the menu (e.g., a coconut and lentil chutney with dosa). But the basic "green chutney" as I will call it is a staple. You just put a bit on your spoon (or, preferably, your finger because, you know, everything does taste better when eaten with your hands) and lick it off. You don't have to eat it with anything else, although of course it is also commonly used as a dipping sauce for snacks such as samosas.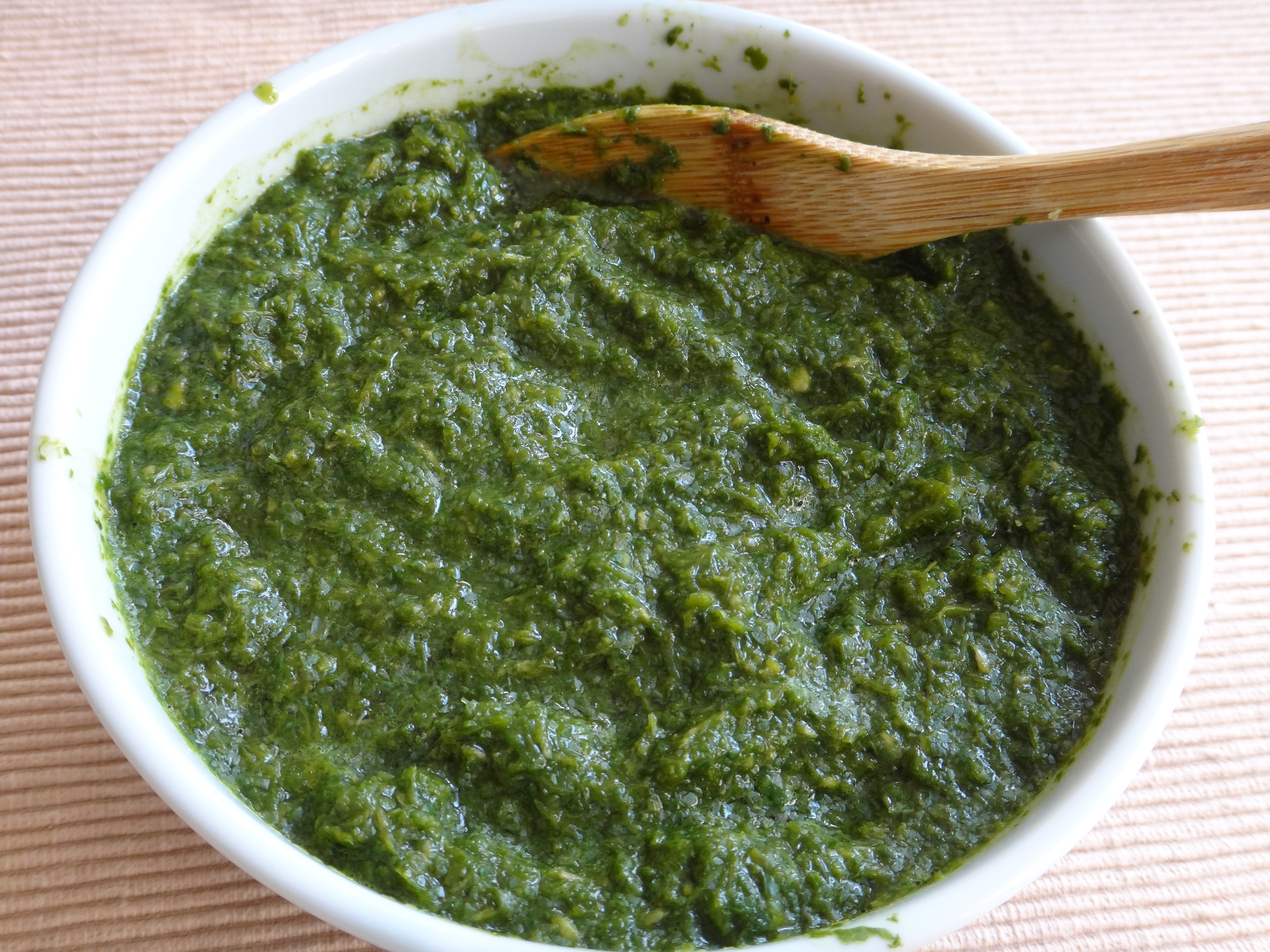 More relevantly to today's post, this chutney is an essential ingredient in a rather simple sandwich that I grew up eating, either as part of my lunchtime bentō, or after coming home from school. One could say its the PB&J of India, although, I have no idea whether its eaten outside Mumbai. It is also one of a pantheon of street foods popular in Mumbai, chat, bhel, and pav bhaji being some others. Each vendor has their own way of making it and everyone has their own personal favorite vendor.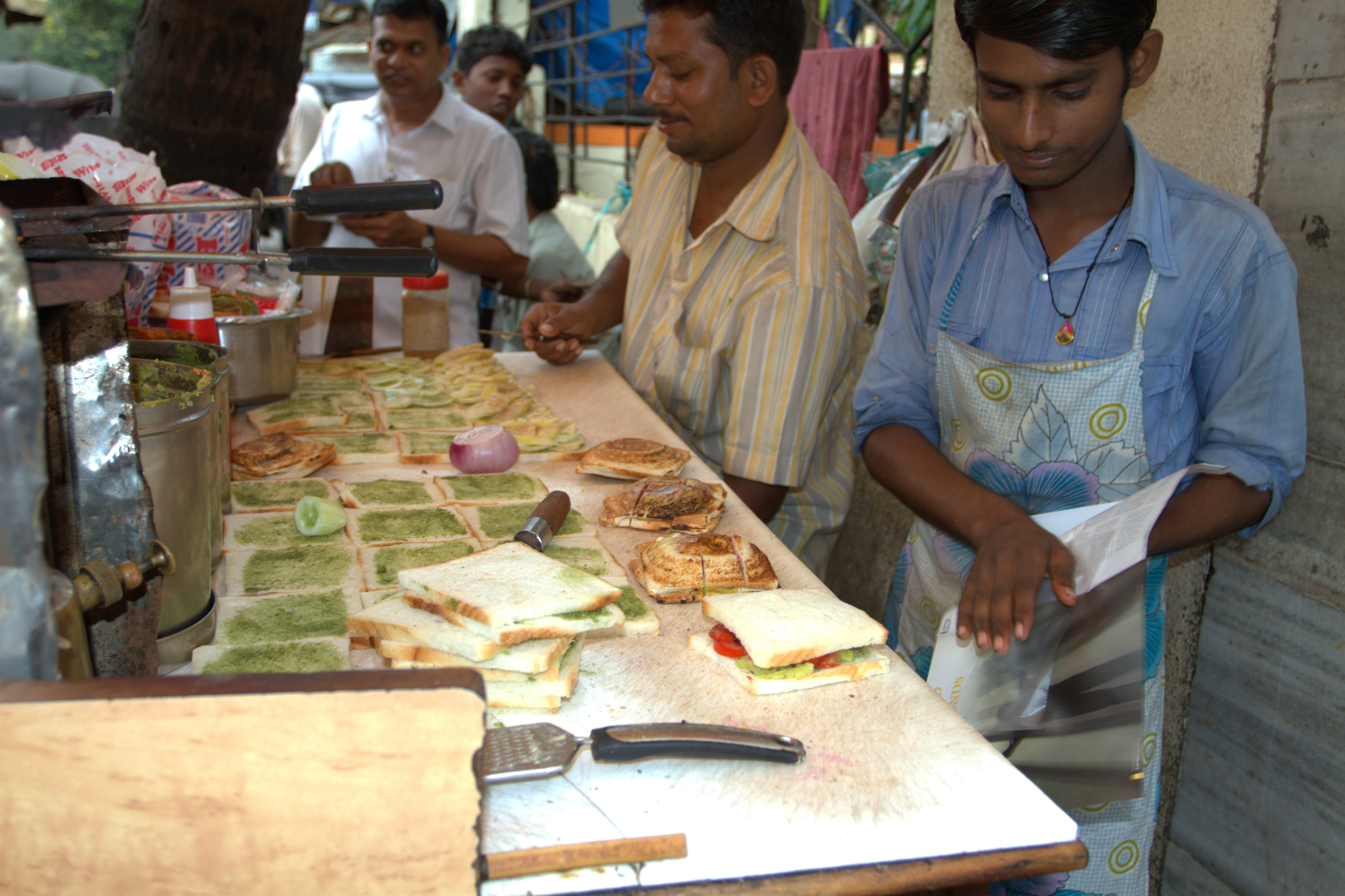 The key to making this chutney is to use the entire cilantro, stem and all. (You could make it out of the leaves only, but it'll take you forever and you'll surely go bankrupt buying the amount of cilantro needed. And the resulting flavor would be quite weak. Cilantro stems are much more flavorful than the leaves.) The other ingredients are green chilies, lime, coconut, and salt. You blend all of these in a mixer or food processor. And that's it.
As for the sandwich, cucumber and tomatoes are standard. But, for extra brownie points add sliced red onions and boiled potatoes. Its how any Mumbai sandwichwala would make it.
Indian-style chutney sandwich
Ingredients
For the chutney (makes about ¼ to ⅓ cup):
1 bunch cilantro, root end cut off, and washed
2 tbsp coconut (dried, shredded coconut from the supermarket is fine)
1 lime
3-4 green chillies (Thai chillies work well)
salt to taste
For the sandwich (makes two)
4-5 tbsp chutney per sandwich
4 slices sandwich bread (white is conventional and it really does work much better here than wheat, whole grain, or other types)
1 tomato, sliced
⅓ cucumber, sliced
Optional ¼ red onion, thinly sliced
Optional 1 small potato, boiled, and cut into slices
Optional ketchup
Salt and ground black pepper
Instructions
To make the chutney:
Place the cilantro, chillies, coconut, juice of half a lime, 1 tsp water, and a pinch of salt in a food chopper or processor. Start with 1 or 2 chillies and add more as required. Blend away, periodically scraping down the side of the bowl with a spatula.
Add more chillies, lime, or salt as necessary and keep blending until you have a smooth mixture. If its too thick, add water by the teaspoon. It should have the consistency of ketchup.
To assemble the sandwich:
Spread 2 tbsp of chutney on each slice of bread.
Layer cucumber, tomato, and (optionally) onion and potato slices on two of the
slices.
Sprinkle a pinch of salt and pepper on top and close the sandwich with the
other slices.
Optional: squirt some ketchup on top for extra authenticity.