Japanese-style grilled avocado stuffed with okara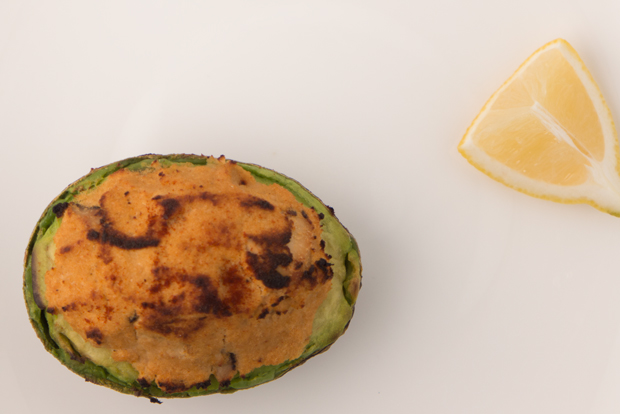 From quirky emoji to sophisticated countertop washing machines, the Japanese are a famously inventive people. Nowhere is that more apparent than when it comes to reducing waste. Japanese appliances are a byword of efficiency, and anyone who has spent time in Japan will have experienced the excrutiatingly detailed and strict rules on rubbish disposal and recycling. Not surprising then that they've spent significant effort on figuring out what to do with the mountains of okara produced every day. Okara, as you may know (especially if you read this blog), is a byproduct of making tofu. In a tofu-obsessed country that is not a minor problem and, while most okara-which is highly nutritious by the way-gets used as agricultural feed, an entire culinary 'genre' has been invented to deal with it. Luckily, there are countless cookbooks dedicated to okara. A good thing too because otherwise my freezer would quickly fill up with the stuff!
Okara itself is fairly bland. But with a bit of help it can be made extremely tasty as today's recipe taken from one of countless cookbooks dedicated to okara demonstrates. Actually, this recipe is more of a building block for making several different dishes (one of which I describe today with more to follow in future posts). The cookbook I've taken it from, Okara Recipes by Hiromi Tsutsumi (available only in Japanese I'm afraid), calls it "shittori okara" (しっとりおから). Shittori variously means moist or mellow and I suppose it could mean both here. Regardless, it is surprisingly tasty and versatile.
Ingredient note: This recipe calls for dashi, a stock (generally) made from dried anchovies and konbu. It is very easy to make if you happen to have the ingredients on hand. Or use one of the excellent Japanese or Korean powdered versions available on the market and simply add hot water (see here for more).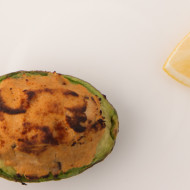 Japanese-style grilled avocado stuffed with okara
Yield: 4 servings
Prep Time: 10 minutes
Cook Time: 30 minutes
Total Time: 40 minutes
Ingredients:
200 g okara
1 chicken breast (about 150 g), diced into 1 cm pieces
4 shiitake, stemmed and thinly sliced
250 ml dashi (stock)
2 Tbsp sake
1 ½ Tbsp mirin
1 ½ Tbsp soy sauce
pinch of salt
2 tsp sesame oil
2 avocado, halved and seeded
4 Tbsp mayonaise (preferably kewpie)
2 tsp nerigarashi (Japanese mustard) or 1 tsp Dijon mustard or ½ tsp pimenton picante
lemon wedges to serve
Directions:
Combine the dashi, sake, mirin, soy sauce and salt in a saucepan and bring to a boil. Turn off the heat and set aside.
Heat the okara uncovered in a microwave for 2 minutes.
In a saucepan or deep skillet fry the chicken and shiitake in oil over a medium-low heat for about 3-4 minutes. Add the okara and stir well to mix.
When the okara is heated through, pour in the seasoned dashi. Turn up the heat to medium and cook for about 10-15 minutes, stirring frequently, until all the liquid has been absorbed and the chicken is cooked through. Taste and adjust seasonings. At this point you can eat the shittori okara as it is (it makes for a great side dish), use it in different recipes, or transfer to a ziplock bag (after allowing it to cool) and freeze for another day. To use it in a recipe, proceed with the next step.
Mix the mayo and mustard or pimenton together in a small bowl.
Stuff each avocado half with the shittori okara. Slather some of the mayo on top and place on a baking sheet. Place under a medium hot grill for 4-5 minutes until golden brown.
Serve hot with lemon wedges.
Okara Recipes by Hiromi Tsutsumi (link)