Japanese-style potato salad (和風ポテトサラダ)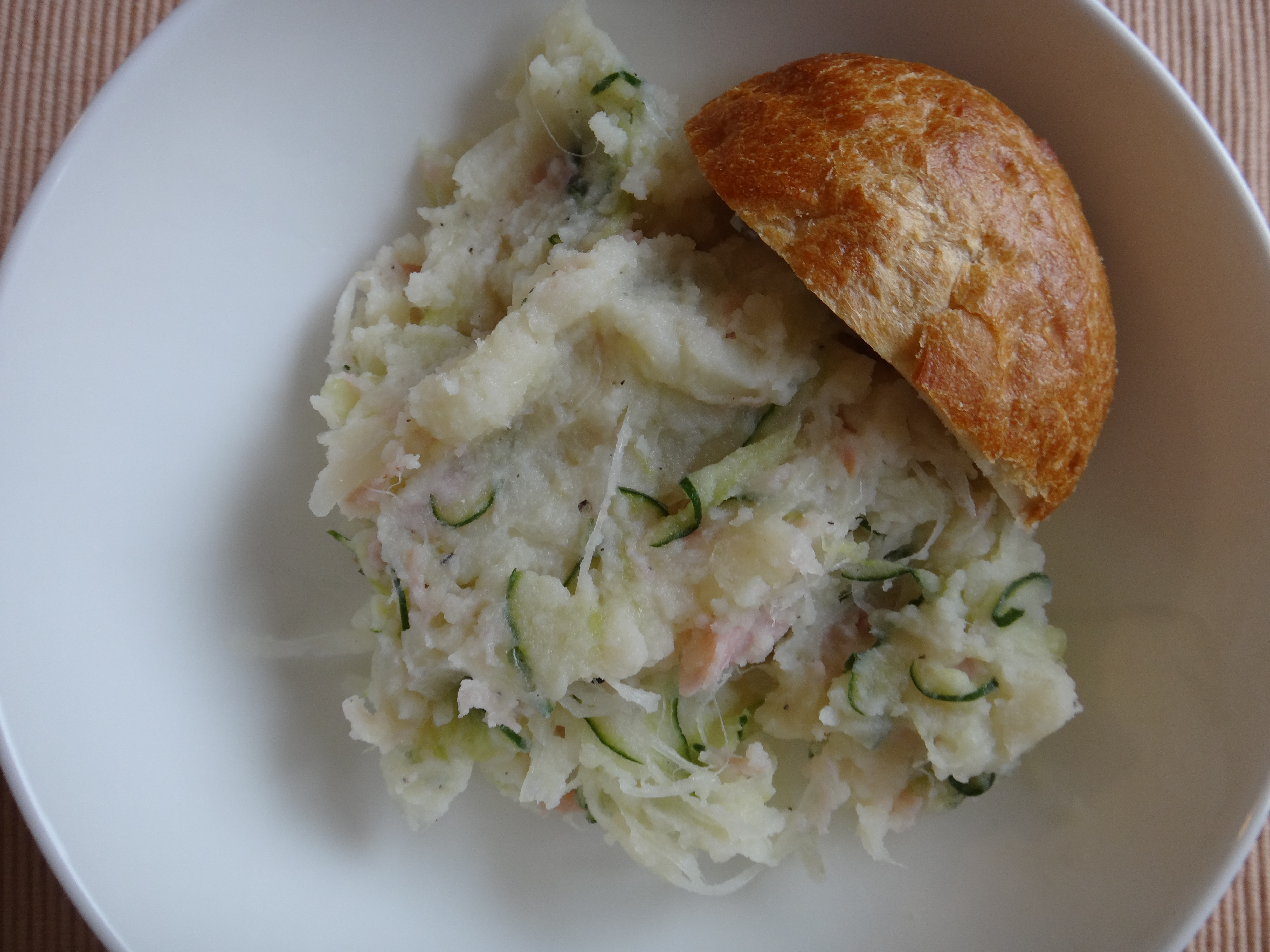 One of the great joys of eating in Japan is to be found in the basement of department stores, known as depa chika (デパ地下). That's right. Not some fancy sushi place (or a hole-in the-wall one) where the chef has dedicated his life to perfecting the slicing of fish. Nor a kaiseki ryōri restaurant in kyōto that has been in business since the Tokugawa Shogunate. Or even a ramen joint where people line up the previous night as if waiting for the latest iPhone. Those are undoubtedly all good, too. No. The real fun is in the depa chika where dozens of vendors sell an astonishing variety of food. Everything from chirashizushi to baguettes, and gyōza to salads.
And not just any kind of salad. I'm talking about a uniquely Japanese take on western salads that blows the original away. Such Japanese-style food is known as wafu (和風), hence wafu salad or sarada. Bread, know as pan there, is another example of western food that's been taken to new heights by the Japanese with the use of ingredients such as gobō (Burdock root) and hijiki. In addition to depa chika I would rank Japanese bread stores, or pan-ya, as the other main reason to visit Japan (well, okay, those 1000-year-old temples beloved of guidebooks aren't too shabby either, but we all have our priorities, right?).
Today, I'll feature the simplest of these salads, a potato salad that is commonly made at home. Like most Japanese food its a little bit sweet, here due to the addition of seasoned rice vinegar (typically used for making sushi, hence sushi vinegar or sushizu). For optimum taste, leave the marinated potatoes overnight in the refrigerator for the flavors to come together.
Japanese-style potato salad
Author:
Oishii Rasoi, S. Takenaka
Prep time:
Cook time:
Total time:
Ingredients
2 medium yellow potatoes
1 small onion, thinly sliced
1 tbsp vegetable oil
1 tbsp white vinegar
1-2 tbsp seasoned rice vinegar
Salt and ground black pepper
¾ cup thinly sliced cucumber
3-4 tbsp diced ham
1 tbsp mayonnaise, preferably kewpie
Instructions
Place potatoes in a large pot of cold water and bring to a boil. Turn down heat and simmer, covered, until tender.
While the potatoes are cooking, place onions in a kitchen towel and sprinkle 2 tsp salt over them to draw out moisture. Wait 10 min. Then wash under running water, squeezing the onions (through the cloth) to soften them. Squeeze out water and spread the onions on a plate to dry for 10 min.
Once the potatoes are done, drain, and remove the skin. Place them in a bowl along with the onions and add the oil, vinegar, 1 tbsp rice vinegar, and a pinch or two of black pepper. Using a fork mash the potatoes and mix well. Add more rice vinegar if required (the salad should be a bit sweet and tart). Allow to cool. Then cover with plastic wrap and keep in refrigerator for 8-10 hours or overnight.
When ready to assemble salad, thinly slice the cucumber. A mandolin works very well here. As with the onions, place in a towel, sprinkle 2 tsp salt and wait 5-10 min to draw out the moisture. Then rinse under running water, squeezing through the cloth to soften. Squeeze out the water and allow to dry on a plate for 5-10 min.
Add cucumbers, diced ham, mayo, and a pinch of black pepper to the potatoes and mix.
Add more rice vinegar if required.
Serve with crusty bread.