Japanese-style turnip and persimmon pickle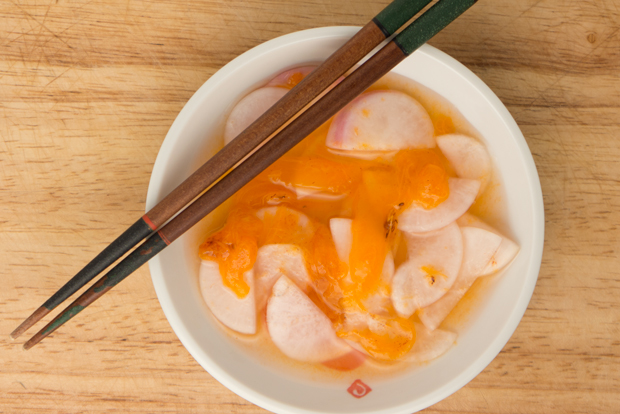 Growing up in Mumbai I always thought Indians were unique in their obsession with pickles. Every meal features at least one type, and not infrequently 3 or 4 different kinds. Certainly, the regional varieties are astounding, so much so that there is an entire hit TV show dedicated to them. But it turns out that plenty of other cuisines take their pickles just as seriously. And no wonder. Pickling has long been one of the ways in which food is preserved. This is especially true in Japan where fermented and pickled foods take center stage. The latter are collectively known as tsukemono (漬け物), literally "pickled things". Tsukemono can involve everything from daikon to ginger, and carrots to squid. As for the pickling itself, rice vinegar and sugar play key roles, but rice bran (for a type of tsukemono known as nukazuke), miso (misozuke) and sake lees (kasuzuke) are also commonly used.
Tsukemono are often seasonal. Like today's recipe for a quick and refreshing sweet rice vinegar or amazu (甘酢) pickle made from turnips and winter (fuyu) persimmon. It is an unusual combination I came across in Preserving the Japanese Way: Traditions of Salting, Fermenting, and Pickling for the Modern Kitchen, a wonderful book by Nancy Singleton Hachisu, an American who has lived in rural Japan for decades. This has given her the opportunity to learn about traditional ways of preserving food, quite a few of which are likely unknown to even many Japanese, particularly city-dwellers. Her book brings this knowledge to a non-Japanese audience eager, like myself, to learn about these methods. While today's recipe is one of the easiest ones in the book, it is also one of the tastiest and well worth making, especially while persimmons are still in season.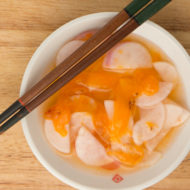 Japanese-style turnip and persimmon pickle
Yield: 2 servings
Prep Time: 15 min
Total Time: 15 min (plus several hours for the favors to meld together)
Ingredients:
⅓ cup rice vinegar, plus more to taste
2 tsp sugar
7-8 baby turnips (200 g)
1 firm fuyu persimmon
½ tsp salt
Directions:
To make the amazu, place the rice vinegar in a small bowl and stir in the sugar until dissolved. Set aside.
Trim the turnips and cut lengthwise through the root in half. Then slice crosswise into thin semicircular disks. Place in a bowl and toss with the salt. Set aside for 10 minutes until softened.
Peel the persimmon and slice into thin slivers.
Drain the turnips and place in a container along with the persimmon. Pour the amazu over and mix well. Cover and refrigerate for several hours before eating.
Preserving the Japanese Way: Traditions of Salting, Fermenting, and Pickling for the Modern Kitchen by Nancy Singleton Hachisu (link)