kinpira gobō (きんぴらごぼう): Japanese-style burdock and carrot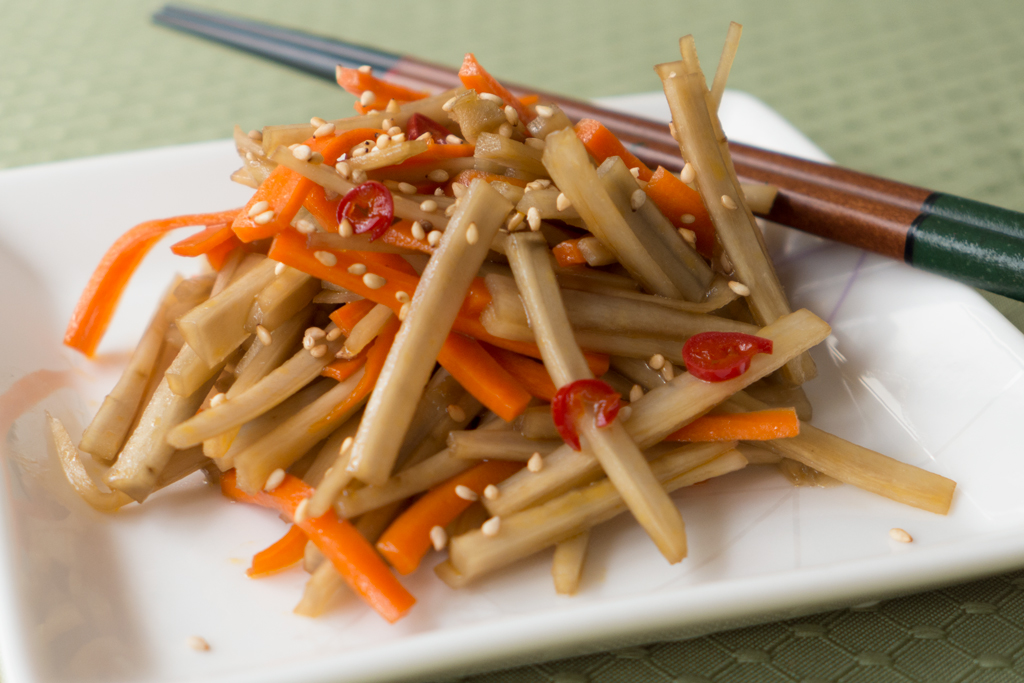 Like any right think person I want to have my share of ramen and sushi when I visit Japan. But, perhaps unlike most visitors, these are not what first come to mind when I think of Japanese cuisine. Instead, its all those other dishes that are the staple of the Japanese diet but are oddly mostly unknown in the west. (And, no, whatever David Chang might say, the Japanese don't subsist on ramen! Nor, in my experience, are they making sushi at home.) Dishes such as oden, kabocha, and curry-rice (カレーライス) that are typical of Japanese homestyle cooking. Which brings me to today's recipe for kinpira gobō, easily one of the most common and popular dishes in a Japanese home.
Kinpira is a style of cooking involving sautéing and simmering. Gobō is burdock, a root vegetable, that I have really never seen used anywhere except in Japan and Korea (a Google search reveals that the Taiwanese, too, eat it). Kinpira gobō also includes carrots and is generally served as a side dish along with rice. It is also baked into bread to make gobō pan, one of the first things I seek out when visiting Japan.
This dish is simple and comes together quickly. The only slightly tedious part is cutting the vegetables. Here, they are cut using a technique known as senkiri (せん切り), literally cutting in a line. Its basically like julienning except that the resulting strips are a bit wider. The other thing to keep in mind is that the gobō is generally not peeled. Instead, lay the root flat on a work surface and scrape it clean with the back of a knife as you rotate it (for those of a certain age, think of sharpening a pencil; younger readers may want to look at this video). This technique is known as sasagaki (ささがき). Then rinse under running water. Incidentally, gobō is surprisingly easy to find nowadays; even my local Whole Foods routinely carries it! But any Japanese or Korean market will have it.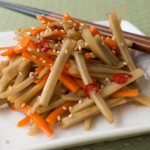 kinpira gobō (きんぴらごぼう): Japanese-style burdock and carrot
Yield: 2 servings
Cook Time: 10 minutes
Total Time: 20 minutes
Ingredients:
1 gobō root (mine was about 30 inches long or a bit under 1/2 lb)
1 medium carrot, peeled
1 small red chile, sliced thinly, crosswise
1 tbsp sesame oil
2 tsp sugar
4 tsp sake
4 tsp usukuchi soy sauce
pinch of salt
1/2 tsp sesame seeds
Directions:
Mix the sugar, sake, soy sauce and pinch of salt in a small bowl and set aside.
Cut the gobō root crosswise in half to make it easier to handle. Scrape clean with the back of a knife as described above. To apply the senkiri method, cut crosswise into 1 1/2"-long cylinders. Cut each in half lengthwise, and each half into thin strips. Stack the strips on top of each other and slice them lengthwise into 2-3 mm-wide strips. This should yield about 2 cups of cut gobō. Repeat with the carrot (you you should end up with about 2/3 cup).
Heat the sesame oil in a skillet over medium-high. Add the gobō and cook, stirring, for about 2 minutes.
Add the carrots and red chile and sauté for another 3 minutes.
Turn off the heat. Give the sauce a stir and pour it into the skillet. Mix well.
Turn the heat back on to medium-high and cook for another 2-3 minutes, stirring, until the sauce has been absorbed.
Sprinkle the sesame seeds on top and serve.