Korean-style chicken wings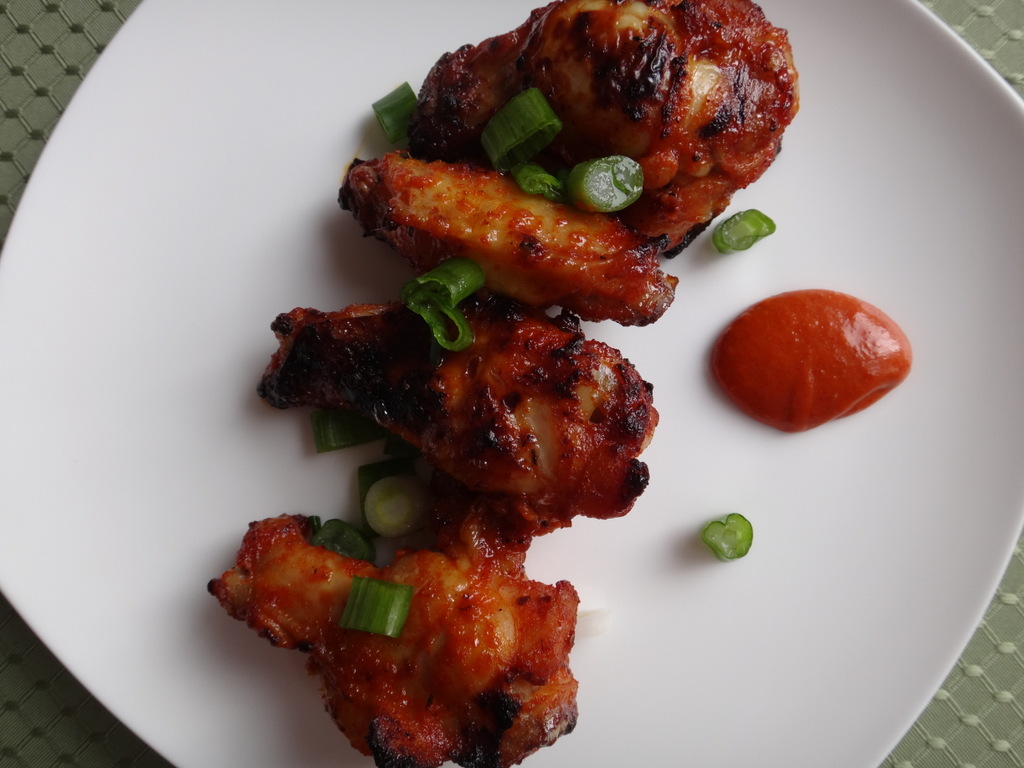 It has been a busy past few weeks at work so this is a rather short post. But a timely one. (Well, sort of!) Today, as some readers may know, is Super Bowl Sunday here in the US where millions will gather to watch a football game. And while I don't possess a TV or even the slightest interest in football, there is no reason not to join the party (so to speak). According to the FT, it is second only to Thanksgiving as the US's biggest eating day. And, judging by advertisements, the star attraction is the chicken wing, some 1.3 billion of which will be consumed today. Most will be of the conventional 'buffalo' sort. But for me the best wings by far are Korean-style ones. If you haven't had these I suggest a quick trip to the nearest Koreatown where – if you're lucky – there will be restaurants specializing in them (KyoChon and BonChon are two popular chains). Alternatively, you can try today's recipe. Its easy and health (at least in that it involves no deep-frying, only broiling). Feel free to adjust the spice level. Also, the marinade makes a great dipping sauce so make some extra and set some aside if you like.
Korean-style chicken wings
Prep time:
Cook time:
Total time:
Ingredients
1½ lb chicken wings (skin on)
1 scallion, sliced into ½" segments
Marinade:
4 cloves garlic, minced
1" piece ginger, minced
3 tbsp gochujang
1 tsp kochukaru (Korean red pepper flakes)
2 tbsp soy sauce
1 tbsp mirin
1 tbsp sesame oil
1 tsp honey
1 tsp lemon juice
A few pinches ground black pepper
Dipping sauce:
1 tsp gochujang
2 tbsp mayonnaise (preferably Kewpie)
Instructions
Mix all the marinade ingredients together in a large bowl and taste. The marinade should be spicy, garlicky, and a bit sweet.
Wash the chicken wings in cold water. Pat dry with a paper towel and add to the bowl. Mix well so that the wings are well coated. Cover the bowl with plastic wrap and refrigerate overnight. Take them out of the fridge 30 minutes before cooking.
When read to broil, bring the wings to room temperature. Grease a broiler pan with vegetable oil and arrange the wings on top. (Place a foil-lined baking pan below to reduce cleanup.) Place in the oven with the wings about 3-4" away from the flames. Broil for about 5-7 minutes. Turn the wings over and broil another 5 minutes until done. (Check every once in a while to make sure you don't burn them!)
Garnish with the scallions and serve with dipping sauce on the side.