Korean-style tofu and radish simmered in a spicy sauce (dubumujorim)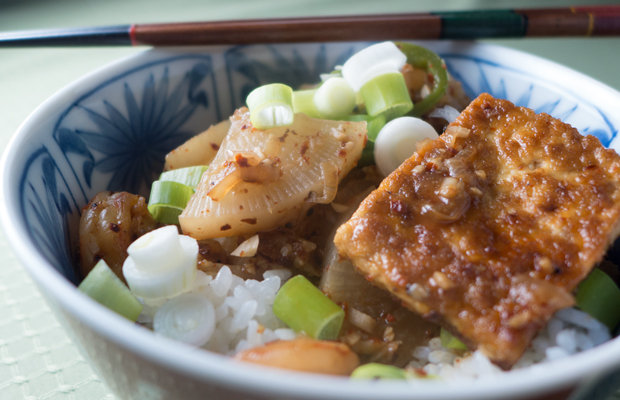 I imagine there was much rejoicing in Seoul last year at reports that South Korean GDP per head, measured at PPP, would soon catch up with Japan's, long considered the benchmark against which all Asian countries measure themselves. But, currently on a visit to Seoul, it occurred to me that there's a much more concrete measure of South Korea's ascendancy than GDP: the density of convenience stores. Anyone who has visited Japan will know what I'm talking about. You rarely have to walk more than half a block before running into one – often more! – of its famed konbini selling everything from oden to underwear. Well, South Korea certainly seems to have caught up in this regard. Convenience stores in Seoul seem now about as common as in Tokyo. And if they don't yet match Japanese konbini in their range, I love the idea of being able to pick up a small packet of kimchi or a bulgogi hotdog on the way home!
Convenience store-kimchi aside there's of course lots to eat and shop in Seoul. Just the other day I went to Sindang, famous for restaurants specializing in tteokbokki. As served at these eateries it is basically rice cakes or tteok and some veggies simmered in a sweet and spicy sauce with a block of instant noodles thrown in. Tasty and filling!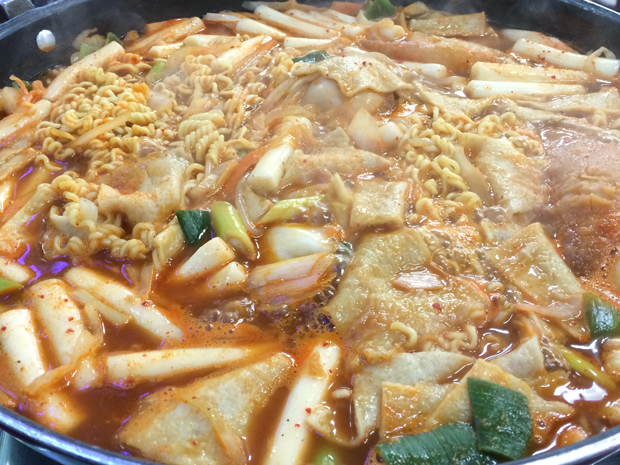 Simmering in a spicy and slightly sweet sauce seems to be the modus operandi for a lot of Korean cooking, including today's recipe for a very simple but tasty dish involving tofu and radish. The generic term for such a dish is jorim, and hence the name of this dish: dubu (tofu)-mu (radish)-jorim (simmered dish) or 두부 무 조림.
A few ingredient notes. Korean radish is quite a bit different from the "usual" mooli or daikon variety many of us are used to (and have easier access to). It contains much less water, for example, making it better suited for radish kimchi (kakdugi). But in this recipe mooli/daikon works just fine. Also, if you don't have dried anchovies (myeolchi) just skip them. Or sub a small handful of fresh, diced shrimp, adding it along with the tofu in step 7 below.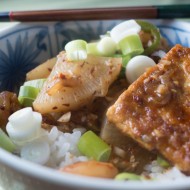 Korean-style tofu and radish stew (dubumujorim)
Yield: 4 servings
Prep Time: 10 minutes
Cook Time: 15 minutes
Total Time: 25 minutes
Ingredients:
1/4 cup dried anchovies (myeolchi), head and innards removed
14 Oz (about 400 g) firm block tofu
About 3/4 lb (about 350 g) radish (Korean or mooli/dailkon), scrubbed
4 scallions (green onions), diced
2 Tbsp canola or other neutral oil
Steamed white rice to serve
Simmering sauce (jorimjang)
4 Tbsp soy sauce
1 Tbsp soup soy sauce (gukganjang or 국간장)
2 Tbsp gochukaru (Korean red chile flakes)
1 Tbsp mirin
2 tsp sugar
1 Tbsp sesame oil
4 cloves garlic, minced
Pinch of ground black pepper
Directions:
Roast the anchovies in a small skillet over medium heat for about 5-7 mins, shaking the pan frequently to prevent burning. Set aside.
Cut the tofu into 1/4"-thick, 2"-wide squares. Pat dry with paper towels.
Slice the radish crosswise into 1/4"-thick disks and then quarter each disk.
Mix all the sauce ingredients in a small bowl and set aside.
In a large skillet heat the canola oil over medium-high until very hot. Gently lower the tofu slices into the pan in a single layer, making sure not to crowd the skillet. Work in batches if you have to. Fry  for about 4-5 mins, untouched, until the lower side is golden brown and beginning to crisp. Flip over and repeat until the other side is also browned. Remove from pan and set aside.
In a pot layer the radish. Scatter the roasted anchovies on top and and pour the sauce over. Add enough water to almost cover the radish. Bring to a boil then turn down the heat to a simmer and cook, covered, until the radish is almost done, about 4-5 mins.
Place the tofu slices on top and scatter half of the diced scallions. Cover and cook for another 3-4 minutes until most of the liquid has been absorbed. Taste and adjust seasonings.
Garnish with the remaining scallions and serve hot with rice.