Mapo dofu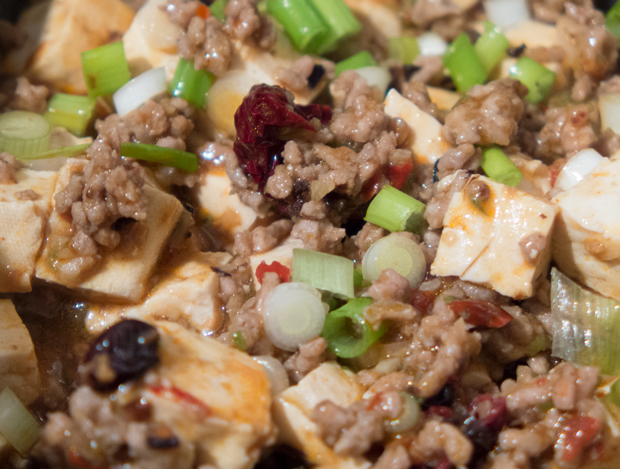 I'll admit it: the main reason I started making tofu at home is so I could make mapo dofu (麻婆豆腐), one of my all-time favorite things to eat and cook. This epitome of Sichuanese cooking is likely the dish through which most people first experience the food of that Chinese province. You wouldn't necessarily expect this popularity from the simplicity of the dish (basically meat and tofu in a spicy sauce). Nor does the name inspire much confidence. Legend has it that an old woman (po; 婆) with a pockmarked face (ma; 麻) created it for a passing traveler who was quite taken by it. The rest, as they say, is culinary history. Mapo dofu is to be found on Chinese restaurant menus throughout the world but, unless you happen to be living in Chengdu, its putative birthplace, the homemade version is far superior.
There are endless variations of this dish (mine is adapted from here). I generally make it with pork but beef, too, will work. Fermented black beans (dou chi; 豆豉) are used in some versions. Also, while many recipes call for soft or silken tofu I prefer the firm kind. And the tofu doesn't of course have to be homemade, although you'll definitely get a kick out of preparing this dish entirely from scratch if you do use your own tofu!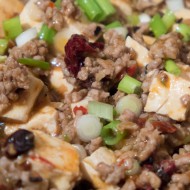 Mapo dofu
Yield: 2 servings
Prep Time: 10 minutes
Cook Time: 10 minutes
Total Time: 20 minutes
Ingredients:
1/2 cup low sodium chicken stock
2 tsp soy sauce
2 tsp arrowroot or cornstarch
2 tsp sesame oil
5-6 dried red chillies, cut in half and seeded
1 Tbsp Sichuan peppercorns, toasted and finely ground (plus more to taste)
4-5 scallions, white and light green parts, minced
4-5 scallions, green parts, diced, for garnish
1" piece ginger, finely minced
4 cloves garlic, finely minced
2 Tbsp fermented black beans (dou chi; 豆豉)
1/2 lb ground pork
1 Tbsp Shaoxing rice wine
2 Tbsp toban djan (plus more to taste)

1 14 oz package firm tofu, diced into 1" cubes
Steamed white, short-grain rice for serving
Directions:
In a small bowl mix together the stock, soy sauce and arrowroot. Set aside.
In a large skillet heat the sesame oil over medium heat. Add the dried red chiles, ginger, garlic and minced scallions. Fry for a minute and then add the black beans and half the Sichuan peppercorns. Fry, stirring, for another 30 seconds.
Add the ground pork and Shaoxing rice wine and mix well, using a wooden spoon to break up the meat.
Once the meat is done add the toban djan and stir to mix well.
Add the tofu followed by the stock mixture (stir before pouring in). Using a spatula,  fold the sauce over the tofu and meat being careful not to break the tofu. Cook for a minute or two until the tofu has heated through and the sauce thickened.
Garnish with the remaining Sichuan peppercorns and scallions. Serve with the rice.