Marathopsomo: Greek fennel bread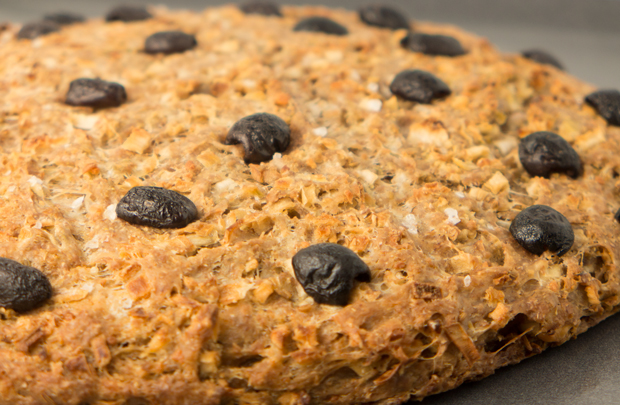 I grew up eating fennel seeds in India where they serve as both an after-meal mouth freshener and digestive. The seeds are also occasionally used as a spice, for example in the Bengali spice mix known as panch phoron (literally "five spices"). But fennel, the vegetable, is a relatively new addition to my kitchen and it has quickly risen to the top of my list of ingredients to eat. Until recently though I tended to eat it raw, typically in salads, but a trip to Greece opened up a world of new and delicious possibilities such as marathopita, a pie made from wild fennel. Alas in the UK it is difficult to even buy fennel bulbs with their fronds still attached, let alone wild fennel! So last week, when browsing in the cookbook section of the Oxfordshire library I came across a recipe for fennel bread that could be made with seeds, I couldn't wait to try it. The results didn't disappoint!
The cookbook I mentioned above is Flavours of Greece by Rosemary Barron. I've followed the recipe in that book quite faithfully, but used more fennel seeds than called for in the original. And for good measure I also added a bit of finely chopped fennel. Obviously, if you can source wild fennel or fronds in sufficient quantity by all means use them in place of the seeds. Just blanch briefly, pat dry with a towel, chop finely and substitute in the recipe below for the seeds. To complete the illusion of being on a sunny island in the Aegean (rather than on a cold and damp one in northern Europe!), serve the bread with taramasalata, the Greek fish roe dip.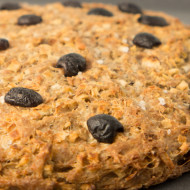 Marathopsomo: Greek fennel bread
Prep Time: 30 minutes (plus 3 hours for dough to rise)
Cook Time: 1 hour
Total Time: 4 hour 30 min
Ingredients:
1 Tbsp active dry yeast
225 ml luke warm water
5 Tbsp olive oil
sea salt
300 g wholewheat flour, plus more if necessary
4 Tbsp fennel seeds, coarsely ground
¼ fennel bulb, finely chopped (optional)
2 yellow onions, finely diced
juice of 1 lemon
100 g feta cheese, well drained and crumbled
8 Nicoise or other black olives, pitted
Directions:
Put the yeast in a small bowl, add the water, and set aside for 10 minute. Add 2 Tbsp of the oil and ½ tsp salt and whisk to blend.
Place the flour in a large bowl and stir in the yeast water. Use your hands to bring the mixture together into a rough dough. Transfer to a clean, floured surface and knead for 10 minutes, until smooth. (Add more flour by the teaspoon if the dough feels too wet.) Lightly coat the bowl with olive oil and place the dough back in. Cover with plastic wrap and place in a warm spot for 2 hours.
Blanch the olives for 5 seconds. Drain and slice in half. Set aside.
Once the dough has risen, add the onions, fennel (ground seeds and, optionally, chopped), ½ tsp salt, 2 Tbsp oil, most of the lemon juice and cheese. Knead into the dough.
Form the dough into a round, flattened loaf, about 2 inches high. Transfer to an oiled or parchment-lined baking tray. With a sharp paring knife make a couple of slashes across the top of the loaf. Place in a warm spot for 1 hour to proof.
Heat oven to 180°C (350°F).
Sprinkle some sea salt into the slashes. Push the olives into the loaf to make a polka dot pattern. Lightly brush the loaf with the remaining olive oil and lemon juice. Bake until nicely browned, about 1 hour.
Remove from the oven and let cool slightly over a rack before serving.
Flavours of Greece by Rosemary Barron (link)