Middle Eastern flatbread with dried fenugreek leaves (kasoori methi)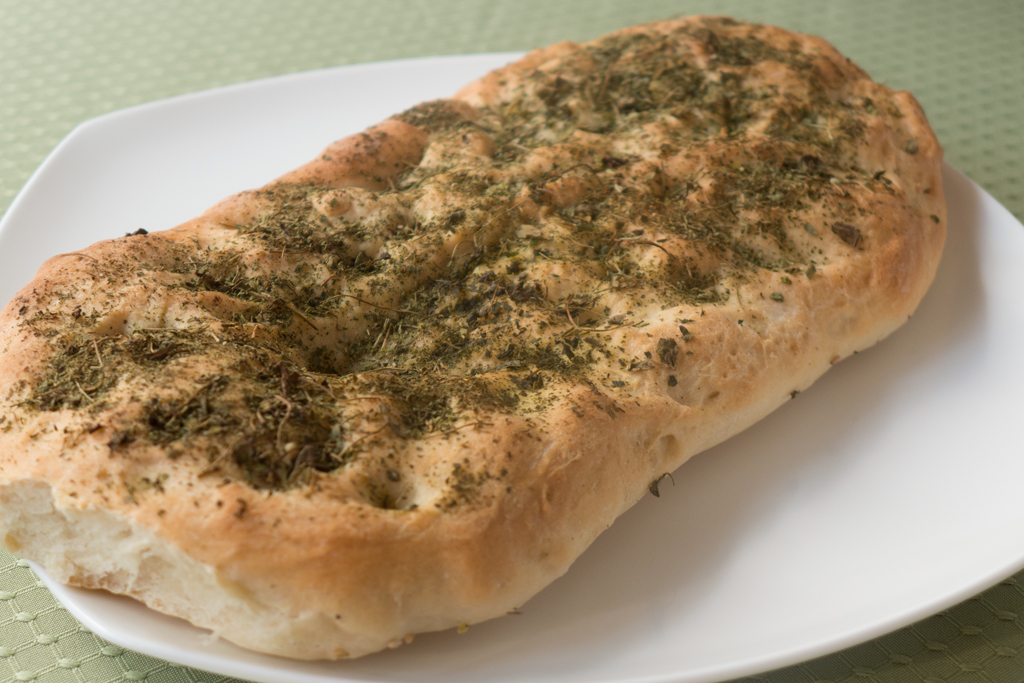 Regular readers of this blog will be quite familiar by now with fenugreek, or methi as it is known in India. The seeds and leaves of this plant, both of which have a unique and slightly bitter taste, are widely used in Indian cuisine. Methi leaves have already featured in a number of posts (see here, here, and here, for example). But dried fenugreek leaves – kasoori methi – is an altogether different beast. Similar to many herbs, the dried version has a much more intense flavor (and a funky aroma to boot!). From chicken curry to grilled fish, ever since I discovered kasoori methi earlier this year I've been adding it to everything, including, most recently, bread.
The fact that I can (sort of) make bread is thanks to a course I took several months ago at the Institute of Culinary Education here in New York. I had always considered baking to be well beyond my capabilities (and generally still shy away from it). But over three days our fantastic instructor, Chef Reeni, taught us how to make a wide variety of breads, ranging from focaccia to bagels. So recently as I was racking my brain to come up with something else to add kasoori methi to, the Middle Eastern flatbread we made in class immediately came to mind. (That, and the urge to eat warm, freshly-baked bread!) Flatbreads are a great medium for toppings of all kinds. In class I'd baked them with za'atar and sesame seeds sprinkled on top. Kasoori methi seemed like a perfect match. And that is indeed how it turned out.
Ingredient note: Kasoori methi is readily available in Indian grocery stores. It is generally sold in boxes like this one. Be aware that this is potent stuff and a little goes a long way! Also, its still worth making this simple and tasty recipe even if you can't immediately get hold of kasoori methi. Just experiment with other toppings such as sesame seeds, za'atar, nigella seeds, etc.
Middle Eastern flatbread with dried fenugreek leaves (kasoori methi)
Prep time:
Cook time:
Total time:
Ingredients
3 cups (400 g) unbleached bread flour
2 tsp salt
2¼ tsp active dry yeast
1¼ cups lukewarm water
2 tbsp olive oil
5-6 tbsp kasoori methi
Optional 2 tsp za'atar
Optional 2 tsp white or black sesame seeds
Hummus or other dip to serve
Instructions
Mix flour and salt together in a large bowl.
Place yeast in a small bowl and add the water. Whisk until the yeast has dissolved. Then whisk in the oil.
Stir into the flour a little at a time. Mix with a spatula or hands until smooth. Cover the bowl with plastic wrap and let rest for about 10 minutes. Then knead the dough again for a minute or so. At this point if you poke a couple of fingers into the dough the holes should close-in very slowly. Alternatively, break off a small piece of the dough and spread it out with your fingers until it becomes translucent (Chef Reeni called this the "gluten window check"). If you can stretch it without breaking that means the gluten is well developed and your dough is ready. If not, knead another minute or so and check again. Cover and let rest for another 20 minutes.
Cover a baking pan with parchment paper.
Clear the countertop or work surface and sprinkle lightly with flour. Transfer the dough from the bowl and divide into 3 equal parts. Place one piece in front of you and fold the edge of each side into the center and pinch close. Invert and place in the prepared pan. Then, using your fingers, gently stretch out the dough until about ¼"-1/3" thick. Repeat with the other pieces and cover with oiled plastic wrap. Let rest for another 20 minutes in a draught-free area (the (unheated) oven is a good place for this).
Preheat oven to 450° F.
Take the wrap off the dough and with your fingers make small indentations. Lightly brush or spray the surface with water and sprinkle on the topping of your choice. If using kasoori methi, crush it with your fingers as you sprinkle it.
Bake in the middle of the oven for about 20-25 minutes until golden brown. Remove and allow to cool for a few minutes before serving.