Miso-glazed grilled salmon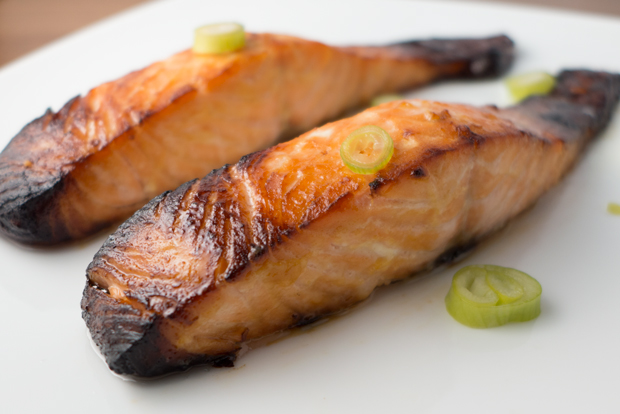 There is a term New Yorkers use to describe, with grudging admiration, shamelessly audacious behavior: chutzpah. A perfect culinary example is taking a dish made at least weekly in every Japanese home and elevating it to not just haute cuisine but almost iconic status. As that is what Chef Nobu has done with his miso-glazed black cod. True, to be fair, I have not eaten at his eponymously named restaurant and for all I know his dish does deserve the acclaim it gets. Still, fish marinated in miso and grilled is about as homely – and tasty! – as Japanese cooking gets. This is 'my' version, made using salmon. You can use any other firm, fatty fish. Traditionally, the fish is wrapped in cheesecloth soaked in miso and allowed to absorb the flavors for a few days. Here, I take the easy route and just marinate it for an hour or so. The results are still excellent.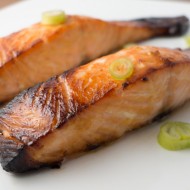 Miso-glazed grilled salmon
Yield: 2 servings
Prep Time: 60 minutes
Cook Time: 10 minutes
Total Time: 70 minutes
Ingredients:
2 salmon fillets, skin on if possible
2 Tbsp shiro (white) miso
½ tsp mirin
2 tsp cooking sake
1 scallion, diced
Steamed short grained rice for serving
Directions:
Mix together the miso, mirin and sake in a small bowl. Taste and adjust flavors.
Wash the fish and pat dry with paper towels. Place in a tray and pour the marinade over making sure the fish is well coated. Cover and marinate for an hour (or overnight if you have the time).
When ready to cook, place a roasting rack over a foil-lined baking pan to catch drippings. Lightly grease the rack with oil. Place the fillets, skin side up, on the rack and 5-6" away from the fire. Broil for about 2-4 minutes until the skin begins to brown. Then using tongs turn the fillets over and broil for another 2-4 minutes until the fish is slightly charred and cooked through. Keep a careful watch as the sugar in the marinade tends to burn easily.
Garnish with the scallions and serve with rice.