Mohnnudeln: Austrian noodles with poppy seeds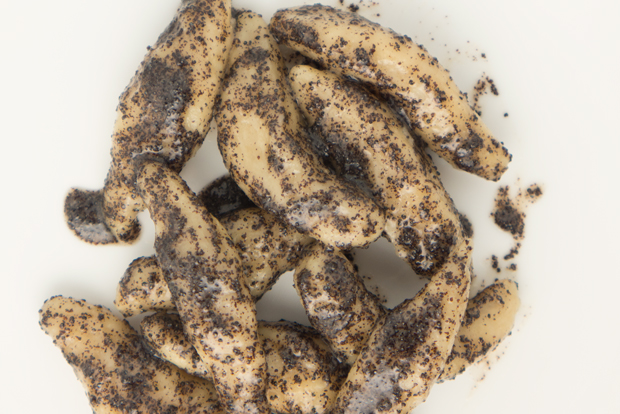 From bagels to pastrami, the Jewish immigrants who came to America, primarily New York, in the early 20th century brought over many tasty Eastern and Central European culinary traditions that persist to this day, and which I thoroughly enjoyed during the two decades or so that I lived in New York. So on an annual trip to Vienna to attend a conference I was not particularly interested in that city's famed apfelstrudel and brezels, excellent though they were. Nor the sachertorte (too sweet for me). What did catch my attention were the mohnstrudel and mohnbeugel, pastries packed with poppy seeds (mohn in German). I had not encountered these before and they quickly became my favorite thing to eat in Vienna. But I soon realized that Austrians are a bit obsessed with poppy seeds, and put them in everything from eierlikör (eggnog) to today's featured dish: mohnnudeln (noodles with poppy seeds).
When I first saw mohnudeln on a dessert menu I was somewhat skeptical. But intrigued, I gave it a go. It turned out to be one of the best desserts I'd had in a while (although, not having a sweet tooth, my sample is not very large!). The noodles, which are in fact more like gnocchi in that they're made from a potato and flour dough, went remarkably well with the not-too-sweet buttery, poppy seed sauce. So taken in was I by this dish that on the way back I even looked up the recipe in one of the cooking magazines at Vienna airport (sadly I forgot to note which one so I can't properly attribute it). The recipe was in German of course but I got the gist. Its about as easy as it gets and well worth a try if Vienna is not in your immediate future!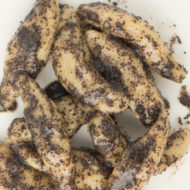 Mohnnudeln: Austrian noodles with poppy seeds
Yield: 4 servings
Prep Time: 15 min
Cook Time: 5 min
Total Time: 20 min
Ingredients:
1 small potato (about 200 g), peeled and diced
80 g plain flour
1 egg, beaten
salt
2 Tbsp butter
3 Tbsp poppy seeds, finely ground
2 Tsp caster sugar, plus more to taste
¼ tsp cinnamon
1 Tbsp milk (optional)
Honey to drizzle on (optional)
Directions:
Bring a pot of water to a boil and cook the potatoes until tender. Drain and transfer to a bowl.
Mash the potatoes and add the flour and a pinch of salt. Stir in the beaten a bit at a time (you may not need all of it) and knead into a smooth dough.
To make the noodles, pinch off a small piece of dough and shape into a torpedo, about the length and thickness of a finger. Cover with a kitchen towel while you prepare the sauce.
Melt the butter in a small skillet or saucepan and add the poppy seeds, sugar and cinnamon. Add a few teaspoons of milk if you want a creamier sauce. Taste and adjust the sweetness.
Cook the noodles in a pot of gently simmering water until they rise to the top (about 1 minutes). Remove with a slotted spoon to a bowl.
Pour the sauce over the noodles and toss gently to coat evenly. Drizzle on some honey if you like. Serve warm.