Muhammara: Roasted red pepper and walnut dip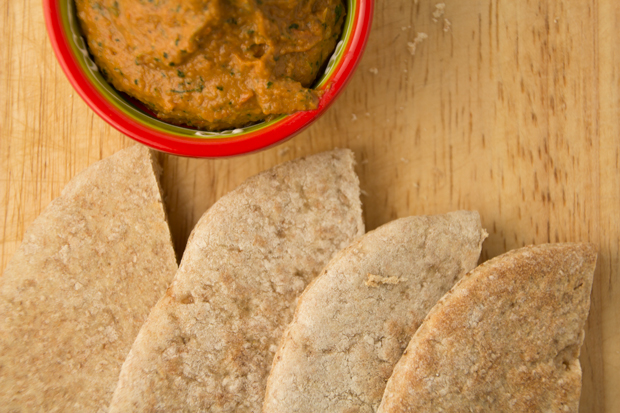 One of the most enjoyable aspects of Middle Eastern and Mediterranean food are the mezzes, small dishes that range from dips to crudites and salads to meatballs. The word mezze (or meze) comes from Persian via Turkish and alternatively means 'taste', 'flavor' or 'snack'. But it is the derived Hindi word 'maza', meaning 'fun' or 'enjoyment', that I think truly describes the appeal of mezzes – something the restaurant world has picked up on with its current 'small plate format' mania. The recipe today, adapted from a cute little book by Ghillie Basan titled Mezze, is for a classic red pepper dip called muhammara popular in Turkey and the Middle East. If you're not familiar with muhammara, think of it as the Middle Eastern version of that famous Spanish red pepper dip, salsa romesco, but with almonds (or hazelnuts) and sherry vinegar replaced by walnuts and pomegranate molasses, respectively. And just as much maza!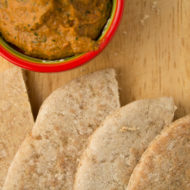 Muhammara: Roasted red pepper and walnut dip
Yield: 2 servings
Prep Time: 10 min
Cook Time: 40 min
Total Time: 50 min
Ingredients:
¼ cup olive oil
1 large red pepper
½ small head garlic, cloves separated but unpeeled
1-2 small green or red chiles
¼ cup shelled walnuts
salt and freshly ground black pepper
1 Tbsp pomegranate molasses
2 Tbsp bread crumps
Juice of ½ lemon
Pita bread, crudites etc. to serve
Directions:
Preheat oven to 400°F (200°C).
Place the pepper, tomato and garlic on a baking sheet and drizzle over with 2 Tbsp of the olive oil. Sprinkle over with a few pinches of salt and ground pepper and roast in the oven until the skin begins to blister and slightly char. This should take about 30-40 minutes for the tomatoes and chiles and a bit longer for the red pepper. Remove from oven when ready and set aside.
About 5 minutes before the red pepper is done, toss the walnuts with 1 Tbsp of oil and add to the baking sheet.
Peel the garlic. If the red pepper is blackened, peel the skin. Seed.
Place the garlic, pepper, chile, tomato and walnuts in a food processor/blender along with the bread crumbs, most of the parsley, pomegranate molasses and lemon juice along with the remaining oil. Blitz until you have a thick puree with still a bit of texture left. Adjust flavors as you like by adding salt, pomegranate molasses or lemon juice. The dip should have a hint of sweetness from the molasses.
Garnish with the remaining parsley and serve with pita bread or crudites.
Adapted from Mezze: small plates to share by Ghillie Basan (link)