New York-style 'everything' bagels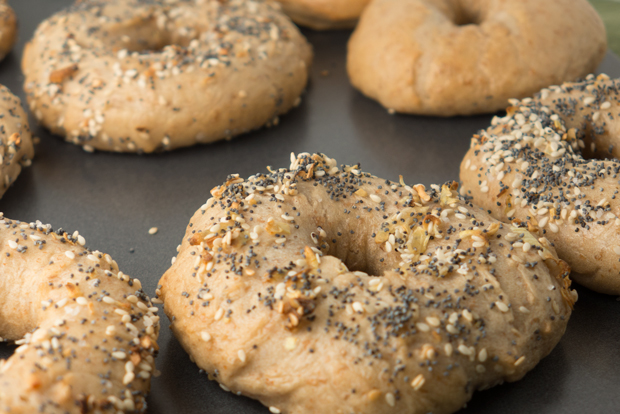 As any New Yorker will attest, theirs is a city obsessed with bagels. A Sunday in New York would be incomplete without the ritual of a toasted bagel with a schmear of cream cheese and lox while reading the weekend New York Times. But there was a time not too long ago that few North Americans outside cities like New York and Montreal with large Jewish populations knew what a bagel was. Indeed, such was it's obscurity that in 1960 the New York Times Magazine had to explain to its national readers what it was ("an unsweetened doughnut with rigormortis"). I learnt this from an article in the New York Times last week reporting on the death of Daniel Thompson, whose bagel-making machine changed this situation and put bagels on the culinary world map. But, as the Times noted, not all of us think this has been a boon. Mass-produced bagels are as a rule quite awful. Luckily for us bagel purists, one can still buy excellent bagels in New York.

Alas, I don't live in New York anymore and reading the aforementioned article made me nostalgic enough to start craving this "tough, round heart of North American Jewish cuisine" (as the author so poetically called it). Fortunately, thanks to a baking course some years ago at the Institute of Culinary Education in New York, I happened to know how to make them. Back then, Chef Reeni, our instructor and whose recipe is given below, had made it seem like, er, a piece of cake. And it really is. You make the dough pretty much like any yeasted bread and shape them into bagels. But before baking you poach them in water doctored with malt syrup, at which point you dip them in your favorite coating. Or not. And that's where things get interesting. Like the eternal debate on what constitutes a good 'New York slice', New Yorkers can be rather opinionated on the sensitive subject of what should go on a bagel. I'm partial to sesame seeds while others may prefer poppy. (What we all seem to agree on is that caraway seeds are a big no-no.) My favorite, though, is the so-called 'everything' bagel with sesame, poppy and (dried) onion and garlic. I was quite pleased with the results when I made them the other day. It was almost like being back in New York. All that was missing was the scallion cream cheese!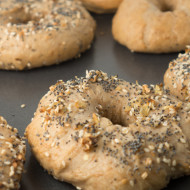 New York-style 'everything' bagels
Yield: 8 bagels
Prep Time: 10 minutes (plus 1 1/2 hours for proofing)
Cook Time: 20 minutes
Total Time: 2 hours
Ingredients:
Dough:
1¼ cup room temp water
1½ tsp (10 g) malt syrup or honey
2¼ tsp (7 g) active dry yeast
400 g bread (strong) flour
60 g wholewheat (wholemeal) or all purpose (plain) flour
2-3 Tbsp vegetable oil for greasing
Poaching and finishing:
3 Tbsp malt syrup or honey
1½ Tbsp poppy seeds
1 Tbsp sesame seeds
½ tsp coarse sea salt
2 Tbsp finely chopped onion
2 cloves garlic, finely chopped
Directions:
In a large bowl whisk together the water, malt or honey and yeast together. Let sit for 2 minutes before stirring in the flour. Using a spatula or wooden spoon mix together. Add salt and mix. Use your hand to bring it all together and knead for a minute or two until you have a smooth dough. Let rest for 10 minutes.
Transfer the dough to a work surface and knead another 5-6 minutes until you have a smooth and elastic dough. Then transfer to a well-oiled bowl and turn over so that the dough is nicely coated in oil. Cover with plastic wrap and place in a warm, draught-free area for about an hour. The dough should have roughly doubled in size.
Grease a baking sheet with oil and set aside.
Transfer the dough to a work surface and roll into a thick sausage. Using a sharp knife or scraper cut the dough into 8 equal disks. To shape, take a disk and, while gently pulling apart, make a hole in the center with your thumb. You should end up with a 6-7 cm diameter "donut". Place on the baking sheet and cover with a kitchen towel. Repeat with the remaining disks. Set aside to prove for 30 minutes.
While the bagels are proving, toast the garlic and onion in a small skillet over a medium heat, about 4-5 minutes, until nicely golden brown and crisp. Stir frequently so that you don't burn them. Transfer to a small plate and let cool slightly before stirring in the salt, sesame and poppy seeds. Set aside.
Preheat the oven to 190°C (375°F).
Bring about 4 liters of water to a boil in a large pot. Stir in the malt or honey. Gently lower a bagel into to the water and poach for about 10 seconds before flipping it over and cooking for another 10 seconds. Use a slotted spoon or skimmer to lift it out of the bagel. Allow to drain briefly over the pot before placing over the seed mixture to coat. Turn over to coat the other side and return to the baking sheet. Repeat with the other bagels.
Bake in the oven for about 20 minutes until golden. Transfer to a rack to cool slightly before serving.
Chef Reeni, Institute of Culinary Education