Oi baetduri: Korean stir-fried cucumber with beef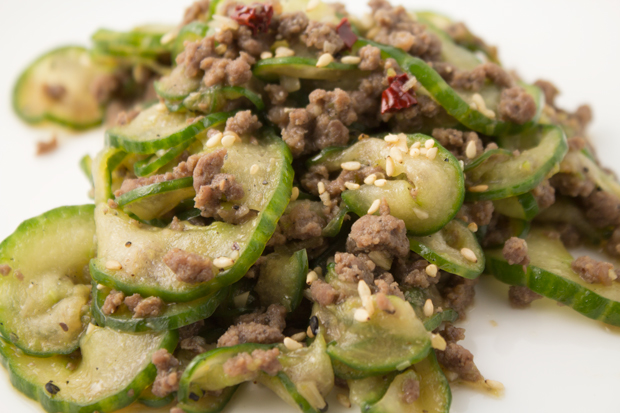 Cucumber is highly underrated in my opinion. This refreshing member of the gourd family (to which squash and melon also belong) is generally relegated to a supporting role in salads. Occasionally it is pickled. But cooked? Almost never, and I suspect most people will not have eaten cooked cucumber. (Not that it is completely unheard of. The French do it, and it also features in some Asian cuisines.) Certainly I'd never cooked cucumber until I made today's Korean recipe for stir-fried cucumber with beef (oi baetduri). The verdict? If you can get past the idea of cooked cucumber it is surprisingly delicious!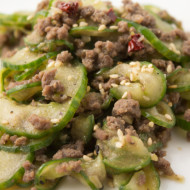 Korean stir-fried cucumber with beef
Yield: 2 servings
Prep Time: 20 minutes
Cook Time: 5 minutes
Total Time: 25 minutes
Ingredients:
1 cucumber (about 250 g), thinly sliced with a knife or mandolin (roughly 1½ cups)
½ tsp coarse salt
½ cup mince (ground) beef (a bit under 100 g)
1 small thinly sliced red chile (fresh or dried)
½ tsp sesame seeds
Steamed white, short-grain rice to serve
Marinade:
2 cloves garlic, minced
2" piece green onion (scallion), minced
1 tsp sugar
½ tsp sesame oil
a large pinch of crushed sesame seeds
2 tsp soy sauce
1 tsp mirin
Directions:
Toss the cucumber with the salt and put in a colander placed over a bowl. Let stand for 10-15 minutes to draw out the moisture. Then empty onto a kitchen towel and squeeze out as much water as you can. Spread the towel open and set aside.
Mix all the marinade ingredients in a bowl and stir in the beef. Mix well.
Heat the sesame oil in a large skillet over medium-high and fry the beef until almost done. Then stir in the cucumber and chile and cook for another minute until the cucumber turn opaque. You want them to be crisp and bright green rather than soggy and dull so turn up the heat if necessary.
Garnish with the sesame seeds and serve hot with the rice.
This recipe is a simplified version of that in: A Korean Mother's Cooking Notes, Sun-young Chang (link).