Panellets: Catalan sweets with almonds and pine nuts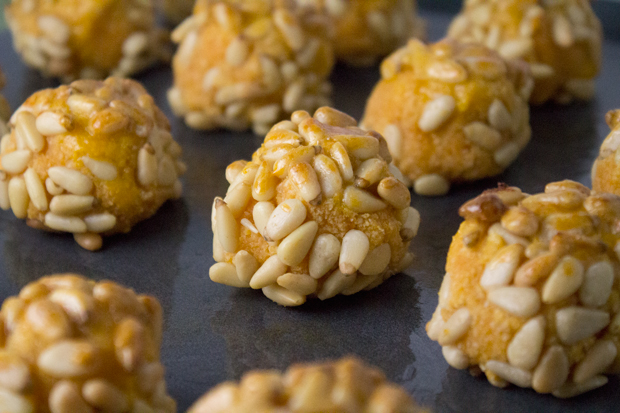 One way to get to know the local cuisine when visiting a new place is to sample the restaurants and markets. Even better though, as I said some months ago, is to taking a cooking class. But perhaps best of all is to get invited over to some locals' house to cook together, as I was lucky enough to be on a recent trip to Barcelona. The local in question, Rosendo, kindly made fideua, a classic Catalan noodle and seafood dish, followed by a dessert also characteristic of that region: panellets. The former I'd heard of. The latter was completely new to me and not the sort of thing you'd discover as a mere tourist.
The key ingredient in panellets is almonds, a reminder of the strong Arab influence on Spanish cuisine. The idea is to make a dough of sorts with almond flour and a filler/binder. You make little balls or cookies out of the 'dough' and coat them with pine nuts (most commonly), shredded coconut, and so forth. The filler typically tends to be potato. Here, inspired by this recipe, I've used sweet potato instead which gives the panellets a wonderful flavor and orange hue, and has the added bonus of greatly reducing the amount of sugar needed.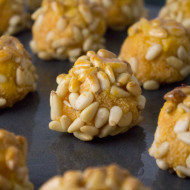 Panellets: Catalan sweets with almonds and pine nuts
Yield: Makes about 20 panellets
Prep Time: 25 minutes
Cook Time: 15 minutes
Total Time: 40 minutes
Ingredients:
1 small sweet potato
200 g almond flour
¼ cup sugar plus more to taste
zest of 1 lemon
2 eggs
100 g pine nuts
butter to grease the baking sheet
Directions:
Cut the sweet potato in half and place in a small pot with plenty of cold water. Bring to a boil over medium heat, then lower heat and simmer, covered, until tender, about 10 minutes. Drain and allow to cool completely.
Once cooled, peel the sweet potato and mash with a potato masher or wooden spoon until it has a smooth texture. Stir in the almond flour, sugar and one beaten egg. Mix well with a wooden spoon or hands. Taste and add more sugar if needed.
Preheat oven to 180°C.
Separate the yolk of the second egg and discard the whites or use for something else. Beat.
Line a baking sheet with parchment paper and lightly grease with butter.
Place the pine nuts in a small plate. Take about 1 Tbsp of the almond/sweet potato mixture and shape into a ball. Roll it in the pine nuts to coat the entire surface and place on the baking sheet. Repeat with the rest of the 'dough' making sure to keep some space between the panellets.
Once all the panellets are ready, use a brush to glaze their surface lightly with the egg yolk.
Place the baking sheet in the oven and bake until the panellets are a golden brown color, about 10-15 minutes.
Let cool slightly before serving.