Pasta with kale pesto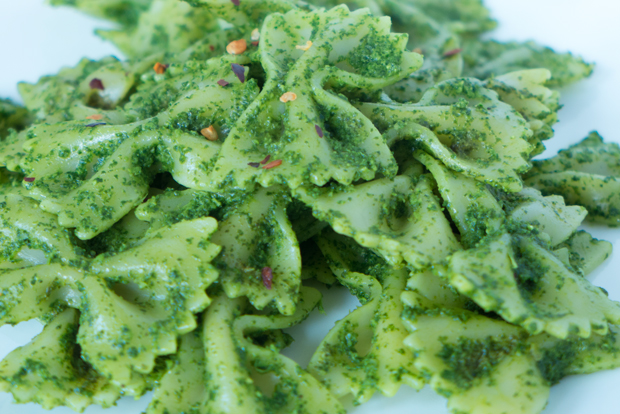 Kale must be one of the most versatile vegetable that I know of, and certainly the most commonly featured on this blog. I've used it in everything from Korean-influenced tteokbokki to Mediterranean-style fritters. But pesto? It just didn't seem right and, I'll be honest, I didn't have high hopes. But from the moment I spied this recipe in a recent issue of Food and Wine Magazine I just knew I had to try it. The verdict? Lets just say I may never make 'regular' basil pesto again! It is that tasty. Best of all, unlike basil, which bruises easily and turns an unattractive brown color, kale yields a vibrant and beautiful green pesto with a much longer shelf life. The original recipe calls for pecorino cheese, which I omitted and didn't miss at all, and Aleppo pepper, for which I subbed plain old crushed red chile.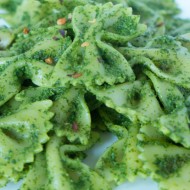 Pasta with kale pesto
Yield: 4 servings
Prep Time: 10 minutes
Cook Time: 10 minutes
Total Time: 20 minutes
Ingredients:
½ lb stemmed kale
2 Tbsp pine nuts, toasted
3 cloves garlic
⅓ cup olive oil
2 Tbsp lemon juice
zest of 1 lemon
¼ tsp salt plus more to taste
freshly ground black pepper
a few pinches crushed red chile
½ lb pasta (farfalle, rigatoni, etc.)
Directions:
Blanch the kale in well-salted boiling water for about 30 seconds. Drain and refresh under cold running water or in an ice bath. Squeeze dry.
Place the kale, pine nuts, garlic, salt and olive in a small blender and blitz away until you get a smooth paste.
Stir in the lemon zest, lemon juice and season with black pepper and the chile flakes. Taste for salt
Bring a large pot of well salted water to a boil. Cook the pasta until al dente and drain, reserving about 1/2 cup of the cooking water.
Transfer the pasta back to the pot and stir in as much of the pesto as you like, adding  some of the reserved cooking water if needed. Toss to warm through.
Season with salt and black pepper and serve hot.