Pav bhaji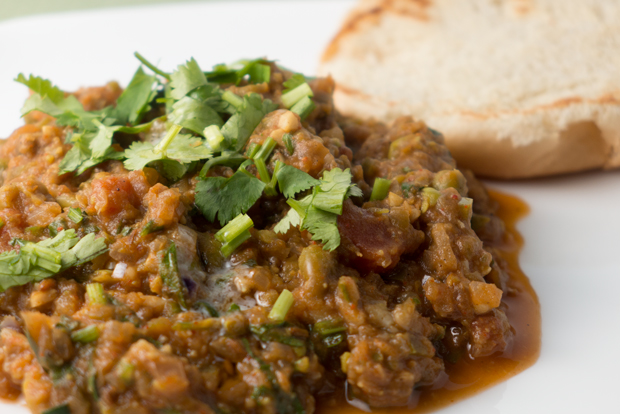 Before I moved to America I had never encountered people who didn't like vegetables. Granted, I grew up in a vegetarian household in a country where that is the norm rather than a passing fad. And, sure, there were veggies I wasn't too keen on (such as this). But, still, the notion that vegetables could only constitute a side dish boggled my mind. I mean: what else are we supposed to eat? (I'm writing this after a trip to Barcelona where this would be considered a silly question with an obvious answer: jamon!)
The situation seems hardly better two decades and Michael Pollan ("Eat food. Not too much. Mostly plants") later. Thus, this admission by an editor of a food magazine – Bon Appetite no less! – that he had no clue what to do with vegetables. Or the recent spate of columns in the New York Times exhorting people to think beyond meat as a main course. But I somehow doubt that roasted carrots are going to cut it if your goal is to get people to eat more veg. On the other other, today's recipe for pav bhaji just might. Don't let the name, which literally means "bread (pav) and vegetable (bhaji)", fool you. (See my discourse here on the origin of the word "pav".)  Pav bhaji is easily one of the most popular street foods in Mumbai, a city obsessed with eating on the go (see here and here for two other dishes favored by hungry Mumbaikers). And if this dish doesn't make you love cauliflower, I suspect nothing will!
Ingredient note: This recipe calls for a spice mix called pav bhaji masala. You can find it in any Indian grocery store (believe me, no one makes their own). Everyone has a favorite brand. Badshah and Everest are pretty good.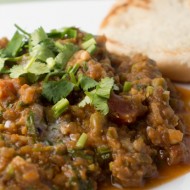 Pav bhaji
Yield: 6 servings
Prep Time: 30 minutes
Cook Time: 30 minutes
Total Time: 60 minutes
Ingredients:
1 ½ cup diced eggplant
1 medium potato, diced (about 1 cup)
¼ cauliflower separated into florets (about 1 ½ cups)
2 cups green peas (fresh or frozen)
¼ tsp turmeric powder
2 Tbsp vegetable oil
1 Tbsp cumin seeds
3 large red onions, very finely diced (about 3 ½ cups)
8 cloves garlic, minced
1 green pepper, finely diced
3 medium tomatoes, diced (about 2 ½ cups)
2" piece ginger, minced
1/2 green Thai chile, minced
1 ½ Tbsp pav bhaji masala (plus more to taste)

½ tsp cumin-coriander seed powder (dhanajeeru)
¼ tsp red chile powder
salt
½ cup chopped cilantro (coriander)
6 hamburger buns, sliced open
1 lime
Optional 2-3 Tbsp butter
Directions:
In a pot place the diced eggplant, potato, cauliflower and peas along with 2 cups of water, 1 tsp salt and half the turmeric powder. Bring to a boil over high. Then lower heat and simmer, covered, until the vegetables are tender. There should be very little water left. (If there's too much water pour some into a bowl and reserve.) Set aside.
While the veggies are cooking heat the oil in a large pot or wok over a medium-high flame. Add the cumin seeds and fry for half a minute until fragrant. Stir in the onions and garlic and saute, stirring often, until the onions start to brown, about 4-5 minutes. Add the green pepper and tomatoes and cook, stirring, until the tomatoes are softened. Turn off heat and set aside.
Mash the cooked vegetables well with a potato masher or the back of a wooden spoon until almost a puree and add to the onion mixture. Heat over medium-low.
Stir in the ginger, green chile, rest of the turmeric, 1 tsp salt, 1 ½ Tbsp pav bhaji masala, cumin-coriander powder, and red chile powder. Simmer for 3-4 minutes. If you find the bhaji too dry add a bit of the reserved cooking water to moisten it.
Taste and adjust seasonings by adding more salt, red chile powder and/or pav bhaji masala. Stir in most of the chopped cilantro reserving some for garnishing.
In a pan toast or, optionally, fry with a bit of butter the hamburger buns until golden brown and slightly crisp.
To serve, you can either spoon some of the bhaji onto the pav or serve the pav on the side. In any case, garnish the bhaji with a bit of cilantro, a squeeze of lime and, optionally, as they do in Mumbai, a dollop of butter.