Pintxos Morunos: Spanish cumin and pimenton-spiced pork shoulder skewers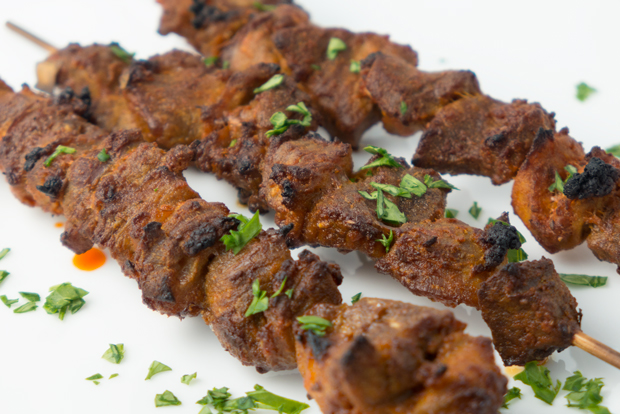 From Greek soulvaki to Malaysian satay, and Peruvian anticuchos to Japanese yakitori, there is hardly a country or cuisine that doesn't have its favorite version of grilled meat on a stick. While this method of cooking was no doubt reinvented in different parts of the world, the oldest references to it are found in the Middle East and Mediterranean, hence the near universal use of the word "kebab"–derived from the Persian word "kabap" meaning "fry"–to describe this type of food. (Apparently, Medieval Persian soldiers used to grill meat speared on their swords over open fire.) No surprise then that Spain has its own version known as Pintxos Morunos, a reference to the Moors who colonized the Iberian Peninsula starting in the 700s. (Pintxo or pincho is the Spanish for spine.)

One of the main culinary contributions of the Moors was the introduction of cumin to the Spanish and Portuguese, who then took it to Latin America during their own conquests. When I first came across this recipe in My Basque Cuisine by Ash Mair, it reminded me of cumin-spiced lamb skewers from the Xinjiang province of western China. But when combined with pimenton, these pork skewers have a decidedly Spanish flavor. And if you like chorizo as much I do, you will love this dish.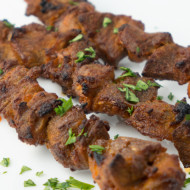 Pintxos Morunos: Spanish cumin and pimenton-spiced pork shoulder skewers
Yield: 8 skewers
Prep Time: 10 minutes (plus 8-10 hours for marinating)
Cook Time: 20 minutes
Total Time: 30 minutes (plus 8-10 hours for marinating)
Ingredients:
2 cloves garlic, grated
¾ tsp salt
½ tsp sugar
2 tsp pimenton dulce (sweet)
1 tsp pimenton picante (spicy)
2 bay leaves, torn into pieces
1 tsp ground cumin
2 Tbsp olive oil, plus more for cooking
400 g pork shoulder, diced into 1 inch cubes
1 Tbsp chopped parsley for garnish
Directions:
In a nonreactive bowl mix all the marinade ingredients together. Then stir in the pork cubes and toss well to coat. Cover and refrigerate overnight.
If using wooden skewers soak in cold water for a few hours before grilling. Take the marinated pork out of the fridge 30 mins before cooking.
When ready to cook, thread 4-5 pieces of pork onto each skewer and brush lightly with olive oil. Heat a cast iron or grill pan over high heat until smoking and cook the skewers, 2-3 at a time, for about 4-5 mins until beginning to char a bit. Turn them over every once in a while to cook evenly.
Sprinkle over with the chopped parsley and serve hot.