Portuguese piri piri chicken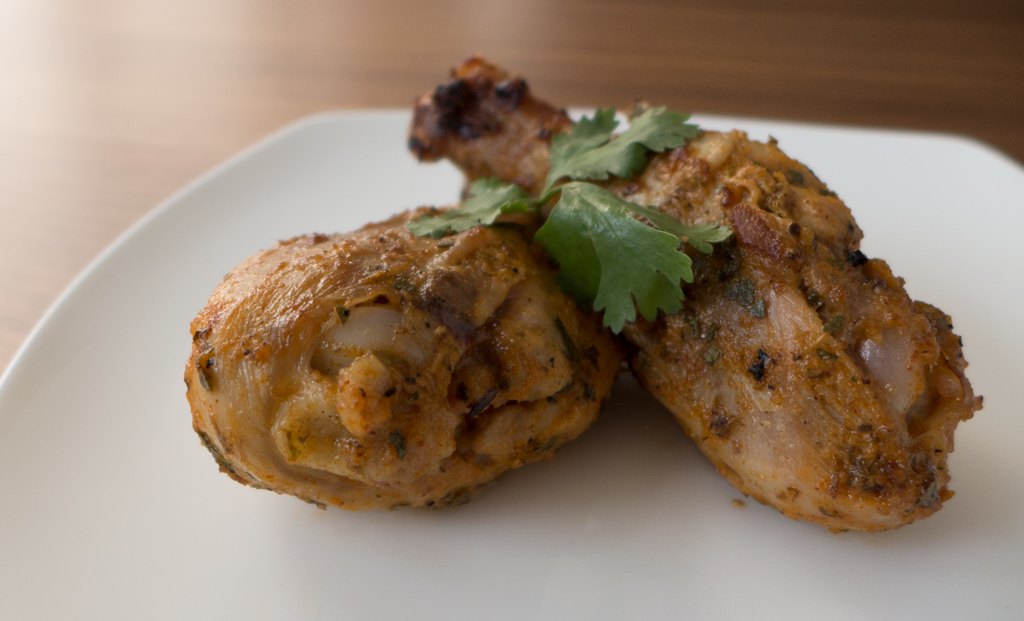 Several years ago I had the opportunity to spend a day in Lisbon. Sadly, I have little recollection of the food I ate during my (admittedly short) stay. My ignorance of Portuguese cuisine has not much improved since then. For, while the food and culture of its Iberian neighbor, Spain, has exploded in popularity, Portuguese food remains largely unknown. This is especially remarkable when you think of the indelible mark Portugal left on, say, Indian cuisine. Potatoes, tomatoes, and chilies – those workhorses of Indian food – were all brought to India via its colony of Goa. Indeed, bacalao aside, vindaloo – available in just about every Indian restaurant in the world – must surely be the most famous Portuguese dish of all! (According to Curry: A Tale of Cooks and Conquerors by Lizzie Collingham, vindaloo is a Goan adaptation of the Portuguese dish carne de vinho e alhos, literally meat with vinegar and garlic.)
Fittingly, today's recipe for piri piri chicken is also a byproduct of Portuguese colonization, this time of Mozambique. This spicy and tangy dish apparently takes its name from the Swahili for pepper (specifically, African bird's eye chili). I had a version a few years ago at a now defunct Portuguese restaurant in New York. It was so tasty that it stuck in my mind and I've since made it many times. A quick search on the Internet came up with so many variations – often with very little in common – that I've instead preferred to rely on my memory and reverse-engineering skills. I can't, therefore, vouch for its authenticity. I can however say with some confidence that, like me, this is a dish you will want to make again and again.
A couple of points to note. First, my rendition isn't particularly spicy, but you are of course free to remedy that. And second, I've taken the liberty of adding pimenton. This may be untraditional but I love the smoky flavor that it imparts.
Portuguese piri piri chicken
Prep time:
Cook time:
Total time:
Ingredients
1½-2 lbs skin-on chicken legs/drumsticks (around 6-7)
Lemon and a few sprigs parsley for garnish.
Marinade:
3 tbsp olive oil
Juice of 1 lemon
¼ tsp salt
¼ tsp ground black pepper
¾ tsp dried oregano
½ tsp pimenton (Spanish smoked paprika)
4 cloves garlic, minced
3 bay leaves
1-2 red bird's eye or Thai chili pepper (more according to taste)
Instructions
Place the marinade ingredients in the bowl of a small mixer/food processor and let whirl until the ingredients are well blended. Taste for salt. Add more lemon juice and chili pepper if you like.
Wash and pat dry the chicken with a paper towel. Using a paring knife make a few deep cuts across each leg. Place in a bowl and pour the marinade over the chicken. Stir to coat well. Cover and refrigerate 6-8 hours or overnight. Remove from fridge 30 minutes before cooking.
Place a broiler pan over a foil-lined baking pan to catch drippings. Grease lightly with canola oil and spread the chicken on top. Turn on broiler and cook with the meat 3-4 inches away from the fire. Broil about 4-5 minutes or until the skin starts to brown and crisp. Then turn over and cook another 3-4 minutes until done.
Garnish with parsley and a squeeze of lemon juice and serve.