Portuguese-style tuna salad with black eyed peas (atum com feijão frade)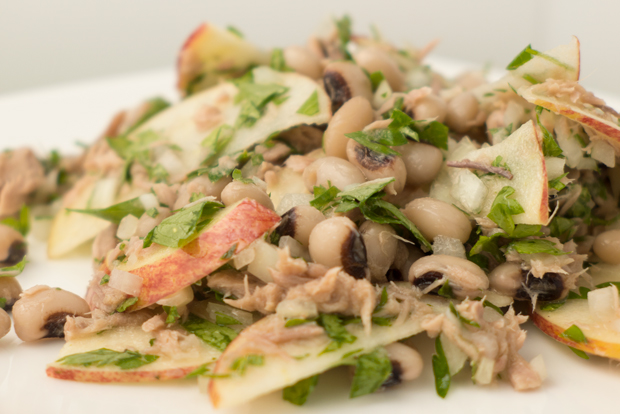 If the words "tuna salad" bring back bad memories of the creamy offering at delis and buffets, this Portuguese version may well change your mind. It is a delicious, Mediterranean take on a classic involving apples and black eyed peas. Yes, you read that right. No celery or mayonaise, those mainstays of American tuna salad. What, you might ask, makes it Portuguese? I think its the vinegar, which I've come to associate with Portuguese cooking. Think "vindaloo", a Goan dish of Portuguese origin which literally means vinegar (vinho) and garlic (alho).

This is an incredibly easy dish, perfect for a quick lunch but also sophisticated enough in my opinion to serve at a party. It is from Recipes from My Portuguese Kitchen by Miguel de Castro e Silva, a gem of a book I chanced across in the Oxfordshire library. I've been dipping into for the past few months with excellent results and I highly recommend it to anyone wanting to make a foray into Portuguese cookery.

Portuguese-style tuna salad with black eyed peas (atum com feijão frade)
Yield: 4 servings
Prep Time: 10 minutes
Total Time: 10 minutes
Ingredients:
1½ cups cooked black eyed peas (~250 g) (drain and rinse if using tinned ones)
1 small apple, cored, quartered and thinly sliced
a large handful parsley, chopped
1 small can tuna (~140 g drained weight or generous ½ cup)
1 small yellow onion, diced
¼ cup white wine vinegar, plus more to taste
¼ cup olive oil
crust bread to serve
Directions:
Combine all the ingredients except the vinegar and oil in a large bowl and gently mix (I use a wooden spoon).
Whisk together the oil and vinegar in a small bowl, pour over the salad and toss to mix well. Adjust flavors by adding more vinegar if you like.
Serve with bread on the side.