Poulet à la moutarde-French-style chicken with mustard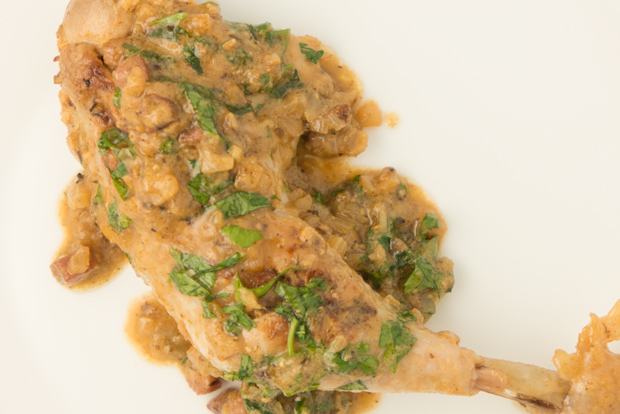 It is said that every cook should have at least one good chicken recipe in their arsenal. Judging by that, I would consider myself fairly well-armed, with a number of recipes in my regular rota. My favorite, though, is surely today's recipe for chicken with mustard or poulet à la moutarde in its original French. Since I first came across it several months ago in David Lebovitz's excellent and funny My Paris Kitchen, I've probably made it more times than any other dish. Apart from being extremely tasty, this dish has a number of things going for it. It is both quick and simple enough to throw together on those weeknights when you're sorely lacking in energy and inspiration. Yet it is also posh enough to be served at a dinner party.
I've made a couple of changes to the original. First, based on the well-tested theory that everything tastes better with pancetta, I've replaced the rather large amount of smoky bacon in the original with a small amount of its Italian cousin. Second, I've skipped the crème fraîche. The sauce is delicious and rich enough without it, but by all means feel free to stir in some at the end. Serve this dish with pasta, roast potatoes or just some good crusty bread to soak up the sauce.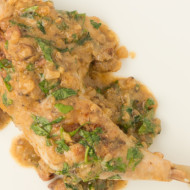 Poulet à la moutarde-French-style chicken with mustard
Yield: 2 servings
Prep Time: 10 min
Cook Time: 50 min
Total Time: 1 hour
Ingredients:
3 Tbsp Dijon mustard
½ tsp pimenton dulce (Spanish smoked paprika)
½ tsp salt
a large pinch of ground black pepper
2 skin-on, bone-in chicken legs (500 g)
3 Tbsp olive oil
¼ cup (~40 g) diced pancetta
1 small yellow onion, diced
a few sprigs thyme leaves or ½ tsp dried
125 ml white wine
2 Tbsp wholegrain mustard
Parsley for garnish
Pasta, crusty bread or roast potatoes to serve
Directions:
Mix together the Dijon mustard, pimenton, salt and pepper in a large bowl. Add the chicken legs and mix, making sure it is well coated with the mustard. Use your hand if necessary to get the marinade under the skin. Set aside.

Heat 2 Tbsp oil in a deep skillet over a medium flame. Add the pancetta and fry for 3-4 minutes until the fat renders and the bacon beings to crisp. Remove with a slotted spoon to a paper towel-lined plate.

Add the onions and thyme to the skillet and fry for a few minutes until softened. Remove to the plate.

Add 1 Tbsp of oil to the skillet, turn up the heat a notch and gently add the chicken legs. Cook for 4-5 minutes until the chicken is nicely browned. Turn over and cook for another 4-5 minutes.

Add back the onions and pancetta and pour in the wine. Stir to mix, lower heat to a simmer and cook, covered for 30-40 minutes until the chicken is done. Turn the chicken over every once in a while so that it cooks evenly. And add a bit of water if the sauce seems too dry.

When the chicken is almost done, stir in the wholegrain mustard.

Garnish with parsley and serve hot with pasta, bread or potatoes.
My Paris Kitchen: Recipes and Stories by David Lebovitz (link)