Puff pastry with Gujarati-style lentil filling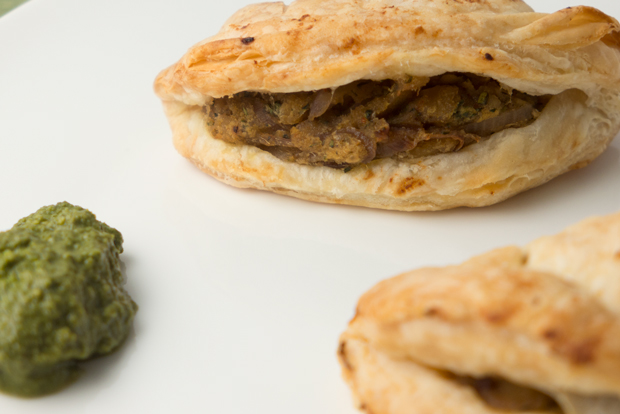 The one and only time I tried making puff pastry from scratch, the results weren't anything to write home – or blog – about. It consumed the better part of a weekend, endlessly rolling, folding and refrigerating flour and butter. A lot of butter. Perhaps more than I'd consume in a decade. If I lived in France. You get the idea. And lets not even talk about the cleaning up. Imagine my joy then at discovering one can actually buy this stuff ready made, and very good quality at that. It is easy to use, too: just defrost and roll out!
The possibilities are endless and I've been more than a little obsessed about experimenting with different fillings, from Japanese kinpira gobō to Chinese char sui. My favorite so far is also the simplest: lentils. In Gujarati cuisine this particular filling is often used to make samosa-like fritters known as vermi. Or stuffed into parathas. And, now I know, it works brilliantly with puff pastry, making for a great hors d'oeuvre, starter or filling snack.
Ingredient note: The filling is made with toor dal (split pigeon peas). While less well known than, say, mung beans, you can find these in many regular grocery stores, and certainly at an Indian one. They come in two versions: oily and non-oily. You can use either, but if you buy the oily kind be sure to rinse thoroughly in warm water before using.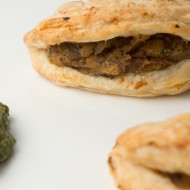 Puff pastry with Gujarati-style lentil filling
Yield: 6-7 pastries
Prep Time: 15 minutes
Cook Time: 45 minutes
Total Time: 1 hour
Ingredients:
°¼ cup toor dal, rinsed

2 small red onions, thinly sliced
2 tsp canola or other neutral oil
2" piece ginger, grated
1 green chile, finely minced
3 cloves, finely ground
½ tsp garam masala
¼ tsp red chile powder
pinch of turmeric powder
½ tsp salt
2 Tbsp finely chopped mint
250 g store-bought puff pastry
Green chutney and tomato ketchup to serve
Directions:
Place the dal in a small saucepan along with ½ cup of water and bring to a boil. Reduce heat to a simmer and cook, covered, until the dal is tender and all the water has been absorbed, about 20-30 minutes. Keep an eye while cooking to make sure the dal doesn't dry out and burn.
In a small skillet heat the oil over medium heat and fry the onions until tender and beginning to brown, about 4-5 minutes.
Stir in the cooked dal, ginger, green chile, turmeric powder, salt, red chile powder, garam masala and ground cloves. Fry for another 2 minutes and then stir in the mint. Adjust seasonings. Turn off the heat and set aside to cool slightly.
Preheat oven to 400°F (200°C).
Roll out the puff pastry into a thin layer. Using a cookie cutter or bowl with a sharp lip cut out 6-7 5"-diameter circles.
Place about 2 Tbsp of the filling in the center of each circle and fold over to make a dumpling of sorts. Press the edges together to close.
Place the pastries on a baking sheet and bake in the oven until golden brown, about 8-10 minutes.
Serve hot with green chutney and ketchup.