Pugliese Ciabatta with olives, tomatoes and onions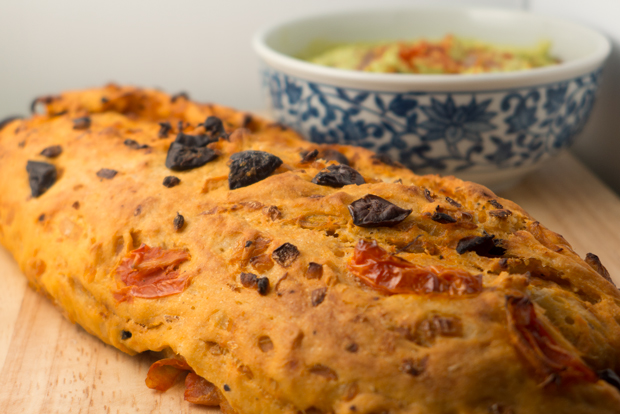 So much for New Year's resolutions. Last year I promised I'd post more frequently. Alas, it didn't happen. On the other hand, cooking-wise the past year has been busier than ever. Not only did I spend more time in the kitchen-even when away from home!-but also ventured into, for me, new territory: Spanish cuisine. While I'd been exposed to fairly good Spanish food in New York my trips to Spain last year were a revelation, and undoubtedly the culinary high point of the year. But while I'll be writing more about my adventures with bacalao in the coming months I'd like to start the new year by visiting a different Mediterranean country: Italy. Today's recipe, from Food & Wine Magazine, is a savory take on Ciabatta from Puglia in southeastern Italy. It is stuffed with tomatoes and olives and is easily one of the yummiest breads I've eaten, let alone baked!
Puglia is sometimes known as the breadbasket of Italy. Pugliese bread is characterized by a rather wet dough as you'll discover when making this recipe. In fact, on my first attempt I ended up with such a goopy, hard-to-work dough that I thought I'd made a mistake and added too much water! But stick with it. While the loaves can be a bit difficult to shape the recipe works a treat as you end up with a deliciously moist bread. Serve it warm with this kale pesto or salsa Romesco.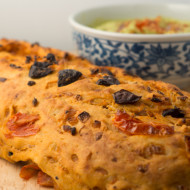 Pugliese Ciabatta with olives, tomatoes and onions
Yield: 2 loaves
Prep Time: 15 minutes (plus 1 1/2 hours to prove)
Cook Time: 45 minutes
Total Time: 2 hour 30 min
Ingredients:
5 Tbsp olive oil
2 yellow onions, diced
2 Tbsp tomato paste
pinch of crushed red pepper
½ cup pitted kalamata olives, quartered
½ cup cherry tomatoes, quartered
salt
ground black pepper
¾ oz (21 g) active dry yeast
1 tsp sugar
1 ¾ cups warm water
2 ½ cups all-purpose flour, plus more for dusting
¾ cup fine semolina
Directions:
Heat 3 Tbsp of the oil in a large skillet over medium heat and fry the onions until they begin to brown, about 5-6 minutes. Stir in the tomato paste and crushed red pepper and cook for another couple of minutes before adding the olives and tomatoes. Season well with salt and pepper and mix gently with a wooden spoon so as to not break the tomatoes. Turn off the heat and allow to cool.
While the onion mixture is cooling, in a large bowl whisk together the yeast, sugar and water. Let sit for about 10 minutes, then whisk in the remaining oil and 1 tsp salt. Add the flour and semolina and stir until a rough dough forms. Add the onion mixture and gently fold it into the dough. Again, use a wooden spoon so that the tomatoes don't turn to a mush. Cover with a damp towel and let stand in a warm place to prove until doubled in size. It should take about 1 ½ hours.
Preheat the oven to 450°F and line a baking tray with parchment paper.
Transfer the dough to a clean, well-floured work surface. Using a dough scraper or knife cut into two pieces and shape each into a loaf. As mentioned above the dough is quite wet and tricky to handle. Lightly dusting your hands with flour might help. Gently lift the loaves onto the baking tray and bake in the oven until golden brown, about 30 minutes.
Transfer to a rack and allow to cool slightly. Serve warm.