Quinoa and kale patties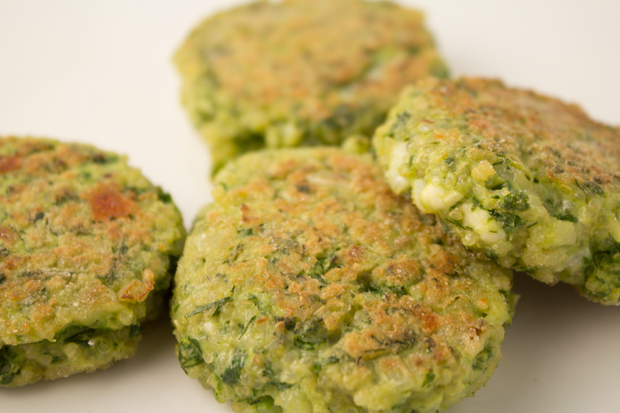 When I first got into food and started writing about it I obsessively followed other food blogs. At one point I may have had a browser window with several dozen open tabs dedicated to them! I still do. But as my culinary journey has progressed the ardor has waned, and I can't remember the last time I looked at any of them. With perhaps one exception: "101 Cookbooks", a "recipe journal" by Heidi Swanson with a focus on healthy food that I somehow feel is very "Californian" in how Asian and Mediterranean flavors are creatively blended together. And while I don't religiously follow "101 Cookbooks", I do subscribe to it's feed and have made–or been inspired by–many of the recipes on that site. These little patties–or "bites" as Ms. Swanson calls them–made of quinoa and kale are a delicious example of why I remain a loyal reader of her blog.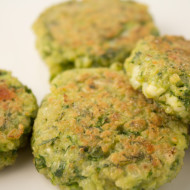 Quinoa and kale patties
Yield: Makes around 15 patties
Prep Time: 15 min
Cook Time: 15 min
Total Time: 30 min
Ingredients:
2 cups cooked quinoa
3 eggs, beaten
1 tsp salt
½ yellow onion, diced
1 clove garlic, minced
100 g kale, finely chopped (about 1 cup)
60 g feta cheese, crumbled (about ½ cup)
small handful dill, finely chopped
½ cup breadcrumbs
2 Tbsp brown rice or plain (all purpose) flour
Olive oil to pan fry
Directions:
In a bowl, mix together all the ingredients until and including the bread crumbs. Let sit for a few minutes. Add more breadcrumbs if the mixture looks too wet. It should hold together when formed into patties.
With wet hands, shape the mixture into roughly 4 cm-diameter/1 cm-thick patties.
Place the flour in a small plate.
Heat some olive oil in a non-stick frying pan over a medium flame. Gently dip each patty in the flour, shaking off the excess, and place in the skillet. Repeat with the others, making sure not to overcrowd the pan. Fry for 3-4 minutes until golden brown. Then flip over and fry the other side for another 3-4 minutes.
Serve hot (perhaps with some of this garlicky aioli).
From 101 Cookbooks by Heidi Swanson (link).