Quinoa and shrimp salad with yogurt vinaigrette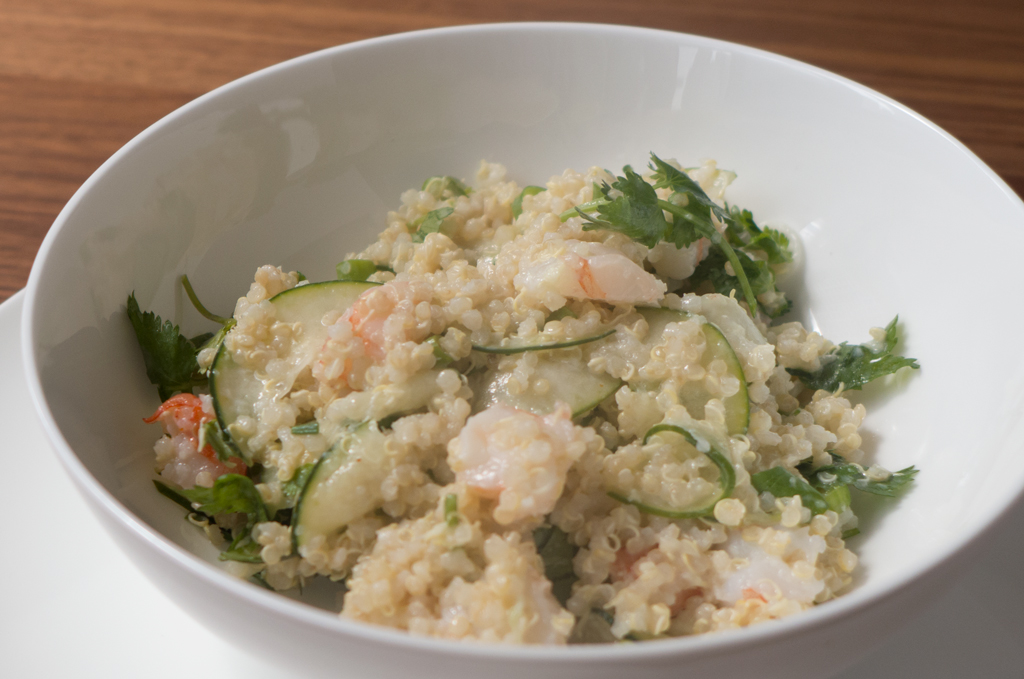 If I had to think back to what started my interest in cooking, it would probably have to be today's recipe for quinoa and shrimp salad with a tangy yogurt vinaigrette. Not only did it ignite a fascination for food that was both tasty and healthy, it also introduced me to quinoa  well before it became a cliche. And it made me an instant fan of the "Recipes for Health" column by Martha Rose Shulman in the New York Times from where the recipe is taken. However, the reason it is one of my go-to dishes is not sentimentality but the fact that its a perfect lunch salad: light yet filling, unfussy, and quite delicious. It is, as they say, an oldie but a goodie.
Quinoa and shrimp salad with yogurt vinaigrette
Prep time:
Cook time:
Total time:
Ingredients
½ cup uncooked quinoa
¼ cucumber, very thinly sliced with a mandoline
¼ cup cilantro, coarsely chopped
2 scallions, diced
¼ lb shrimp, peeled, cooked and diced into ½" pieces
Vinaigrette:
2 tbsp yogurt
1 tbsp seasoned rice wine vinegar (すし酢)
1 tbsp water
1 tbsp canola oil
1 tsp sesame oil
3 tbsp lime
1" piece ginger, grated
1 large clove garlic, grated
pinch salt
pinch cayenne pepper
Instructions
Place the quinoa in a strainer with a fine mesh and wash under running water. Drain and transfer to a small saucepan. Add 1 cup cold water and bring to a boil over medium heat. Cover, lower heat and simmer until cooked, about 10-15 minutes.
In the mean time prepare the vinaigrette by beating the yogurt and then whisking in all the other ingredients. Taste for salt and lime. The vinaigrette should be tangy and garlicky.
Transfer the quinoa to a mixing bowl and stir in the cucumber, cilantro, scallions, and shrimp. Add the dressing. Mix well and serve.