Roasted baby potatoes with pimenton-laced garlicky aioli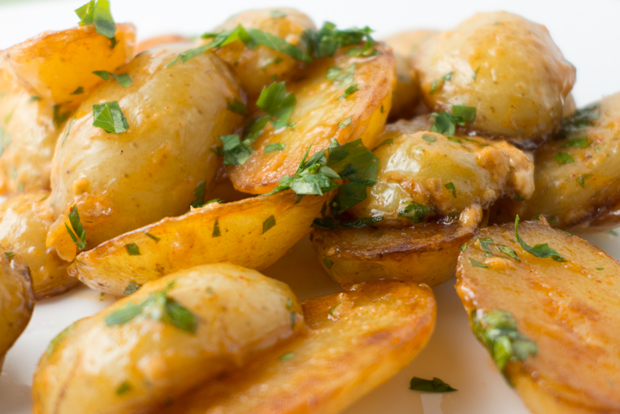 From the recipes I write about here you might get the impression that all my cooking involves at least a dozen ingredients and twice as many steps. Indeed, unlike many other blogs I don't promise you '5 minute meals', healthy or otherwise. What can I say? Good food takes time. It helps that I enjoy cooking and don't think of it as an unpleasant chore. And, yes, I do like a challenge. But most meals in the Oishii Rasoi house are fairly simple and straightforward affairs. So for those of you thinking 'this guy has far too much time on his hands!', here's a typical example: roasted potatoes with a smoky and garlicky aioli.
Not only is this dish 'quick and easy', to use a phrase beloved of my competitors, I'm going to – gasp! – take a shortcut by using – gasp, gasp! – ready made mayonnaise for the aioli. An aioli is a sauce made of garlic, oil, lemon juice and egg yolk common in southern France and Spain. In the latter it is often found in Catalonia – where it is spelled allioli – and served with everything from fish soup to paella. Purists will scream that aioli is not mayo and blanch at anything not made from scratch. But to the extent that both are emulsions of oil and egg yolk, I say "same difference". And while making it isn't difficult there's an easier way to get the same result: Japanese Kewpie mayo (キューピーマヨネーズ). If you haven't heard of Kewpie it is found in every Japanese household and, I suspect, restaurant kitchen the world over. Kewpie has a texture and tart flavor that, with a bit of doctoring, makes a perfect aioli. Here I've amped up the aioli with another 'secret ingredient', pimentón (Spanish smoked paprika), which adds a wonderful smoky flavor. I've used the picante (hot) kind here, which really isn't hot at all, but feel free to sub it with the dulce (sweet) variety if you like. Lastly, apart from potatoes I highly recommend you try this aioli with grilled fish.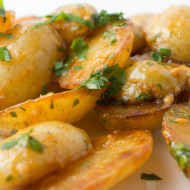 Roasted baby potatoes with pimenton-laced garlicky aioli
Yield: 2 servings
Prep Time: 5 minutes
Cook Time: 15 minutes
Total Time: 20 minutes
Ingredients:
500 g baby new potatoes
2 Tbsp white vinegar
2 Tbsp olive oil
small handful parsley, chopped
        For the aioli:
2 Tbsp Kewpie mayonnaise
1 Tbsp olive oil
3 Tbsp lemon juice
2 cloves garlic, finely minced
¼ tsp pimentón picante, plus more to taste
pinch of salt
Directions:
Scrub the potatoes and place in a pot with enough water to cover and the vinegar. Bring to a boil and cook, covered, until tender.
While the potatoes are cooking whisk together the aioli ingredients. Taste for seasoning.
Preheat the oven to 450°F/230°C.
Drain the potatoes and slice in half. Heat the oil in a large, oven-proof skillet over medium-high until shimmering. Place the potatoes in the pan, cut-side down, in a single layer and fry, shaking the pan once in a while, until the bottoms are browned, about 5-7 minutes. Then transfer to the oven and roast for 5-10 minutes until the tops turn a nice golden brown. Remove from oven and tip into a bowl.
Toss the potatoes with the aioli and garnish with the parsley. Serve hot.