Roasted Brussels sprouts with fish sauce vinaigrette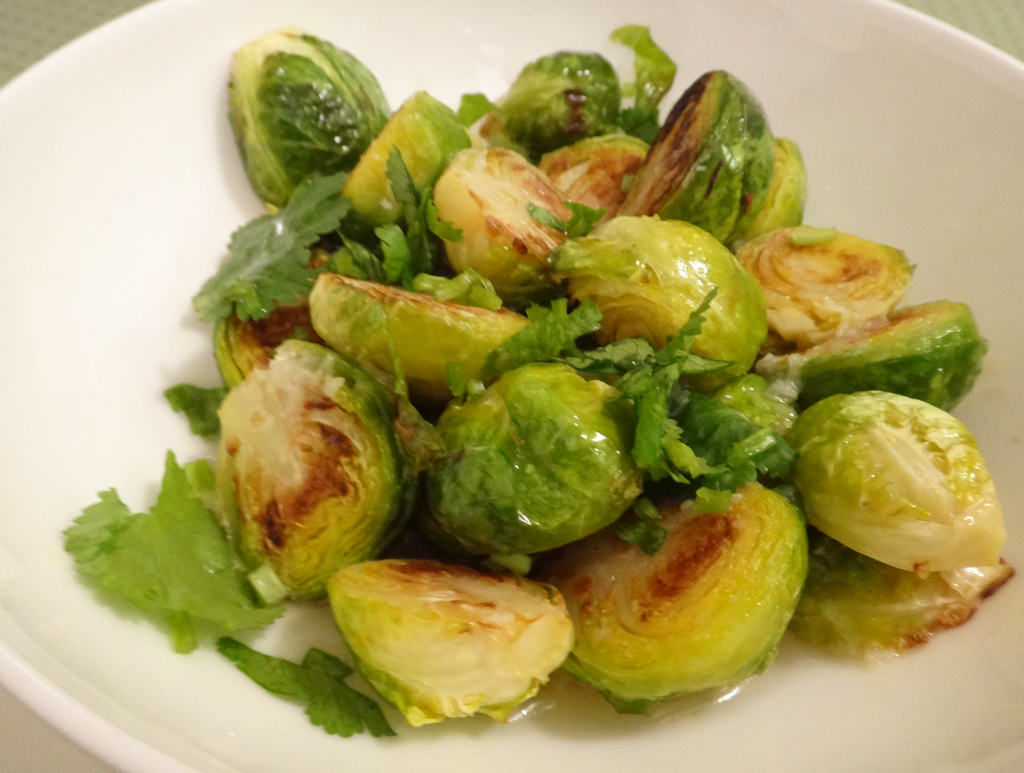 One of the great things about a melting pot like New York is how it encourages experimentation amongst chefs by bringing together different culinary traditions. But, as I've said in a previous post, successfully marrying ingredients from disparate cuisines requires serious talent. And imagination. Thus, while I've been eating and making nước chấm, the classic Vietnamese dipping sauce, for many years, the idea of using it to dress roasted or grilled veggies never occurred to me until I saw today's recipe in David Chang's Momofuku Cookbook. (Since then I've seen variations pop up all over the place.) Once you eaten this dish, however, it will seem – like all the best ideas – completely obvious. And it will make you see Brussels sprouts with fresh eyes.
If you've made nước chấm before, this is basically a simplified version with rice vinegar added. I've modified the original recipe by replacing the sugar and (ordinary) rice vinegar with seasoned rice vinegar (also known as "sushi vinegar" or すし酢). Feel free to add more sugar if you like. Also, this vinaigrette works well with all kinds of vegetables: asparagus, cauliflower, and kale are just some that I've tried it with. So feel free to experiment!
Roasted Brussels sprouts with fish sauce vinaigrette
Prep time:
Cook time:
Total time:
Ingredients
1 lb Brussels sprouts
1 tbsp canola or other neutral oil
2 tbsp chopped cilantro (stems and all)
Vinaigrette:
1 tbsp fish sauce
1 tbsp water
3 tbsp seasoned rice vinegar (すし酢)
1 clove garlic, minced
Juice of ½ lime
½ small Thai chilli, minced
Optional ¼ tsp sugar
Instructions
Preheat oven to 400°F.
Mix together the vinaigrette ingredients in a small bowl with half the chopped cilantro and set aside.
Wash and pat dry the Brussels sprouts. Trim away the stem and remove any loose leaves. Cut in half lengthwise through the stem and place in a bowl.
Heat the oil in a large, oven-proof skillet over medium-high. Add the sprouts, cut side down, in a single layer and fry until the bottoms are slightly browned, about 2-3 minutes. Shake the pan every once in a while. Then transfer to the oven and roast until the sprouts are tender and the tops start to brown, about 5-8 minutes.
Transfer to a bowl and dress with the vinaigrette. Garnish with the remaining cilantro and serve.