Samfaina: Catalan stew with salt cod and vegetables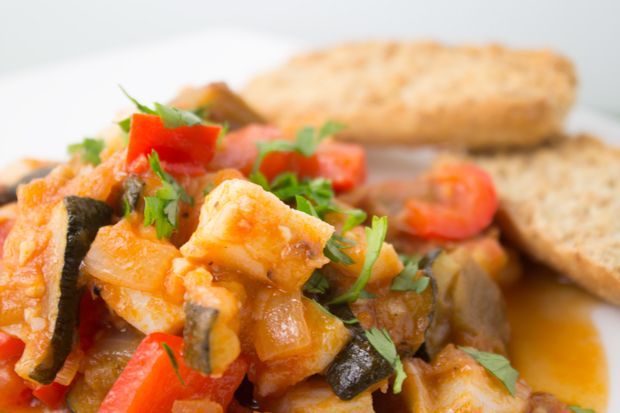 Having visited Barcelona a few times recently I've been struck by the similarities between Catalan, both the language and cuisine, and French. Indeed, friends from that region of Spain attest that they can understand French quite easily because of the close affinity between the two. Certainly, the culinary similarities are readily apparent. Cava is one example, being made by the same process as Champagne, although from different grapes. Or take crema Catalana, a custard very similar to crème brûlée, but made with milk rather than heavy cream. And then there's today's recipe for samfaina, a traditional Catalan stew that could easily be mistaken for it's better known Provençal counterpart, ratatouille.
This recipe is based on one in The Family Meal: Home Cooking with Ferran Adrià, a cookbook by the famed chef of elBulli. "Family meal," as you may know, is the food restaurants make for their staff and this book describes elBulli's take on an important restaurant ritual. I've only enjoyed elBulli vicariously from reading about it (most entertainingly this book). But their systematic and eclectic approach to food really comes through in this book. It seems even family meals are planned several months in advance with little left to chance. However, contrary to what you might expect from a place associated with molecular gastronomy, family meals there are quite simple and rustic with not a foam or liquid nitrogen cylinder in sight! All-in-all an interesting book to cook from, if occasionally frustrating. For instance, every recipe is copiously illustrated with pictures showing each step in detail, but then there are curious omissions such as not specifying what type of lentil to use in a 'salmon and lentil' recipe. Or the type of onion called for in a certain recipe when the picture suggests red whereas, this being a Spanish cookbook, it would seem 'regular' yellow onions are generally used elsewhere.
What attracted me to this recipe is the addition of bacalao (salt cod). It is so fantastically flavorful that bacalao may well be my favorite Iberian ingredient after chorizo! Except for remembering to desalinate the bacalao (which takes 2-3 days depending on the thickness), this is a pretty easy dish to prepare. I've simplified the original recipe even more by roasting rather than deep frying the veggies. I've not had a 'real' samfaina to tell if that was detrimental to the final outcome but I suspect that as with any 'traditional' dish there is no set recipe and my version could probably pass muster somewhere in Catalunya!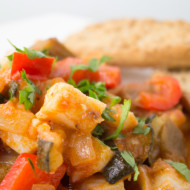 Samfaina: Catalan stew with salt cod and vegetables
Yield: 2 servings
Prep Time: 15 minutes
Cook Time: 1 hour 15 min
Total Time: 1 hour 30 min
Ingredients:
1 medium courgette (zucchini), diced into 1 cm cubes
1 medium aubergine (eggplant), diced into 1 cm cubes
6 Tbsp olive oil
4 cloves garlic, minced
1 yellow onion, diced into 1 cm pieces
1 red bell pepper, cored, seeded and diced into 1 cm pieces
4 tomatoes, grated
1 cup desalinated bacalao, roughly flaked or cut into 2 cm cubes

Salt and ground black pepper
Small handful parsley, roughly chopped, for garnish
Crusty bread or bread crisps to serve
Directions:
Preheat oven to 200°C (390°F).
Spread the aubergine and courgette on a roasting pan and toss with 3 Tbsp of olive oil. Roast in the oven for 15 mins until softened and beginning to brown.
Heat the remaining oil in a saucepan over a medium flame. Add the garlic and fry for a minute before adding the onions. Fry for another 3-4 minutes until the onions take on some color. Stir in the red pepper and cook for another 7-8 minutes until softened. Then add the roasted vegetables and tomato. Lower heat to a simmer and cook, covered, for about an hour until the vegetables are very tender. Add more water if necessary. You should end up with quite a thick sauce. Season with salt and pepper.
Stir in the flaked bacalao and cook for another minute or two.
Garnish with parsley and serve hot with bread on the side.