Sea bass, spinach and eggplant ravioli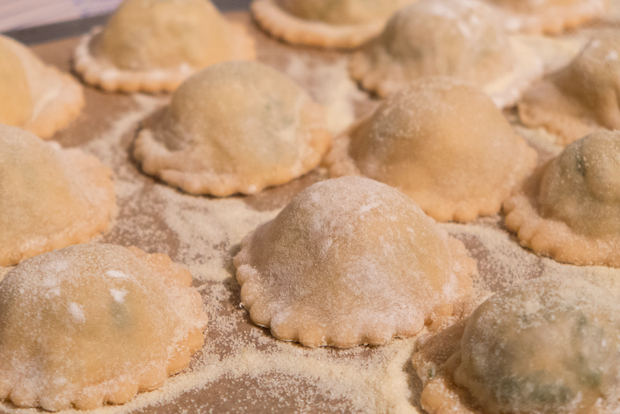 If I had it my way I'd probably spend all day in my kitchen and never go to work. Sadly, though, my employer would no doubt frown upon my giving lectures via Skype from the comfort of my home! There is, however, a silver lining: the proverbial water-cooler conversations with my colleague Martino. But instead of trading football scores we discuss food as Martino is just as infatuated with cooking as I am. Not surprising since he's Italian and has a mom who cooks professionally back in Italy. That makes him exceptionally knowledgeable about Italian cuisine and I've learnt loads from him. And so it was the last time we bumped into each other, when he mentioned a fish ravioli he'd made the previous night. Fish in ravioli? I was intrigued and knew then and there what I was going to make that weekend!
Unfortunately, I was in a bit of a hurry and didn't get all the details. But I got the gist of it and this is my take on it. The filling may seem somewhat involved but its actually quite easy. You can use any white, mild-flavored fish (I used sea bass as I can find it readily at my local fishmonger). The only somewhat tricky bit is the pastry. Thanks to a pasta class I'd taken several years ago at the Institute of Culinary Education I knew (or rather vaguely remembered) how to make the dough. But how to roll it out without the benefit of a pasta machine? (Martino, like any good Italian, of course can't live without one!) In the end a traditional hand roller and some elbow grease more-or-less did the job. The pastry could have been thinner but the ravioli were tasty nonetheless (I just call them 'rustic'!).
Martino served the ravioli with a sage and butter sauce. I instead went with my default tomato sauce, which I make by first roasting cherry tomatoes, which hugely intensifies their flavor, and then simmering them in a bit of olive oil and garlic until they're a gorgeous red mess. Nothing could be simpler, or tastier, which I think is the genius of Italian cuisine.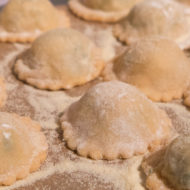 Sea bass, spinach and eggplant ravioli
Yield: Makes about 16 large ravioli
Prep Time: 30 min
Cook Time: 1 hour 30 min
Total Time: 2 hours
Ingredients:
Pasta
2¼ cups all purpose/plain flour
3 eggs
pinch of salt
Filling
1 whole sea bass, scaled and gutted
2 cups. packed. spinach
1 large eggplant
5-6 garlic cloves, peeled
¼ cup bread crumbs
¼ tsp freshly grated nutmeg
salt
freshly-ground black pepper
Roasted cherry tomato sauce
2 dozen cherry tomatoes
3 Tbsp olive oil
salt
freshly-ground black pepper
4-5 garlic cloves, minced
large pinch of chile flakes
¼ cup white wine or water
handful parsley, chopped
Directions:
Make the pasta dough by stirring together the flour and salt in a large bowl or clean work surface. (I suggest starting with 1 cup of the flour and then adding more in ¼-cup increments as needed.) Make a well in the middle and crack the eggs into the well. Beat roughly with a fork and then use your hands to bring the egg and flour together, adding more flour if the dough is too wet or sticky. Shape into a ball and knead until it is smooth and elastic. Wrap tightly in plastic film allow to rest for 20 minutes while you make the filling. Refrigerate if making ahead of time.
For the filling, poke holes in the eggplant with a fork and roast in a baking pan at 350°F (175°C) for 30-40 minutes until very tender. Remove and cool slightly before peeling off the skin and scraping the flesh into a bowl.
Sprinkle a few pinches of salt over and into the cavity of the fish and push the garlic cloves into the fish. Place on a large sheet of foil and wrap tightly. Bake in the oven in a baking dish at 350°F (175°C) for about 10-15 minutes until cooked through. Unfold the pouch, taking care to strain any juices that may have collected into the bowl with the eggplant. When the fish is cool enough to handle use a fork or fingers to remove the flesh and add to the eggplant. Discard the garlic.
Blanch the spinach in salted, boiling water for 1-2 minutes. Drain and refresh under cold running water. Drain well, squeezing out as much of the water as you can and add to the bowl.
Add the nutmeg and mix well with a fork. The mixture should be quite dry. If it seems too soggy stir in some breadcrumbs to absorb the liquid. Season to taste with salt and pepper. Refrigerate until ready to assemble.
On a clean, well-floured workspace roll out the pasta into a thin sheet. Cut in half to make two sheets. Take 1 Tbsp of the filling and place on one of the pasta sheets about 1" away from the edge. Repeat (on the same sheet) until you have used up all the filling. You're looking for piles of filling spaced about 1" apart. Take the other pasta sheet and place it over the piles of filling like a blanket. Gently push down around each pile to squeeze out the air and seal the two sheets together. Use a cookie cutter or cup/glass with a sharp lip to cut the ravioli. Place in a single layer on a large plate and cover with a towel until it is time to cook. (Sprinkle on some semolina to prevent the ravioli from sticking to each other.)
To make the tomato sauce, place the cherry tomatoes in a roasting tin, sprinkle on some salt and pepper, and drizzle over with 2 Tbsp of olive oil. Roast in a 400°F (205°C) oven for 15-20 minutes until the tomatoes are bursting and beginning to brown.
Heat the remaining 1 Tbsp of olive oil in a saucepan over a medium flame. Add the garlic and chile flakes and fry for a minute before tipping in the roasted tomatoes (along with any juice in the pan). Stir to mix and season with salt and pepper. Lower the flame and fry for a couple of minutes before adding the wine/water. Simmer for 10 minutes until the tomatoes have broken down and the sauce thickened (add a bit of water if it seems dry).
When ready to eat, cook the ravioli for about 4-5 minutes or until done in a large pot of well-salted boiling water. Serve with the tomato sauce with some parsley sprinkled on top.
Ravioli filling: adapted from a recipe by Martino Foschi; Pasta dough: Institute of Culinary Education (link)