Sea bream in salsa verde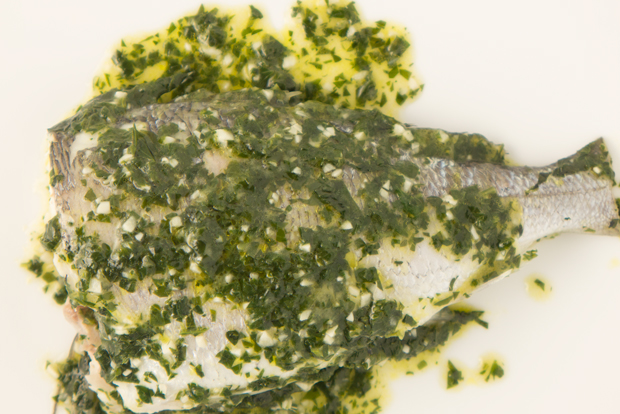 It is that time of year when newspapers look back on the past year's events. For a food blog that means reviewing the culinary highlights which made the year so special. Perhaps a spectacular meal in a restaurant so sought after that it required reservations a year in advance? Or a fantastically complicated dish that took an entire month to prepare? So you might think, but, no. What really made this year special for me is that I cooked more meals than in any previous year. In fact, I often cooked even when I was away from home and I can probably count on my fingers the number of times I've eaten out. Call it culinary narcissism, but for a few exceptions I've invariably regretted it. So to celebrate this personal milestone I'm going to instead write about the easiest and tastiest dish I've made, if not in the past year, then in quite some time: sea bream in salsa verde.
I tend to eschew superlatives in describing recipes. But this one is nothing short of magical. It really only has two, rather humble ingredients (apart from the fish): parsley and garlic. But they come together to make a sauce–the salsa verde–that is unctuous and delicious beyond belief. The recipe is from Ferran Adrià's "The Family Meal" and, while Mr. Adrià is Catalan, in its simplicity this dish very much reminds me of Basque-style seafood cookery.
The original recipe calls for whiting but any firm, white fish will do. I use sea bream because it is always fresh and readily available at my local fishmonger. (A quick search reveals that it is also quite sustainable.) Whole fish (with or without the head; I cut it off so that the fish will fit in my pan and to make stock) is best and makes for a beautiful presentation. But fillets are prefectly fine (adjust the cooking time accordingly). Just make sure you have plenth of good, crusty bread on hand to soak up all the sauce!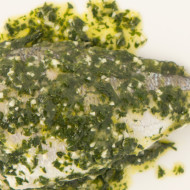 Sea bream in salsa verde
Yield: 2 servings
Prep Time: 10 minutes
Cook Time: 20 minutes
Total Time: 30 minutes
Ingredients:
1 sea bream, scaled and gutted
2 Tbsp olive oil
3 cloves garlic, finely minced
1 Tbsp flour
a handful parsley, finely minced
salt to taste
crusty bread to serve
Directions:
Season the fish on the inside and outside with a few pinches of salt. Set aside.
Heat the oil in a wide skillet or saucepan over a medium-low flame. Add the garlic and fry for a minute until fragrant.
Stir in the flour and fry for another 30 seconds before adding most of the parsley (reserve some for garnishing). Pour in about ½ cup (100 ml) of boiling water and bring to a simmer. Cook, covered, for about 8-10 minutes, stirring every once in a while, until the sauce is thickened.
Gently place the fish in the pan and spoon some of the sauce over and inside. Cover and cook for about 4-5 minutes before flipping the fish over. Cover and cook for another few minutes until the fish is cooked through (the flesh should be transluscent and flake easily). Taste for salt.
Lift gently onto a plate and spoon over the sauce. Garnish with the remaining parsley and serve with bread.
From The Family Meal: Home Cooking with Ferran Adrià (link)