Sichuan clay bowl chicken (钵钵鸡)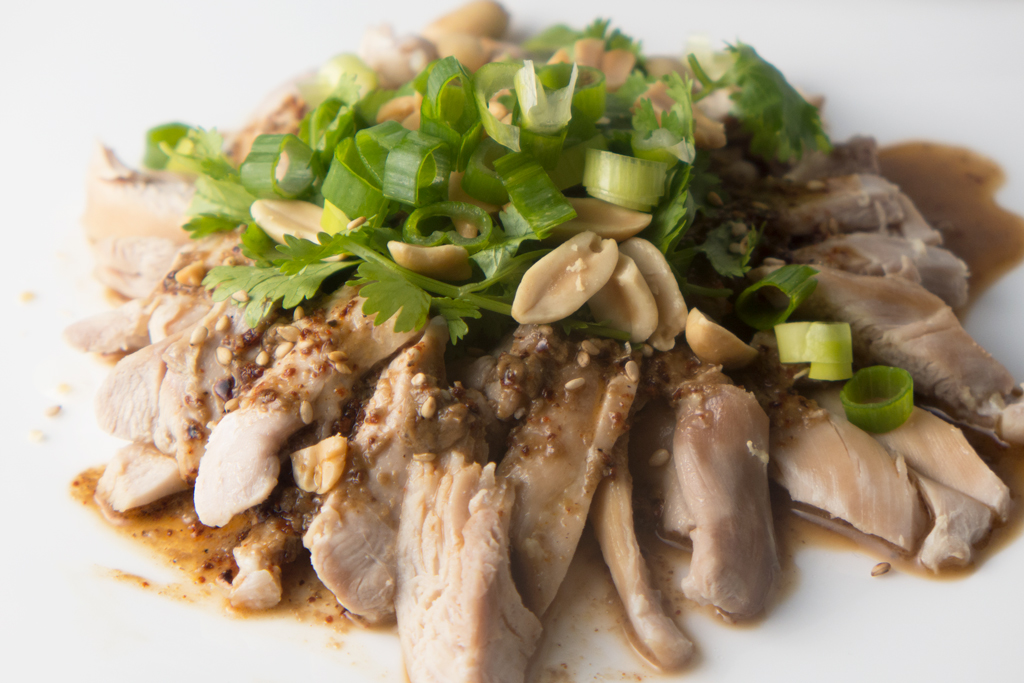 If you live in New York you cannot have failed to notice the colorful posters advertising my new cooking class venture with fellow blogger Rachel over at foodrefuge. Well, perhaps you did, in which case do take a look at the description here. We've already gotten quite a bit of interest and plan to hold our first class soon. More exciting still, Rachel and I were recently given the opportunity to audition to teach classes at Brooklyn Kitchen. BK, if you don't know of it, is one of those only-in-Brooklyn outfits (located where else but in Williamsburg) that validates Brooklyn's claim to be the center of the (New York) culinary world.
I'll admit to being stressed just a little bit out of my mind in the days (weeks?) leading up to the audition. After all, who wants to blow a chance like that, right? Anyway, we must have done something right because we'll soon be teaching our first class at BK on regional Indian cuisine! I'll post a link when the schedule is finalized.
All that is by way of saying that it has been a busy few weeks. Despite the hot and humid weather I've been cooking more than ever, but usually the same few dishes as I fine tune recipes. I did however take a break every once in a while and make something different and new, such as today's recipe for a spicy cold chicken salad, Sichuan style. Its taken from Every Grain of Rice: Simple Chinese Home Cooking, Fuchia Dunlop's latest tome on Chinese cuisine bringing together recipes from different regions into one single volume – sort of a best hit's compilation. While I'm not a big fan of her writing style, the book is chock full of great recipes and well worth the investment.
One thing to note about this recipe is that the amount of sesame called for in the original completely overwhelmed the dish. Perhaps that was the intention, but I found it far too much and have reduced the amount significantly to suit my taste. If you prefer to stick to the original, feel free to add more sesame paste.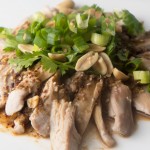 Sichuan clay bowl chicken (钵钵鸡)
Yield: 4 servings
Prep Time: 10 minutes
Cook Time: 25 minutes
Total Time: 35 minutes
Ingredients:
½ lb skinless, boneless chicken thighs
4 scallions
2" piece unpeeled ginger, smashed with flat of a knife
½ tsp toasted sesame seeds (optional)
3 tbsp roasted unsalted peanuts
¼ cup chopped cilantro
Sauce:
2 tbsp soy sauce
½ tsp sugar
½ tsp Chinese sesame paste
2 tbsp chicken stock
1 tsp ground roasted Sichuan peppercorn
7-8 tbsp chilli oil
½ tsp sesame oil
Directions:
Wash and pat dry the chicken and place in a pot with enough water to cover. Add the ginger. Bruise one of the scallions lightly with the flat of a knife and add to the pot. Bring to a boil over medium heat and skim the surface. Reduce heat and simmer covered until the chicken is cooked. Skim off the fat that rises to the surface every once in a while, adding more water if necessary.
In the mean time, mix together all the sauce ingredients in a small bowl and taste for salt. Dice the remaining scallions.
When the chicken is cooked, drain and discard the scallion and ginger. Allow to cool slightly.
Slice the chicken into ½"-thick slivers and place in a shallow bowl. Pour the sauce over it and garnish with the cilantro, scallions, peanuts, and (optional) sesame seeds.