Sichuan green beans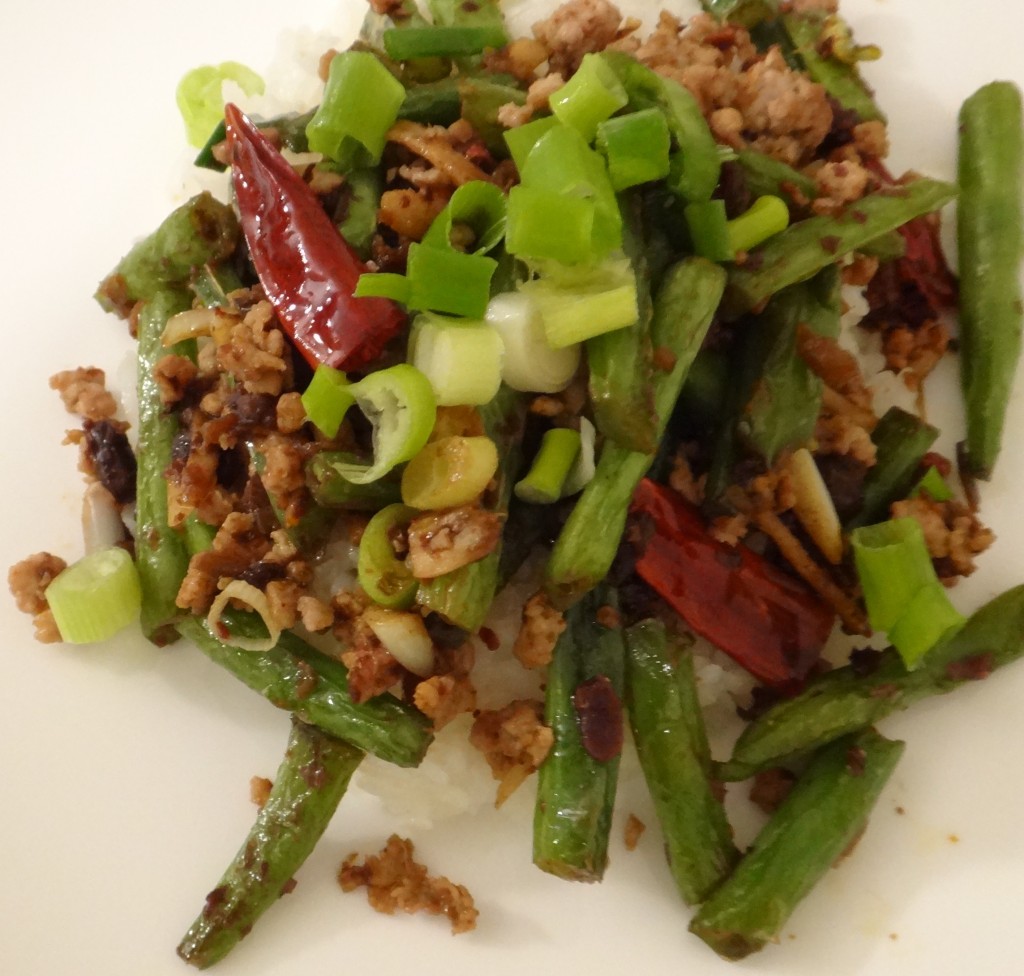 A few years ago I had the opportunity to visit Beijing. The Great Wall and Forbidden City notwithstanding, the high point was clearly the food, everything from Beijing kaoya to northern style noodles. (There is also plenty of bad food to be had so its important to do your homework before you go.) In addition to these local dishes, Beijing is also host to restaurants specializing in the cuisine of various provinces. And it was at one of these, that I encountered an epiphany or, rather, a dish involving green beans. Of course, I know now that this is one of the classic dishes of Sichuan cuisine and it left me feeling – quite literally – numb. In the mouth that is. Back then I couldn't place the sensation or figure out where it was coming from. Sure, I'd had Sichuan food many times before – who hasn't eaten mapo doufu or gong bao chicken? – but this was unlike anything I'd experienced before. It was the unique taste – known as mala (麻辣) – of Sichuan peppercorns.
Sichuan food in New York has undergone a bit of a renaissance in recent years, so its now possible to get perfectly decent – in my opinion – Sichuan food. (This being New York, some people will still complain that it isn't as good as their mom back in Chengdu used to make it! We're quite spoiled here.) Still, there's nothing like making something yourself and this dish is so easy its great weeknight fare. As is often the case, there is no unique or definitive recipe. The version below is adapted – with some modifications based on deconstructing what I've eaten in restaurants – from Fuchsia Dunlop's comprehensive Land of Plenty.
Ingredient note: This dish does require some special ingredients, notably Sichuan preserved vegetable (see picture below), Shaoxing rice wine, and of course Sichuan peppercorns. All are available at your local Chinese grocery store. But once you have these on hand an entire cuisine becomes accessible.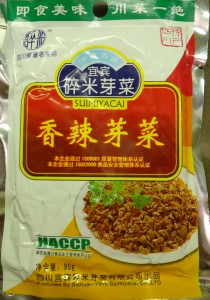 Sichuan green beans
Prep time:
Cook time:
Total time:
Ingredients
¾ lb green beans, ends trimmed and cut into 2" pieces
½ lb ground pork
1 tbsp Shaoxing rice wine
1 tbsp soy sauce
5-6 dried red chillies, halved and seeded
2 tsp Sichuan peppercorn
7-8 cloves garlic, thinly sliced
2" piece ginger, thinly sliced
2 tbsp Sichuan preserved vegetable (ya cai; 芽菜)
2 tbsp fermented black beans (dou chi; 豆豉)
2½ tbsp peanut or canola oil
1 tsp sesame oil
3 scallions, diced
Steamed, short grain white rice to serve.
Instructions
Pat dry the green beans with a paper towel. Heat 1 tbsp oil in a wok or large skillet on high. When the oil is smoking add the beans. Cook over high heat for 7-8 min until the beans pucker and soften, stirring frequently to prevent them from burning. (This technique of cooking is known as "dry frying".) Remove from wok/skillet and set aside.
Heat 1 tbsp oil over high in the same wok/skillet and add the pork. Cook for about 1 min, using a wooden spoon to break up the pork. Stir in the rice wine and soy sauce and cook further until the pork is done. Remove and set aside.
Heat the last of the oil over high. Add the chillies, Sichuan peppercorns, garlic, ginger, preserved vegetable and black beans and cook for 30 sec, stirring constantly. Stir in the green beans, pork, and sesame oil and mix. Adjust flavors by adding more soy sauce if necessary.
Garnish with scallions and serve over rice.